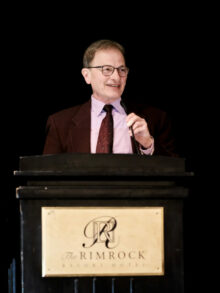 Dr. Eugene Bereza has recently stepped down from his position as Director of the MUHC Centre for Applied Ethics (CAE), remaining part of the CAE team as ethics consultant on a part-time basis.

In recognition of his leadership and innovation in biomedical ethics at the local, national and international levels over the last three decades, Dr. Bereza was awarded the Canadian Bioethics Society (CBS) Lifetime Achievement Award on May 24, 2019.

Dr. Bereza has devoted over 25 years of his career to the MUHC as physician and ethicist, eventually founding the CAE, thus making the MUHC a pioneer in integrating four areas of applied ethics – clinical, research, innovative care and organizational ethics – within a university teaching hospital.

More recently, he has taken a leadership role in creating the MUHC's Organizational Ethics Advisory Council (OEAC) which he will continue to support as it evolves. He will also continue contributing from his experience in ethics education by mentoring CAE professionals in clinical, innovative care and organizational ethics.

His former duties as Director will be assumed by Marie Hirtle, who is Assistant to the Director DQEPE and also Chair of the MUHC Research Ethics Board (REB).
June 25 2019