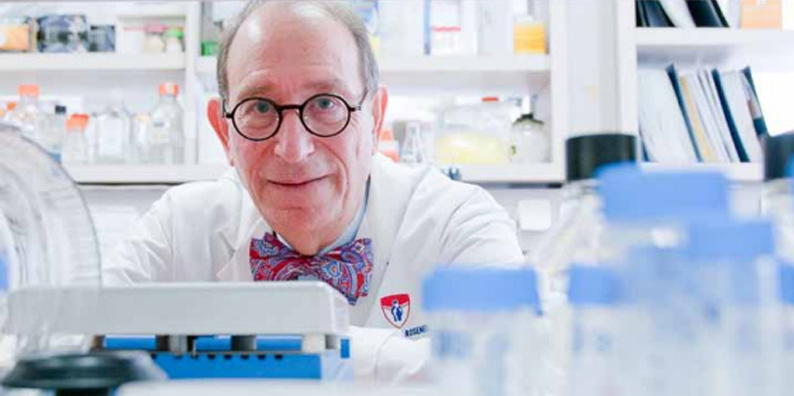 Dr. David Rosenblatt, Holder, Dodd Q. Chu and Family Chair in Medical Genetics and Professor, Departments of Human Genetics, Medicine, Pediatrics, and Biology at McGill University, has been selected as the 2018 recipient of the Canadian College of Medical Geneticists (CCMG) Founders' Award for Career Achievement.

The award is meant to recognize a CCMG member who has had an outstanding career in medical genetics in Canada or abroad. This award is named in honour of the visionary men and women (known as the "Committee of Seven") who, along with 17 founding members, established the Canadian College of Medical Geneticists on January 13, 1976. Previously known as the Founders' Award, it was officially renamed in 2017. In announcing his selection for the award, the CCMG noted Dr. Rosenblatt's outstanding career across all domains of service, research, teaching, administration, and scholarly activity and highlighted that within the CCMG his presence has been steadfast and ongoing, from its earliest days until now and he remains an enthusiastic advocate for the profession of medical genetics, not only within Quebec but across the Canadian scientific community.

"In being selected as the 2018 recipient of the Canadian College of Medical Geneticist Founders' Award for Career Achievement, I am walking in the footsteps of McGill legends in Canadian Medical Genetics, Dr. F. Clarke Fraser who received the first award in 1991 and Dr. Charles R. Scriver, who received the award in 2003," said Dr. Rosenblatt who is also a geneticist and a senior scientist in the Child Health and Human Development Program at the Research Institute of the McGill University Health Centre (RI-MUHC) and the Director of The Hess B. and Diane Finestone Laboratory located at the RI-MUHC, Glen site. "It is a great honour for me to be counted among McGill colleagues of such high esteem."

Dr. Rosenblatt, who is also the Chief of Medical Genetics at the Jewish General Hospital, is a leader of basic and clinical research and education in human genetics in Canada and internationally. He has made major contributions to our knowledge of inherited metabolic diseases, particularly in the genetics and treatment of defects of the vitamins folic acid and vitamin B12. As Chair of the Department of Human Genetics at McGill's Faculty of Medicine from 2001-2013, he built an outstanding department that has achieved international prominence both for research, and also for the education of basic and clinical scientists, clinical and laboratory physicians, and genetic counsellors. He has served as President of the Society for Inherited Metabolic Disorders, the Canadian Society for Clinical Investigation, and the Association of Medical Geneticists of Quebec. He is a Fellow of the Canadian Academy of Health Sciences and Correspondant étranger of the Académie Nationale de Médecine of France.

The Founders' Award for Career Achievement will be conferred to Dr. Rosenblatt at lunch on June 11 during the 42nd CCMG Annual Scientific Conference in Harrison Hot Springs (British Columbia) and will be followed by a presentation on his career in medical genetics. In a nod to his preferred form of neckwear, the lunch will be a bow-tie event.

Congratulations Dr. Rosenblatt!

June 4, 2018