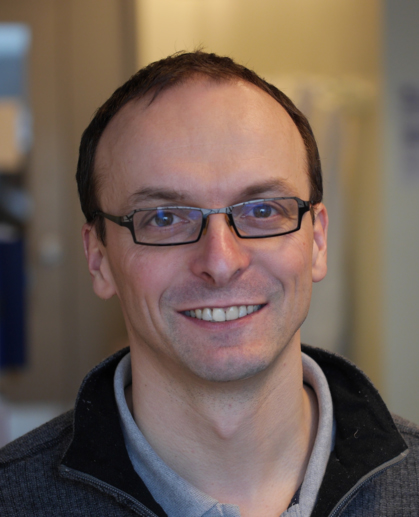 We are delighted to announce the appointment of Dr. David Juncker to the position of Chair, Department of Biomedical Engineering, Faculty of Medicine, McGill University. Dr. Juncker succeeds Dr. Robert Kearney, the Department's founder, who has been serving as Interim Chair since 2013. Included among the highlights under Dr. Kearney's direction are the successful launch of a new Graduate Certificate Program in Translational Biomedical Engineering, the development of the Graduate Tracking System – an automated tool integrated with McGill IT systems for the management and tracking of graduate students that is now being used throughout the Faculty of Medicine and the University – and the recruitment of key tenure-track and non-tenure track faculty. We take this opportunity to thank Dr. Kearney for his exemplary leadership during this period and wish him continued success.

Dr. Juncker joined McGill in 2005 as an Assistant Professor in the Department of Biomedical Engineering. He became an Associate Professor in 2011 and Full Professor in 2016. Dr. Juncker graduated with a degree in Electronics-Physics in 1996 from the Institute of Microtechnology, University of Neuchâtel, Switzerland. After an internship at the Swiss Center for Electronics and Microtechnology, he spent a year in Japan as a Visiting Scientist at the Metrology Institute of Japan in Tsukuba. Upon his return to Switzerland, he started his PhD in Micro and Nanotechnology at the IBM Zurich Research Laboratory and University of Neuchâtel, earning his doctorate in 2002. Before joining McGill, he embarked on Postdoctoral fellowships in microfluidics and bioassays at the IBM Zurich Research Laboratory and the Swiss Federal Institute of Technology in Zurich.

Dr. Juncker's area of research is micro and nanobioengineering, with the goal of creating novel micro and nanobiotechnologies for miniaturizing, parallelizing and empowering biological assays and medical analysis. Applications include biomarker discovery and diagnostics for cancer and infectious diseases, as well as microscale tissue engineering for neuroscience and cancer. Dr. Juncker pursues interdisciplinary research in collaboration with scientists, engineers, and clinicians, as well as industry partners, striving to address grand challenges in the life sciences and healthcare using small technologies with a big impact.

Keeping with his interdisciplinary interests, Dr. Juncker is a PI at the McGill University and Genome Quebec Innovation Centre, and an Associate Member of the Department of Neurology and Neurosurgery; the Department of Electrical and Computer Engineering; the Division of Experimental Medicine; the Department of Surgery; and the Goodman Cancer Research Centre.

As Chair, Dr. Juncker will lead the Department of Biomedical Engineering in its research and education missions as part of the Faculty of Medicine and McGill University. He will provide mentoring to faculty throughout their careers, lead strategic planning for the Department, and participate in Faculty and University activities.

Please join us in welcoming Dr. David Juncker to this new position and in wishing him every success in his efforts to advance biomedical engineering in the service of knowledge, healthcare, and society.
Dr. David Eidelman

Vice-Principal (Health Affairs)

Dean of the Faculty of Medicine

Dr. Mara Ludwig
Vice-Dean, Academic Affairs
March 2, 2018