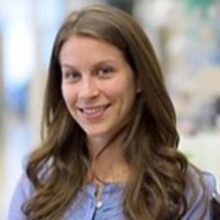 Together with the Department of Physiology, the Goodman Cancer Research Centre welcomes

Dr. Daniela Quail from Memorial Sloan Kettering Cancer Centre, in New York City.

Dr. Quail's research focuses on understanding how the tumor microenvironment – the area around tumors – influences cancer progression. Her research has led to a new understanding of how brain tumors progress in response to different immune cells. In more recent work, Dr. Quail explains how obesity and associated inflammation can promote breast cancer – which Nature Reviews Cancer highlights in their September edition. Her work at the Goodman will allow her to continue to expand on these findings, and discover new ways to control cancer.

Please join us in welcoming Dr. Daniela Quail and wishing her continued success in her research.

Dr. Morag Park

Director, Goodman Cancer Research Centre

Dr. John White

Chair, Department of Physiology

August 25, 2017