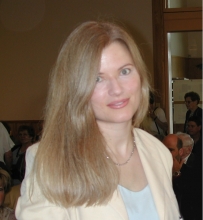 We are pleased to announce the appointment of Dr. Caroline Reinhold to the position of Interim Chair of the Department of Diagnostic Radiology, Faculty of Medicine, McGill University. Dr. Reinhold replaces Dr. Benoît Gallix who served in this role since 2013. We take this opportunity to thank Dr. Gallix for his leadership as Chair for the past five years.  An energetic and visionary administrator, Dr. Gallix increased the profile of the Department at the University level and laid the foundation for the Department's role as a leader in the field of quantitative image analysis and machine learning.

Dr. Reinhold completed her MDCM in 1984 and residency training in 1990, both at McGill University.  Following a Fellowship in Abdominal Imaging at Yale University in 1991, Dr. Reinhold joined the Faculty of Medicine at McGill in 1992. She became a Full Professor in 2005. Dr. Reinhold has been Director of the Division of Magnetic Resonance Imaging in the Department of Diagnostic Radiology since 1997. In 2015, she was appointed Associate Chair of Research for the Department. Dr. Reinhold also holds the position of Associate Radiologist in the Departments of Obstetrics and Gynecology and Experimental Surgery at the McGill University Health Center.

Dr. Reinhold's area of clinical expertise is abdominal imaging, specifically of the female pelvis, which is also the focus of her research. She has written over 200 articles and book chapters on various aspects of abdominal imaging and holds research grants from the Rossy Cancer Network and the Canadian Institute of Health Research, among others. She is a member of several professional societies and research committees, including the American College of Radiology, for which she is currently Vice Chair of the MRI Track of the Ovarian-Adnexal Imaging-Reporting Data System.

As Interim Chair of McGill's Department of Diagnostic Radiology, Dr. Reinhold will work to further the successful teaching programs and to help develop and refocus the research program, such that the Department will be firmly entrenched as a leader in its field.

Please join us in wishing Dr. Reinhold every success in this new role.

Dr. David Eidelman


Vice-Principal (Health Affairs)


Dean of the Faculty of Medicine

Dr. Lesley Fellows
Vice-Dean, Academic Affairs
February 27, 2019