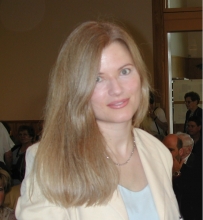 We are pleased to announce the appointment of Dr. Caroline Reinhold to the position of Interim Chair of the Department of Diagnostic Radiology, Faculty of Medicine and Health Sciences, McGill University, effective immediately. We take this opportunity to thank Dr. Diego Martin for his leadership in this position over the past year and wish him well on his future endeavours. Dr. Reinhold served previously as Interim Chair of the Department in 2019, prior to Dr. Martin's arrival. The search committee to identify a new permanent Chair has already been struck and will begin its work in earnest in January 2021.

Dr. Reinhold completed her MDCM in 1984 and residency training in 1990, both at McGill University. Following a Fellowship in Abdominal Imaging at Yale University in 1991, Dr. Reinhold joined the Faculty of Medicine at McGill in 1992. She became a Full Professor in 2005. Dr. Reinhold has been Director of the Division of Magnetic Resonance Imaging (MRI) in the Department of Diagnostic Radiology since 1997. In 2015, she was appointed Associate Chair of Research for the Department. Dr. Reinhold also holds the position of Associate Radiologist in the Departments of Oncology, Obstetrics and Gynecology and Experimental Surgery at the McGill University Health Centre (MUHC). In these roles, she has worked tirelessly to help the Department fulfill its clinical, education and research missions both at the level of the MUHC and McGill University.

Dr. Reinhold's area of clinical expertise is abdominal imaging, with a special interest in the female pelvis, which is also the focus of her research program. She has written over 200 peer-reviewed publications and book chapters on various aspects of abdominal imaging and has given numerous invited lectures globally. She holds research grants from the Canadian Institutes of Health Research, Fonds de recherche du Québec – Santé (FRQS) and Rossy Cancer Network, among others. She is co-director of the Augmented Intelligence Precision Health Laboratory (AIPHL) at the Research Institute of the MUHC. She is a member of numerous professional societies and is involved in several national and international committees, including Chair of the MRI Track of the Ovarian-Adnexal Imaging-Reporting Data System (O-RADS MRI) at the American College of Radiology, the Annual Program Committee of the Radiological Society of North America and the MRI Chair of the FIGO Adenomyosis Committee.

As Interim Chair of McGill's Department of Diagnostic Radiology, Dr. Reinhold will ensure continuity in the support of the Department's successful clinical training activities, research and clinical innovation efforts across all McGill-affiliated sites.

Please join us in wishing Dr. Reinhold every success in this new role.
Dr. David Eidelman


Vice-Principal (Health Affairs)


Dean of the Faculty of Medicine &


Health Sciences

Dr. Lesley Fellows


Vice-Dean, Academic Affairs
December 18, 2020