This story is part of the Faculty's Proud to Teach campaign, recognizing excellence and innovation in teaching across the Faculty of Medicine.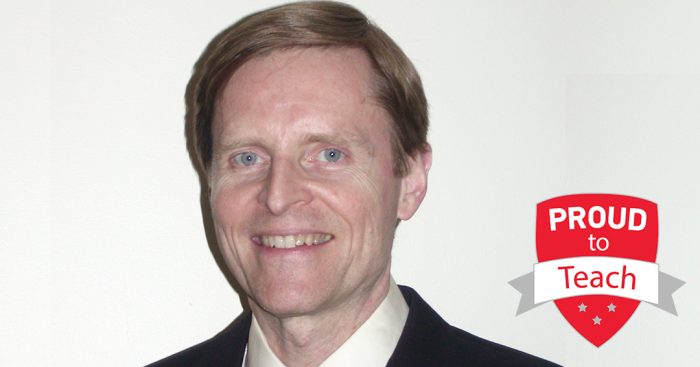 By Matthew Brett
Renowned ophthalmologist Dr. Bryan Arthurs is the recipient of the 2020 Clinical Teacher Award from the Association of Faculties of Medicine of Canada (AFMC) in recognition of his exceptional contributions to clinical teaching at McGill University and worldwide.

"The steady hands and deep knowledge of a great surgeon are reflected by the qualities of a superb teacher," said Dr. Leonard Levin, Chair, Department of Ophthalmology and Visual Sciences. "Bryan Arthurs transforms complex oculoplastic information and skills into material that our trainees readily master. He is one of a kind."

Finding beauty in the everyday
To give a sense of his character, Dr. Arthurs begins his lectures by sharing human values or qualities that merit practicing – things like kindness, perseverance and generosity. These are "personal qualities that everyone should develop and that we as teachers should foster," said Dr. Arthurs.

Other times, Dr. Arthurs opens a lecture by sharing a prize-winning wildlife photograph or an exotic landscape.

"The day always begins with an inspirational thought or admiring some of the world's beauty," he said. "It seems to be a great way to start the day and the residents are almost always on time."

This humanistic approach does not go unnoticed by recent students and residents of Dr. Arthurs, who describe him as an exemplary mentor, inspiring teacher and clinician, and a wonderful role model.

A legacy of teaching, equity and care
Serving as the residency program director for Ophthalmology (2002-15), Dr. Arthurs introduced a range of innovations with both patients and residents at heart.

Among those innovations were significant curriculum revisions, ethics teaching, remedial teaching and support for residents in academic difficulty, mini-oral exams to prepare for Royal College exams, and safety policies and practices so that residents could work and learn in a safe environment.

"I believe that no resident should be left behind," said Dr. Arthurs. "When we identify a resident who is in academic difficulty, we create a tailor-made program depending upon the weakness identified. A number of residents have benefitted from this extra effort and gone on to pass their Royal College exams.​"

The ethics of consent for cataract surgery by residents has always been controversial so, in 2005, Dr. Arthurs worked with a resident to publish research in the Canadian Journal of Ophthalmology to demonstrate a patient's acceptance of cataract surgery with a clear consent form for resident participation in their surgery.

Dr. Arthurs also began a mentorship program for Ophthalmology residents in 2013 and found that mentors themselves often appreciated the opportunity to revitalize their roles as mentors and role models.

A history of teaching excellence
Dr. Arthurs completed his medical education at the University of Western Ontario in 1979 before moving to Montreal for his internship and residency at McGill University.

A Professor with the Department of Ophthalmology and Visual Sciences, Dr. Arthurs is an attending staff member at the Royal Victoria Hospital (McGill Academic Eye Centre) and the

Montreal General Hospital as well as a consulting staff member at the Montreal Children's Hospital.

A testament to his dedication to teaching, Dr. Arthurs won the Frank Buller Award for the Most Outstanding Surgical Instructor in Ophthalmology three times (1992, 2007, 2018) along with other teaching awards from the McGill Faculty of Medicine, les Entretiens ophtalmologiques universitaires de Montréal, and the Canadian Association for Medical Education.

On receiving this latest teaching award, Dr. Arthurs says that he feels "a great sense of gratitude. I am grateful to be a member of a wonderful teaching staff at McGill University. I am grateful to have the opportunity to spend time with a terrific group of students that have so much youth, energy and enthusiasm. I only hope that they are learning as much from me as I am learning from them."

March 18 2020