Message from the Board of Directors, Research Institute of the MUHC, and Interim President and Executive Director of the MUHC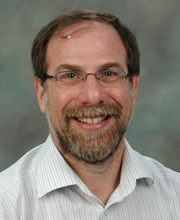 Following Dr. Vassilios Papadopoulos' resignation, we are pleased to announce the appointment of Dr. Bruce Mazer as Interim Executive Director and Chief Scientific Officer (CSO) of the Research Institute of the McGill University Health Centre (RI-MUHC), effective October 1, 2016. Dr. Mazer has served as Deputy Executive Director/Deputy CSO of the RI-MUHC and Head of Child Health Research at the Montreal Children's Hospital of the MUHC (MCH-MUHC) since April 2015. He will serve in this function until the appointment of a new Executive Director/CSO is finalized.

A clinician-scientist and member of the Translational Research in Respiratory Diseases Program at the RI-MUHC, Dr. Mazer is a professor of pediatrics in the Faculty of Medicine at McGill University and an attending physician in the Division of Allergy and Immunology at the MCH-MUHC. A graduate of Columbia University, New York, he obtained his MD and training in pediatrics at McGill University in the 1980s and completed a clinical and research fellowship in allergy/immunology at the National Jewish Center for Immunology and Respiratory Medicine, Denver, Colorado.

From 1999 until 2015 Dr. Mazer served as director of the largest academic practice of pediatric allergy and immunology in Canada at the MUHC, while undertaking another leading role in his scientific career at the Meakins Christie Laboratories. His current research interests include understanding the role of B-cells, plasma cells and intravenous immunoglobulin in tolerance and immune regulation, understanding defects in B-cell memory and antibody disorders, and developing novel biomarkers for oral tolerance and food desensitization. Accolades for his research have included the prestigious Chercheur national award from the Fonds de Recherche du Québec – Santé. Dr. Mazer has chaired the RI-MUHC Research Council and numerous committees. In the past year, he has worked closely with Dr. Papadopoulos to integrate child health research and adult biomedical research for the successful care and treatment of the individual patient across the life span.

A search and selection process for the next Executive Director/CSO will be initiated shortly. We take this opportunity to again thank Dr. Papadopoulos, who expertly guided the RI-MUHC through the defining era of the past nine years.
Please join us in welcoming Dr. Mazer to his new role: introducing the next era in leadership and in the accomplishments of our vibrant research community.

Raymond Royer                                                                Martine Alfonso

Chairman, RI-MUHC Board                          Interim President and Executive Director of the MUHC

September 22, 2016