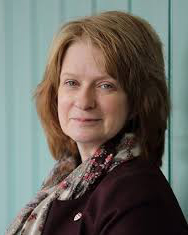 We are pleased to announce the appointment of Dr. Anne McKinney to the newly-created position of Associate Dean, Academic Affairs, Faculty of Medicine, McGill University.

As Associate Dean, Dr. McKinney will report to the Vice-Dean, Academic Affairs and will be responsible for the continued development of the faculty mentoring Telemachus Scholars Program. She will establish programs and improve processes to support academic engagement and promote excellence across the faculty life cycle, and across the full diversity of academic roles in the Faculty of Medicine. She will also assist the VP-Dean and Vice-Dean, Academic Affairs, in ensuring the highest standards of professionalism and conduct are maintained in both campus and clinical teaching settings.

Dr. McKinney will continue to chair the Brain@McGill program, with the mandate to enhance McGill's performance and positioning in the neurosciences.

Dr. McKinney completed her B.Sc. (Hons) in Medical Laboratory Sciences in 1988 and D.Phil in 1992 at the University of Ulster in Northern Ireland. She then took a position as Postdoctoral Research Fellow at the Brain Research Institute, University of Zurich, Switzerland where she was subsequently appointed in 1998 as an Assistant Professor in the Department of Neurophysiology. In 2005 she joined the Department of Pharmacology and Therapeutics at McGill's Faculty of Medicine as Associate Professor and where she is now a Full Professor.

From January 2016 to December 2018, Dr. McKinney served as Associate Vice-Principal of Research and Innovation (Health Affairs). Her mandate in this role was to support the overall mission of advancing biomedical and health sciences research excellence at McGill while increasing research performance and research intensity. Key files in which she has played a leading role include those related to Calcul Québec, where she served as Vice-President, Compute Canada, Healthy Brains for Healthy Lives (HBHL), and several new international collaborations currently in development.

Dr. McKinney's own research focuses on deciphering the molecular basis of synapses, whose development and maintenance in the central nervous system remain a poorly understood area of neuroscience. Based in the Bellini Building in the Life Sciences Complex, her lab uses cutting-edge imaging techniques to reveal the processes of synaptic stability and neuronal circuitry with the aim of developing therapies for autism, epilepsy and neurodegenerative diseases. She has published her research in leading international peer-reviewed journals. Her research has been funded by CIHR, NSERC, ARSACS Foundation and the Alzheimer's Society of Canada. Dr. McKinney acts as a frequent reviewer for several organizations including NSERC, CIHR, Swiss National Science Foundation, Agence Nationale de la Recherche France, Israel Science Foundation and the UK Medical Research Council.

Dr. McKinney also serves as a member of the National Research Council Canada's Medical Devices Research Centre Advisory Board, as well as being an external advisory board member for University of Texas at Austin NSF grant NeuroNex technology hubs. She has received many accolades throughout her career, including being a three-time nominee of the Principal's Prize for Excellence in Teaching for the Department of Pharmacology and Therapeutics and Faculty of Medicine.

Please join us in welcoming Dr. Anne McKinney into her new role of Associate Dean, Academic Affairs and in wishing her great success.
Dr. David Eidelman


Vice-Principal (Health Affairs)


Dean of the Faculty of Medicine

Dr. Lesley Fellows


Vice-Dean, Academic Affairs
**

January 29, 2019