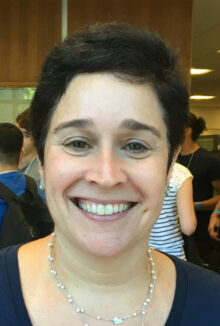 It is with pleasure that we announce the appointment of Dr. Ana Maria Sant'Anna as Assistant Dean, MDCM Admissions, Faculty of Medicine, McGill University, a recently redefined position reporting to the Associate Dean, Undergraduate Medical Education. Dr. Sant'Anna's appointment became effective July 1, 2016. We take this opportunity to express our sincere appreciation to Dr. Robert Primavesi, who has been serving as Acting Assistant Dean, Admissions, since the fall of 2015.

As Assistant Dean, MDCM Admissions, Dr. Sant'Anna will be responsible for the selection of candidates for the Faculty's MDCM Program, based on the principles and guidelines established by the MDCM Program Committee. This includes designing, planning, implementing and evaluating the admissions selection process and advising the Office of Admissions regarding student recruitment. Dr. Sant'Anna will chair the MDCM Admissions Subcommittee and implement decisions related to admissions and candidate selection, in accordance with the Faculty's mission and the MDCM Program Committee's requirements.

Dr. Sant'Anna will collaborate with the Faculty's Office of Admissions, the mandate of which is evolving to service all of the Faculty's professional schools. She will ensure the MDCM Program selection and admissions processes are fair, transparent and accountable, and meet standards set by law, governmental decrees and accreditation bodies. She will liaise with internal and external stakeholders, such as the MDCM Program's Student Promotions Committee and the Widening Participation Committee, as well as with the CIQAM and the Association of Faculties of Medicine of Canada, among others. Dr. Sant'Anna will contribute to continuous quality improvement initiatives as part of her mandate, as well as engage in scholarly work related to admissions and candidate selection.

Dr. Sant'Anna is an Associate Professor of Pediatrics at McGill and a practising pediatrician in the Division of Pediatric Gastroenterology and Nutrition at the Montreal Children's Hospital of the McGill University Health Centre. In addition to her teaching and supervision, she also serves as an Osler Fellow. Prior to joining McGill, Dr. Sant'Anna taught in the Faculty of Health Sciences at McMaster University in Hamilton, Ontario, where she was also Program Director of the Postgraduate GI Pediatric Fellowship Program. Originally from Brazil, she completed her post-MD training at the Federal University of Rio de Janeiro in Brazil and at Université de Montréal.

Dr. Sant'Anna has received numerous fellowships and awards for her own research, and lectures often in North and South America. She is an active member on a number of national and international committees, and publishes regularly in peer-reviewed journals.

Please join us in wishing Dr. Sant'Anna a warm welcome into the role of Assistant Dean, MDCM Admissions, together with great success.
Dr. David Eidelman


Vice-Principal (Health Affairs)


Dean of the Faculty of Medicine

Dr. Mara Ludwig


Vice-Dean, Academic Affairs