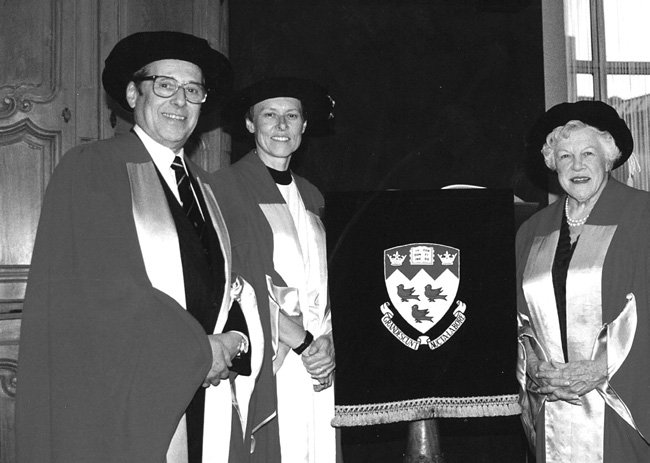 A distinguished McGill alumnus, Victor Goldbloom, died Monday night at age 92.

A pediatrician by academic training, Goldbloom graduated from McGill with a BSc in 1944, an MDCM in 1945 and a DipEd in 1950. In 1992, McGill presented him with an honorary degree in recognition of his many years of service to Montreal, Quebec and Canadian society.

"Victor Goldbloom made many important contributions to our society, as a community leader, as a political figure and a public servant," said McGill Principal and Vice-Chancellor Suzanne Fortier. "He worked tirelessly to build bridges between religious groups and between language groups, helping foster greater understanding and tolerance. On behalf of McGill, I extend our condolences to his family and friends on their loss."

Goldbloom was also a strong supporter of McGill, and he started early.

"Victor Goldbloom was a loyal and generous supporter of his alma mater, who made his first gift to McGill as a Post-Doctoral student in Pediatrics in 1949," said Vice-Principal (University Advancement) Marc Weinstein. "He continued to support the University throughout his lifetime, giving to areas that reflected his personal and professional passions: libraries, Social Work and Medicine."

Born in Montreal, Goldbloom studied at Selwyn House and Lower Canada College before coming to McGill.

A provincial cabinet minister who represented the Montreal riding of D'Arcy McGee from 1966 to 1979, Goldbloom was the first member of Quebec's Jewish community to sit at the cabinet table.

Following his political career, Goldbloom served from 1980 to 1987 as CEO of the Canadian Council of Christians and Jews.

He then served, from 1991 to 1999, as Canada's Commissioner for Official Languages. He was a Companion of the Order of Canada and an Officer of the Order of Quebec.

In 2009, the Quebec Community Groups Network (QCGN) established the Sheila and Victor Goldbloom Distinguished Community Service Award, which recognizes individuals who have made major contributions to the vitality and understanding of Quebec's English-speaking community.

Goldbloom is survived by his wife of more than 60 years, Sheila; his son Michael, who is Principal and Vice-Chancellor of Bishop's University and the former publisher of the Toronto Star and Montreal Gazette; son Jonathan, President and founder of the communications firm Jonathan Goldbloom & Associates; and daughter Susan Restler, who lives in Brooklyn, N.Y.

February 17, 2016