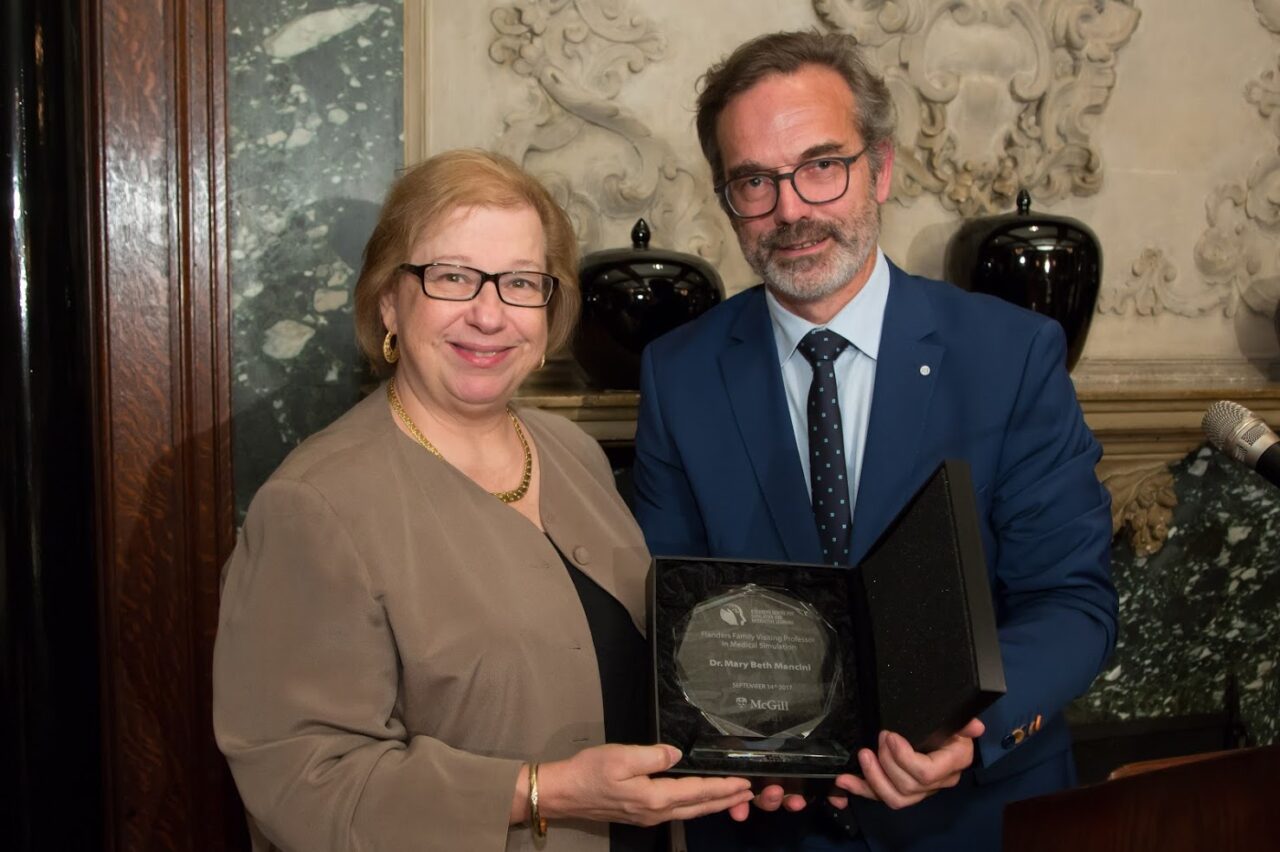 By Diane Weidner, Steinberg Centre for Simulation and Interactive Learning

On September 13 and 14, 2017, the Steinberg Centre for Simulation and Interactive Learning (SCSIL) had the pleasure of hosting the 13th annual Flanders Family Visiting Professor in Medical Simulation, Dr. Mary Beth Mancini. A true leader in the field, Professor Mancini is the Senior Associate Dean for Education Innovation and Chair for Undergraduate Nursing Programs at the University of Texas at Arlington College of Nursing and Health Innovation. This passionate trailblazer has been actively involved in simulation for over 30 years, "before it was trendy to do so and before we had all the great tools that we have today," she says. Professor Mancini served as past President for the Society for Simulation in Health Care and past member of the Royal College of Physicians and Surgeons of Canada's Simulation Task Force. She also holds the Baylor Health Care System Professorship for Health Care Research and has more than 90 publications to her credit.

The Flanders Family Visiting Professorship is an initiative that encourages the exchange of work and knowledge in simulation-based health education. "This unique named professorship, endowed by Kappy Flanders and her family, allows us to invite leaders with different backgrounds to come here and share their unique perspective of simulation with us. Professor Mancini's experience in nursing and simulation is extensive, and we are grateful for the opportunity to exchange ideas and knowledge with her," says Dr. Kevin Lachapelle, Founding Director and current Interim Director, SCSIL.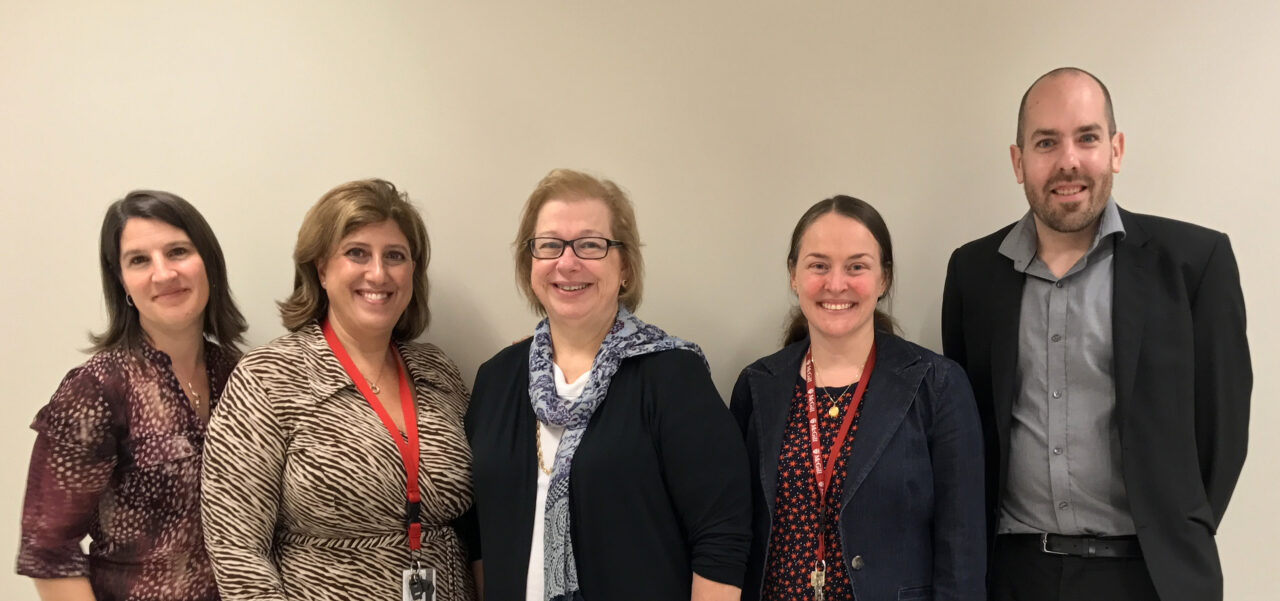 Simulating at the Ingram School of Nursing
Professor Mancini shared her expertise with nursing clinicians and educators at the Ingram School of Nursing (ISoN) during two workshops held at their new facilities. Hugo Marchand, RN, Director of the ISoN Learning Laboratories, and Katherine Logue, RN, ISoN Curriculum Designer for Continuing Nursing Education, joined Professor Mancini to facilitate the first workshop, "Simulation in Nursing Education: On Campus and Distance Learning." The ISoN recently inaugurated a state-of-the-art nursing simulation centre, so the timing was ideal. As Katherine stated in her opening remarks, "We are eager to use our new facilities to their full potential and optimize the tools that we have for our students." A lively discussion on strategies to implement simulation in nursing education ensued, tackling questions on how to leverage simulation and design programs that are scalable and can go beyond the classroom.

"The need for nurses around the world is phenomenal. We can't just do more, we have to do different," stated Professor Mancini, who was involved in growing the distance education program for the University of Texas at Austin School of Nursing, one of the leading nursing school in the United States. In addition to over 7,000 students enrolled in the Bachelor of Science in Nursing (BSN) program, approximately 13,000 students are currently enrolled in the Family Nurse Practitioner online course, with a 90% pass rate on the licensing exam on their first attempt—an impressive accomplishment!

The second nursing workshop, "Simulation and Inquiry-Based Learning (IBL)", addressed the advantages and challenges of integrating simulation in IBL courses.  Professor Mancini was joined by McGill IBL co-leads Jodi Tuck, RN, ISoN Faculty Lecturer and Lia Sanzone, RN, ISoN Assistant Professor and Assistant Director of the BSc(N) Program. IBL was recently integrated into McGill's revised undergraduate nursing curriculum, allowing nursing students to actively participate in simulated clinical experiences in a safe environment to increase their confidence, their practice and their safety. "The key to success in simulation is that it is intentionally applied," stated Professor Mancini. "What do we want to accomplish and how will we integrate this into our pedagogy?" In a lively discussion on "learning about, with, and from each other," Professor Mancini stressed the importance of open and honest self-assessment and consistent debriefing techniques. The discussion also touched on the value of having experienced Standardized Patients (SPs)—actors who can accurately portray patient concerns and provide feedback to help with the learning process. Professor Mancini was impressed with the very robust program that exists at the McGill Faculty of Medicine, who work with over 200 SPs on a regular basis.

High-Performance Health Care
The following morning, Professor Mancini presented at the Combined Surgical and Anesthesia Grand Rounds at the Montreal General Hospital, with videoconferencing to five affiliated health care centres. Professor Mancini shared her insights on how to create a culture of safety, optimize teamwork and employ simulation to decrease hospital risks and increase patient safety. Her presentation, "High-Performance Health Care through Simulation" touched upon important principles encompassing human competence and deliberate practice, the "five 'rights' of simulation" and the need to leverage technology to maximize simulation.  Drawing upon her own experience and research on CPR training, Professor Mancini shared research that demonstrated the concrete impact that simulation can have on clinical skills.  "It's challenging to practice and assess as a team in the hospital, but simulation allows us to do that," she stated.

The final workshop, "Simulation-Based Assessment & Evaluation of Team Performance" took place at the SCSIL with interactive discussions on the challenges that exist within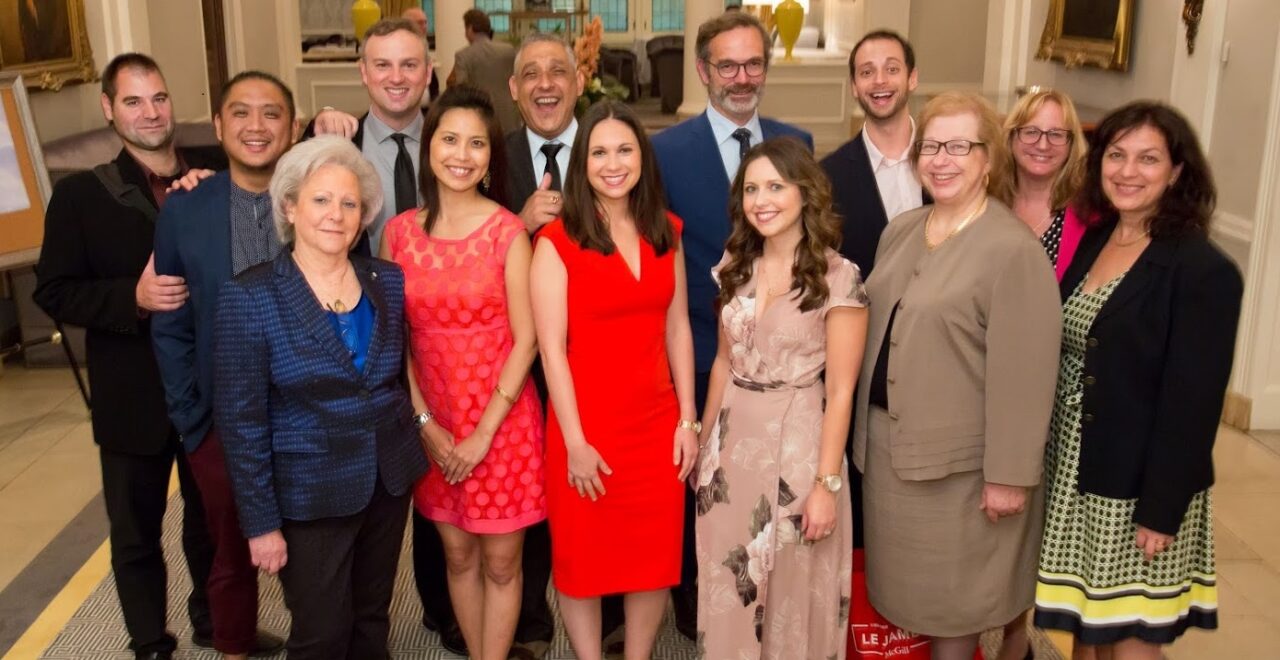 teams and the importance of self-awareness. The need to clarify our language and agree on consistent operational definitions was also highlighted as a very important aspect of effective communications. "What you're doing here matters," concluded Professor Mancini, reminding us all how important our ongoing work is towards the ultimate goal of improving patient outcomes.

Coming together as a team
After two full days of workshops, a lovely dinner was held in Professor Mancini's honor, hosted by the Flanders family.  During a very heartfelt speech, Kappy Flanders shared her thoughts with the audience:  "To achieve good outcomes, it takes a team—whether it is a surgical team, a specialist department, or the entire hospital, from maintenance people to the hospital CEO— to share in an honest manner and to provide useful, constructive feedback.  That's what the simulation centre is here to create, and it's heartening to see so many people, both at her lecture, at the workshops and now this evening, are all on board."