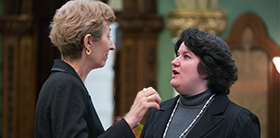 By Christina Kozakiewicz, Ingram School of Nursing

Digital health is defined as the convergence of digital technologies—such as email, mobile phone applications and text messages—with health and health care. The goal is to enhance the efficiency of health care delivery, interconnect health systems, make treatments and health promotion more personalized and precise, and assist health care professionals and patients manage illnesses and health risks, as well as promoting health and wellbeing.

Digital Health Week (November 13-19, 2017) was created by leading health care organizations across Canada, to recognize how digital platforms and tools converge with health care delivery for positive health outcomes for individuals, families and communities.

If you have ever used a telephone or a computer to receive health care services, then you have participated in and benefited from digital health. Ingram School of Nursing faculty members Dr. Antonia Arnaert and Ms. Norma Ponzoni have worked together for many years building a common program of digital health research. Antonia's expertise lies in designing and developing innovative telehealth/eHealth solutions for health care services. Norma's training is in education, and she has an extensive knowledge of today's primary care landscape, which includes all services that play a part in health, such as income, housing, education, and environment.

Together, Antonia and Norma are working to advance evidence around the use of digital and information technologies for delivering nursing care and education in remote settings, with the goal of bridging tertiary care expertise with primary care services. Tertiary care is specialized consultative care, usually on referral from primary or secondary medical care personnel, and primary care focuses on health care services, including health promotion, illness and injury prevention, and the diagnosis and treatment of illness and injury.

Antonia and Norma's program of research is multifaceted and wide-ranging, from exploring nursing students' perceptions of using digital technology in health care, to evaluating care for seniors via a computerized information system, to an eHealth project in prenatal care in rural Burkina Faso, Africa. They are also developing a Clinical Decision Support System (CDSS) to help nurses with their clinical reasoning skills; the process by which they collect cues, process the information, come to an understanding of a patient problem or situation, plan and implement interventions, evaluate outcomes, and reflect on and learn from the process.

With the shift to ambulatory or outpatient care, Antonia and Norma's research approach combines telehealth with clinical reasoning prompts, and supports clinicians in providing quality care in many health situations, such as chronic disease management, mental health, prenatal and post-surgical care. When asked how they came to their field of research, Norma and Antonia attribute it to the stars aligning, and to their common goals. "Fate brought us together over the shared supervision of a graduate student," says Norma. "Both of us have a passion for technology, which is the common ground that we share and the foundation for our work," she says.

Next steps for Antonia and Norma's research will involve moving beyond feasibility studies to focusing on cost and process evaluations and developing guidelines, with the goal of helping health care organizations successfully implement technology-related services to their patients.

"We both strongly believe that technology is the future and has the potential to improve health care and education," says Antonia.

Antonia Aernart and Norma Ponzoni were recently awarded funding from Grand Challenges Canada for their eHealth project in Burkina Faso, which will be implemented with professors from Université du Québec en Outaouais (UQO), the Institut de Formation et Recherche Interdisciplinaire en Santé (IFRIS), and an industrial partner, AlayaCare.

Visit www.mcgill.ca/nursing and follow on Facebook and Twitter for the latest news from the Ingram School of Nursing.

November 17, 2017