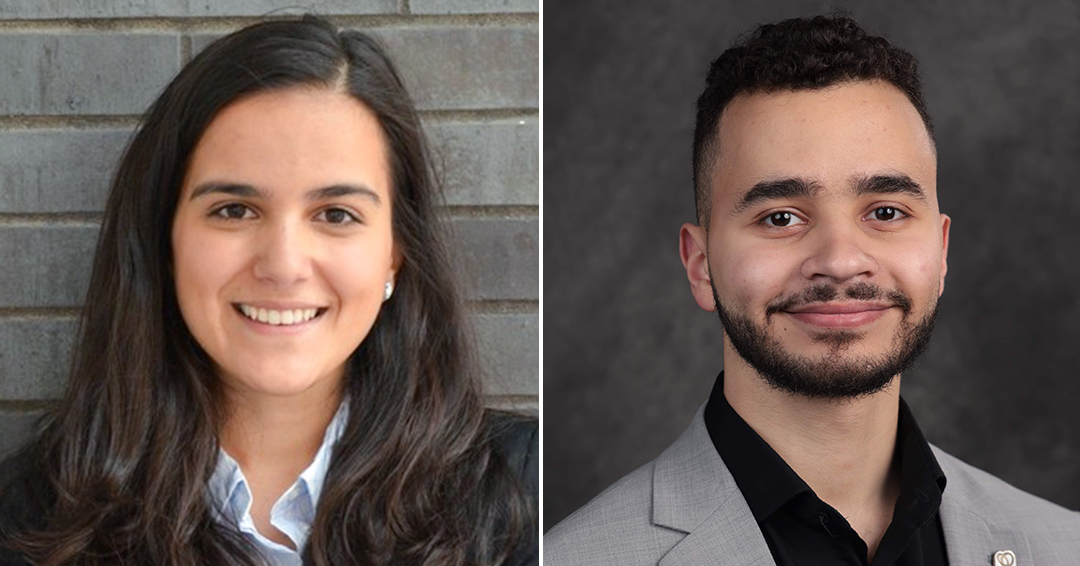 Med students recognized for spearheading outreach projects that make a difference in the lives and health of their community.
Established in 2012 by physician and former astronaut Dave Williams, BSc'76, MDCM'83, MSc'83, DSc'07, and Chair of the Engagement and Outreach Subcommittee of the Faculty of Medicine and Health Sciences' Advisory Board, the Dave Williams Leadership Award recognizes medical student leaders in community outreach. "Health care is about doing things for others," says Dr.  Williams. That vision has sustained his remarkable drive to make a difference in other people's lives. With the Leadership Award, Dr.  Williams seeks to support and empower medical students who are spearheading meaningful changes in health care: "difference makers," as he calls them.
Here we profile this year's recipients, Jasmine Rocci, BSc'20, and Omar Toubar, both members of the Medicine Class of 2025, and learn about their outreach initiatives and their aspirations.
Jasmine's journey
With the onset and development of the COVID-19 pandemic came not only online education and home offices, but also remote social services and telemedicine. While most of us have adapted to these transitions, underserved populations have become more vulnerable than ever. Because they often lack the means to acquire electronic devices, these populations experience higher barriers to access remote health care, and many have been left to face illnesses and chronic diseases alone.
Keen to make a meaningful difference and to support her community, Jasmine Rocci launched Care Through Tech in 2020 to connect people experiencing homelessness with health care through technology. The federally recognized non-profit organization collects gently used cell phones, tablets, and computers, refurbishes them, and delivers them to those in need thanks to partnerships with homeless shelters and social service organizations. Originally launched in Hamilton, Ontario, Care Through Tech has since expanded to other cities in Ontario and Quebec and is steadily building partnerships in both provinces.
Grateful for this award that recognizes her exemplary leadership, Jasmine is also thankful for Dr.  Williams' confidence in her clinical aspirations as she navigates this new chapter in her life—a chapter that she feels empowered to tackle with compassion, empathy, and a profound drive to make a meaningful difference in the lives of others.
Omar's story
When a close friend of his lost his aunt to breast cancer, Omar Toubar decided he wanted to do something to help. With two other CEGEP students, he launched Coda, a student-led fundraiser for cancer supporting a cause close to their hearts. Fast-forward two years later: in 2021, Omar relaunched Coda as a medical student-led, non-profit organization in official collaboration with the Canadian Cancer Society. What started as a student club at Marianopolis College is now a large initiative supported by an extensive Board (comprising Omar himself, David Lu, Franco D'Anna, Wassim Senouci, Ghina Faucher-Jabado, Wassim Elmasry, Amrit Das, Akash Pattni, and Allison Engo—all of them McGill medical students) and collaborating with over 100 student members across 12 different academic institutions, all working tirelessly towards a world in which no Canadian fears cancer.
Coda's activities revolve mainly around young people. Examining the existing messaging around cancer, Omar realized that it predominantly targets older generations and people who have experienced cancer—be it themselves or their loved ones. Younger generations are often left out of the conversation even though they are not immune to cancer. Omar and his team had found their audience. Through Coda, they started raising awareness and funds for cancer research in the young population thanks to targeted social media content, attractive merchandise, and fun events that allow Omar to express his creativity and innovative thinking. By February 2023, the team had raised $40,000 and, having created a tight-knit community around the fundraiser, is set to reach even more ambitious goals.
With Coda growing faster than ever, Omar is now training the next generation of fundraisers. Many CEGEP volunteers have gone on to pursue health sciences education thanks to their experience with Coda, and Omar is proud to have supported and inspired many young people, empowering them to become leaders in their own right.
Looking back to the past four years, Omar is grateful for the opportunities he has had to contribute something of value to others and to positively impact his community. "It's surreal!" he exclaims. "Not only do I get to study medicine, but I get to make an impact on the lives of those who need help, before even graduating. I'm very grateful to be a part of this initiative." Now in his second year of medical school and looking to the future, he sees surgery as a specialty that would allow him to flourish as a leader—and, ultimately, continue making a difference in the world.