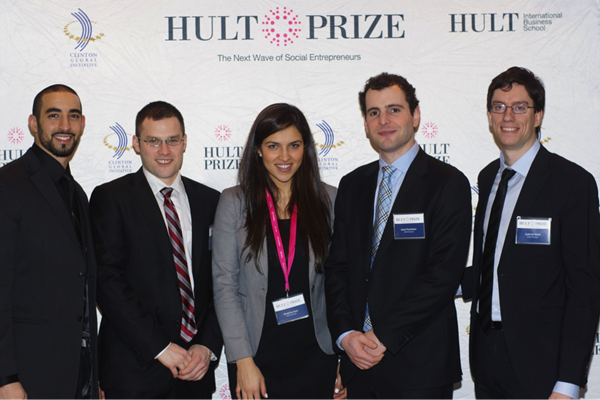 A world without hunger could mean a world with a lot more crickets, according to a team of MBA students at McGill University's Desautels Faculty of Management.

A team of five of the business school's MBA students ((Mohammed Ashour, Gabriel Mott, Shobhita Soor, Jesse Pearlstein and Zev Thompson)  beat out 42 other schools, including Harvard, MIT, and Yale, to win the Boston Regional Finals of the 2013 Hult Prize in early March. The Hult prize, in partnership with former President Bill Clinton and the Clinton Global Initiative, is a start-up accelerator program dedicated to launching the next wave of social entrepreneurs. Each year, a critical social challenge is selected and student teams from around the world are charged with developing innovative social enterprises that aim to eliminate the social issue. The prize is $1 million dollars in start-up capital to launch their new enterprise.

Team McGill plans to develop a manufacturing plant to grow crickets and process the insects into two edible formats. The first is to bake the crickets whole and distribute them to already existing cricket suppliers.The second format is to grind the crickets into a powder and mix it with various flours to develop fortified protein-rich flour that can be sold in the market.

"Crickets are nutritionally superior to what most of us are eating here," said Mr. Ashour.

The team did a comparison between 100g of beef and 100g of crickets and concluded that crickets have exceptional iron and protein levels.

Team McGill will spend the next four months raising funds, visiting several locations, testing, and prototyping their ideas, with consulation from resources such as the  Faculty of Medicine when undergoing scientific studies. As one of the finalists, the team will also join the other regional finalists this summer at the Hult Accelerator Incubator in Boston.Following their time at the Hult Accelerator, Team McGill will prepare to pitch their start-up at the annual Clinton Global Initiative meeting in September.

On September 23, 2013, The McGill team will attend the Annual Meeting of the Clinton Global Initiative (CGI) in New York City, and present their business model to many of the world's most influential leaders. The panel of judges will include former President Bill Clinton and Nobel Laureate Muhammad Yunus, along with delegates including President Barack Obama. The winning team will be awarded USD $1 million in seed capital to launch their social enterprise.

RELATED COVERAGE
Financial Post
Montreal Gazette
Business Week
CBC
May 8, 2013