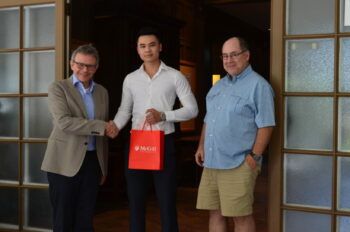 On Friday, August 10, McGill Faculty of Medicine's Department of Pharmacology and Therapeutics presented the 2018 Charles E. Frosst Medical Prize and the 2018 Mark Nickerson Prize to medical students Jeffrey Wong and Benjamin Mappin-Kasirer respectively.
"I decided I wanted to build on my clinical foundation as a pharmacist and dedicated myself to extra training in the field of Medicine," says Jeff Wong who grew up in Vancouver and graduated in 2016 from the University of British Columbia's Faculty of Pharmacy as part of the International Rho Chi academic honors society of pharmacists, before immediately starting medical school at McGill. "This prize means a lot to me because it's an acknowledgement to my perseverance, and commitment to excellence and quality patient care.  The dual background has certainly allowed me to appreciate Medicine from a unique perspective. My main interest is in cardiac therapeutics and the essay I wrote that helped me win this award was about a landmark heart failure medication.  I would like to thank the Faculty of Medicine and the Department of Pharmacology and Therapeutics for this honour, and look forward to giving back to the community." The Charles E Frosst Medical prize is awarded annually to a medical student who has achieved excellence in the Fundamentals of Medicine and Dentistry and who has demonstrated, on the basis of an essay and interviews, promise in the field of pharmacology.

The recipient of the Mark Nickerson Prize, established in 1990 and named in honour of Professor Mark Nickerson, a renowned McGill pharmacologist, is third-year medical student Benjamin Mappin-Kasirer. Benjamin studied French Literature as an undergraduate at Yale University where he competed for four years on the University's varsity fencing team. He returned to McGill this past year after completing graduate studies at the University of Oxford as a Rhodes Scholar. In Oxford, he was a Master's student in the Clinical Trial Service Unit, Nuffield Department of Population Health.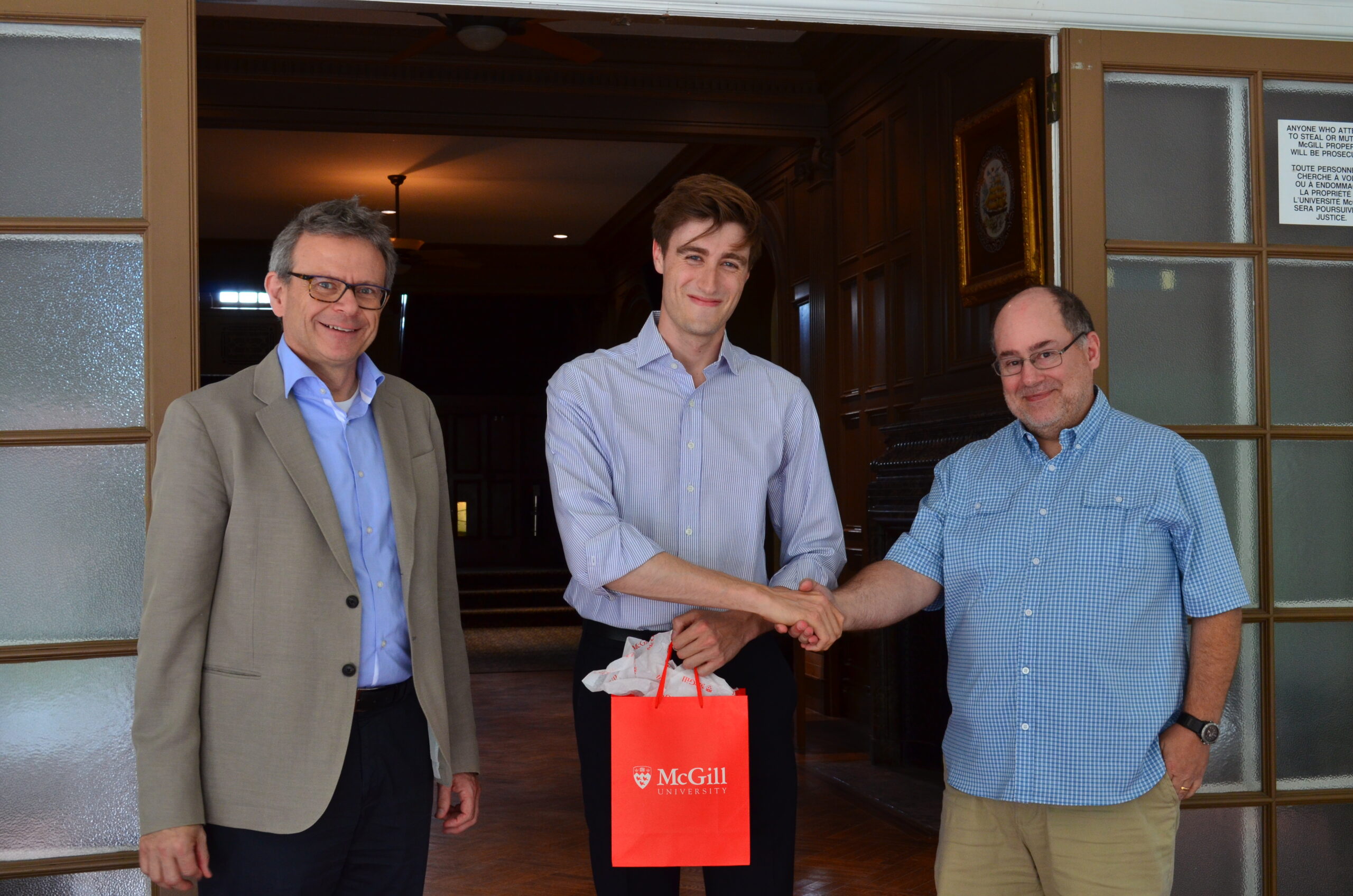 "I am honoured to receive this year's Mark Nickerson Prize, and am grateful to the Department of Pharmacology and Therapeutics and to the many professors and teachers who have made this possible for me," says Benjamin. "Prof. Nickerson's work, namely on haemorrhagic shock, remains important to clinical care long after its publication, and it is a privilege to receive this award named for his legacy. I am grateful to my supervisors at McGill – Dr. Fuks, Dr. Feldman, and Dr. Schwartzman – as well as many others in the Faculty, who have supported me and ensured my time in medical school has been filled with curiosity and growth."
Congratulations Jeff and Benjamin!

August 15, 2018