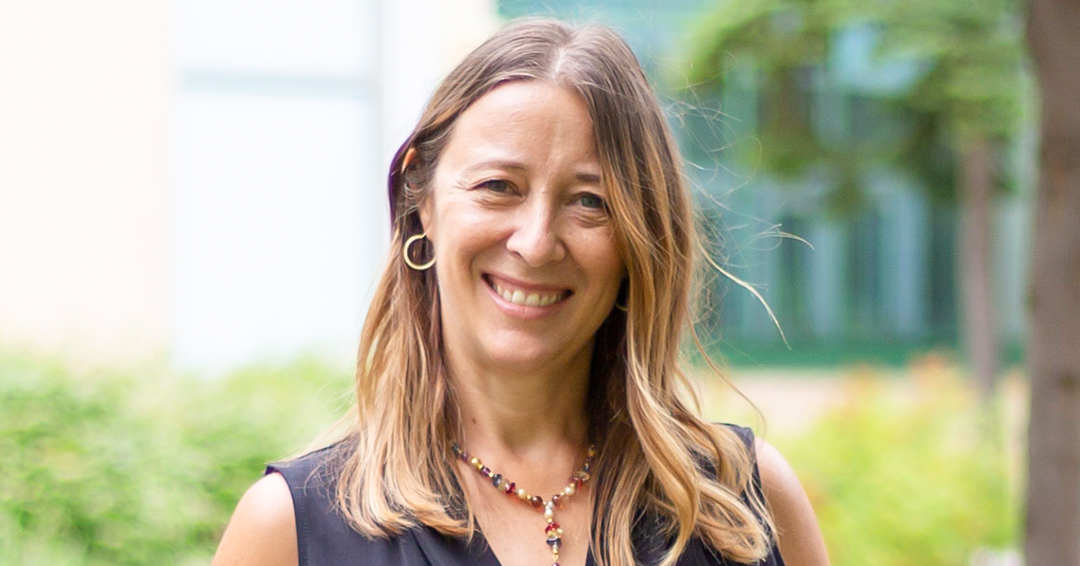 We are pleased to announce the appointment of Danyèle Lacombe, MD, as Vice-Dean and Director of Campus Outaouais, Faculty of Medicine and Health Sciences (FMHS), McGill University, effective January 1, 2023. Dr. Lacombe succeeds Gilles Brousseau, MD, the first Vice-Dean and Director of McGill's newest campus, in Gatineau. We would like to thank Dr. Brousseau for the vision and leadership he has brought to medical education in the region for more than 35 years, particularly as the prime driver behind the campus, which opened in 2020. Together with McGill's teams and its partners, he was able to bring this large-scale project to fruition, a crowning achievement in the decades of collaboration in the Outaouais region. Dr. Brousseau has graciously agreed to remain in a part-time advisory role for a few months to support Dr. Lacombe in this transition.
A founding member of the Campus Outaouais faculty and leadership team, Dr. Lacombe was involved in the implementation of the undergraduate medical education (UGME) program in Gatineau from the beginning. Since 2019, she has directed the Fundamentals in Medicine and Dentistry component of the MDCM program. In this role, she is responsible for the quality of the educational experience and adherence to accreditation standards in this first component of the program, as well as supporting course directors and assisting with student wellness issues. Also a course director since 2019 and responsible for the UGME accreditation process at Campus Outaouais since March 2022, Dr. Lacombe has extensive knowledge of Campus issues and activities from both an academic leadership and student and faculty experience perspective. She sits on the MDCM Program Committee and on several curriculum governance sub-committees at both the Montreal and Outaouais campuses.
Dr. Lacombe received her MD from the University of Ottawa in 2006, following a career as a journalist and host for CBC radio in Alberta. In 2008, after completing her residency in family medicine at McGill University, she founded the Clinique médicale Champlain in Gatineau. As co-owner and manager of the clinic, she is surrounded by a team of 12 physicians and health professionals offering interdisciplinary services in a family medicine group, as well as an administrative team working under her supervision. As a family physician, Dr. Lacombe has followed 1,500 patients of all ages for 15 years in a varied practice. She also worked in emergency medicine in the Hull and Gatineau hospitals from 2008 to 2018, as well as in surgical assistance from 2008 to 2012. She has been involved in training the next generation of physicians since 2008, actively participating in clinical supervision and teaching in family medicine, both at the undergraduate and residency levels. She has been a clinical instructor at McGill University since 2012 and, as of January 2023, she will hold the rank of Assistant Professor.
As Vice-Dean and Director of Campus Outaouais, Dr. Lacombe will report directly to the Vice-Principal (Health Affairs) and Dean of the FMHS serving as their delegate in the Outaouais region. As the chief academic officer of Campus Outaouais, she will oversee academic and administrative functions and be responsible for the physical facilities on campus. She will work to establish an academic culture among health professionals in the region by encouraging their participation in medical education. She will also be involved in mentoring, support for promotions and faculty appointments for faculty members. As the person responsible for the ongoing development of Campus Outaouais, she will support the planning of new activities, such as the implementation of new health sciences programs with FMHS partners. She will also guide Campus Outaouais in its collaboration with the CISSS de l'Outaouais and other partners in the context of various large-scale projects, including the development of a research centre, the new hospital in Gatineau and the expansion of postgraduate medical training.
We invite you to join us in congratulating Dr. Lacombe on this appointment and wishing her every success in her new position.
David Eidelman, MDCM

Vice-Principal (Health Affairs) Dean of the Faculty of Medicine & Health Sciences

Lesley Fellows, MD, PhD

Vice-Dean, Academic Affairs