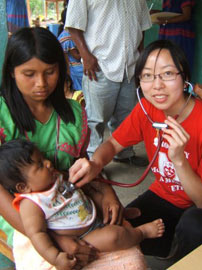 Medical student Cynthia Xin-ya Qian was named one of three winners of the Forces Avenir Personality Award for Graduate students. After having won a battle against leukemia as a child, Cynthia quickly understood that medicine's transformative power coupled with perseverance could have a direct influence on the daily lives of everyone. Currently pursuing a Master's degree in experimental medicine at the Université de Montréal while at the same time doing her residency in ophthalmological surgery, the 28-year-old student has already gained renown for her research work on reversible blindness and her involvement with the most underprivileged populations, both at home and abroad.

Admitted as a member of Orbis two years ago as associate ophthalmologist, something rare for a student at her level, Cynthia had the chance to take part in a mission to China and another in Peru, and she plans to head to Zambia at the end of 2012. Recognized for her endearing personality, generosity and ability to use her talents to work as a team with enthusiasm, she has succeeded during her missions in using her language skills — she speaks French, English, Mandarin, Italian and Spanish — and her knowledge to communicate with local doctors and teach them theoretical and surgical principles.

Her passion for medicine also led her, as a member of the Canadian Federation of Medical Students, to help develop the CROP project. Covering all Canadian provinces, this awareness project pairs medical students with high school students in rural areas with the goal of encouraging young people to pursue a career in medicine and serve their community.

Forces AVENIR aims to recognize, honour and promote the commitment of young people in projects which enrich knowledge, arouse the desire for success and for surpassing oneself, encourage the development of community thinking and thus contribute to the development of socially conscious, active and responsible citizens who are both dedicated to their community and open to the world.

To read the full award announcement click here

November 20, 2012