By Diane Weidner, Steinberg Centre for Simulation and Interactive Learning

Dr. Carmen Mueller, Assistant Professor of Surgery at McGill University, is among the 2017 recipients of a Medical Education Research Grant from the Royal College of Physicians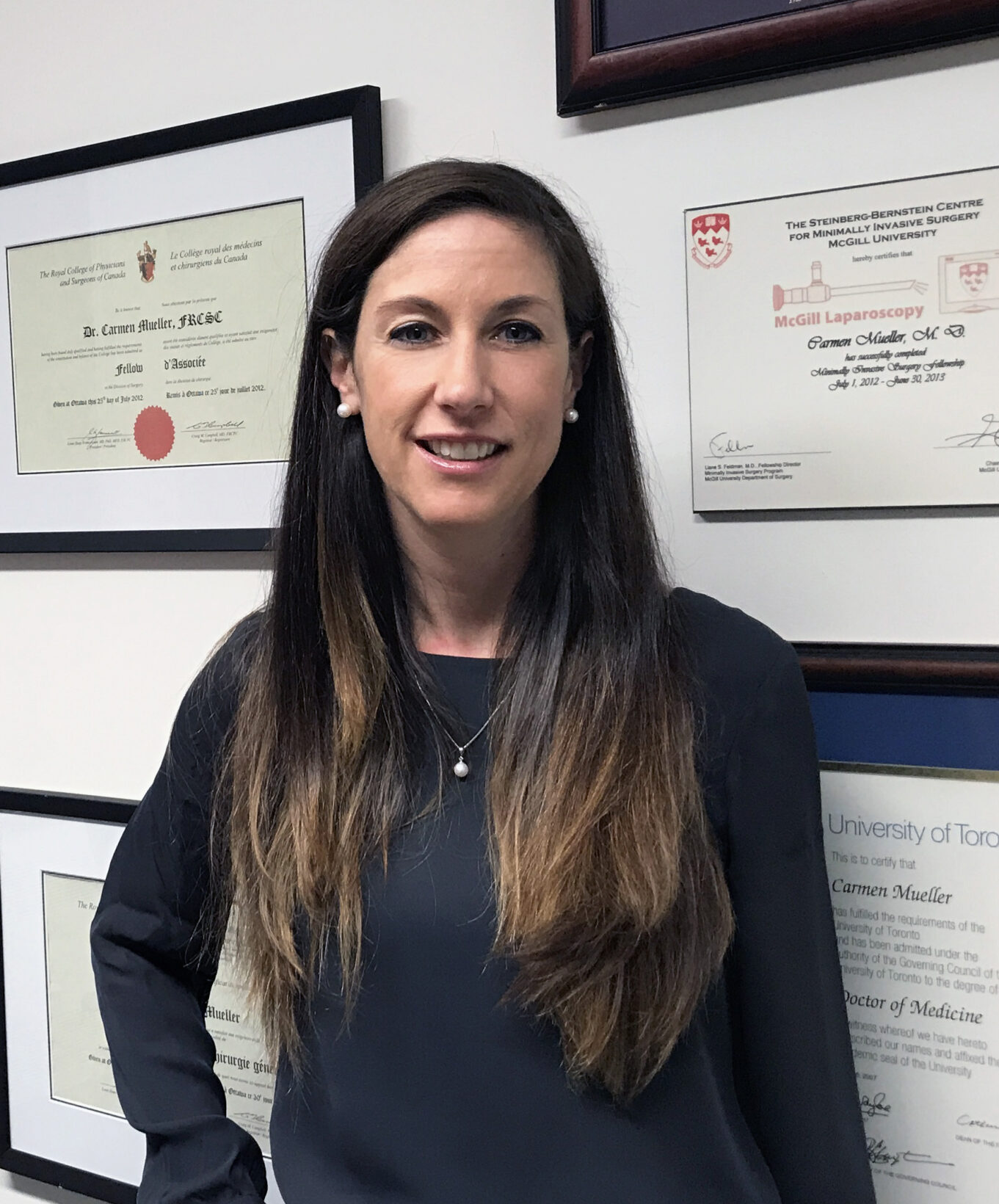 and Surgeons of Canada (RCPSC), an initiative that contributes to the advancement of medical education. Her research project will focus on "Reciprocal peer mentorship for practicing surgeons – modernization of continuous professional development in surgery."

I sat down with Dr. Mueller to learn more about this research project and to understand some of the challenges that surgeons face. 

What do you like about being a surgeon?
It's extremely rewarding and very challenging. In general, surgeons don't like sitting still.  They are actively, physically engaged in what they're doing.  It's not all cognitive, although there is a substantial cognitive component. There's not a surgical solution to everything by any means, but when there is, and you have a successful operation for a patient's problem, it's very satisfying. The downside is that the complications are very serious. The highs and lows are more extreme, but the highs are definitely worth it and you do whatever you can to minimize the lows. Even if they've been doing it for many years, most surgeons will say they don't find surgery repetitive.  That's because anatomy is unusual. No matter how many times you do the same operation, even if it's routine, something will always surprise you.  

Why is there a need for a reciprocal peer mentorship program for practicing surgeons?
Right now in surgery, we really under-utilize cross-pollination of information among colleagues. With our current apprenticeship training model, medical residents operate with one or two mentors at a time, perhaps 30 surgeons during the course of their training, accumulating tricks and knowledge along the way.  But the day they finish their training, that's over.

That struck me as absurd when I started practice. Being able to go back for a day to remind yourself of a specific technique could be useful.  Right now, we have no mechanism for doing that. We're very much in silos.  I get an operating room assigned to me, and that's my day.  I have trainees—medical students, residents and fellows—that come and work with me, but almost never do I operate with another surgeon. The only time that that would happen is if it's a very difficult case, or if there's something special about it where I need someone from another discipline to come and collaborate. Those instances are very rare.  We don't have a transfer of information mechanism or exchange program for routine things that we all do well. 

Your research project aims to facilitate ongoing surgical skill refinement and the adaptation of new techniques in an era of rapid change.  Can you talk about some of the advancements in surgery? 
The amount of technology that's available changes all the time.  We're currently in the process of evaluating a new surgical device to see if it will help us with certain types of bowel surgery.  The technology has been out for a while, it's been used around the world in different places, but every institution, every surgeon has to feel and touch that technology individually, to experience it for themselves and decide how they're going to use it.  That's just one example, and that's happening all the time.

There's some statistics that are very trendy in medical literature about the doubling time of human knowledge.  It used to be that medical knowledge would double once every 15 to 30 years, so if you were trained in a certain era, you could reasonably assume that your training would last you for the duration of your career, with a few updates. That's no longer the case. That's not even true for a year after you've completed your training. Things are moving so fast. 

How did the idea for this research study come about?
I was in the audience at the 2016 Fraser Gurd Surgical Research Forum at McGill when the lead author of the Michigan Bariatric Collaborative study, Dr. John D. Birkmeyer, spoke about strategies to improve the quality of surgical care.  In their research study, a group of bariatric surgeons were able to demonstrate that intraoperative technical skills were correlated to 30-day surgical outcomes. We know this intuitively, we just never had a way of proving it before.  This group then developed a mentoring program to try to bring the surgeons who scored lower in technical skills up to the higher cohort.  I discussed this mentoring concept with a few of my colleagues, including our chief of surgery Dr. Gerald Fried, and there was a lot of interest.  We wanted to do something similar, so I worked on the outline to conceptualize it and create a framework that makes sense. 

How is your research study different from what has been done in the past?
A lot of research has been done in surgical coaching; it involves identifying a handful of faculty members who are great surgeons and teaching them how to mentor using a standardized curriculum.  The problem with this model is that it's not scalable; the resources are finite and precious.  The other problem is that the master surgeons are typically very well-respected senior people in their institutions.  They are excellent surgeons and have a lot to teach, but they may not necessarily be up-to-date on some of the newer technological developments.

The reciprocal peer mentorship model that we are working towards seeks to reinvigorate surgical practice on a smaller scale. We are not talking about making monster changes, but rather sharing nuggets of information, some tips and tricks that you can take away from your colleague, who does not have to be a world-renowned master in their field.  Instead of a bilateral one-to-one exchange, I view it more as developing a pool of interested participants who can then mix and mingle. We all have things that we would like to work on and gain exposure to.  Perhaps every 3 to 6 months, a surgeon could spend a day observing in the operating room or participating in the cases of another surgeon.  There are all kinds of dimensions to this model.  For example, you may want to observe a surgeon who is recognized as a good teacher, to see how they teach and interact with the trainees. Or you may want to observe a procedural or technical aspect that another surgeon has a way of making look easy. That's the sort of framework we're targeting.

What are some of the challenges that you face?
One part of the project is to interview surgeons from all types of practices and specialities across Canada, at different stages in their career, to ask them what they think of the idea of reciprocal peer mentorship. There's enough data out there to know that there's interest in this, but it's not necessarily for everybody and I think we're going to find that there are some barriers that have precluded this from being done before.

Surgery is very competitive.  We have a way of doing things that we believe is right or good, but now we're going to ask somebody to observe us.  There are some sensitivities to trying to do something like that.  It bucks the trend; this is not the way things are typically done in surgery.  If I invite someone to come watch me operate for a day, and one of the cases doesn't go well, there's a vulnerability.  It's ultimately to everyone's benefit, but in order for everyone to benefit, people have to open themselves up to some of the potential downsides.

Another barrier is the regulations regarding privileging for access to the operating room at every hospital. Just because I'm licensed to practice in Quebec doesn't mean that I can walk into an OR anywhere in Quebec.  I have to be vetted by each of the hospitals' professional services boards and they have to grant me services to legally walk in that door.  Because of that, for our study, we are going to establish the peer mentorship pilot project with people who already have their privileges within the same institution.  If we see that there is interest in bringing this across cities, across provinces, there are ways to do that, but it becomes a bit more challenging from a paperwork standpoint.

There will be some barriers, but as a pilot project, I think we'll have some good success with it. Junior staff having a more open and collegial way of continuing on the gradual transition into independent practice will be very useful.  On the flip side, some of the more senior surgeons will have an opportunity to keep up with new trends that they may not otherwise have the opportunity to learn.

The RCPSC grant is going to make an enormous impact, providing us with the financial means to bring in professional resources and to help fund graduate work. We have a surgeon, Dr. Sofia Valanci, who will be joining us in in January 2018 and will be taking this on as her PhD work.  Getting a grant of this type, with Canada-wide recognition, is very motivating and affirming.  There's some momentum behind this, it gets things revved up.
---
Dr. Mueller would like to recognize the co-authors of this grant proposal for their valuable assistance.
Liane Feldman, Chief of General Surgery, McGill University Health Centre
Gerald Fried, Chief of Surgery, McGill University Health Centre
Julio Fiore Jr., Assistant Professor of Surgery, Researcher with the Steinberg-Bernstein Centre for Minimally Invasive Surgery
Tara Landry, Medical Librarian at Montreal General Hospital of the McGill University Health Centre
October 26, 2017