RI-MUHC researcher Abhinav Sharma calls for an approach emphasizing voluntary consent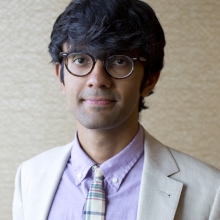 Source: RI-MUHC
As digital contact tracing applications become available, some people see them as a powerful solution to many challenges posed by the current COVID-19 pandemic. However, privacy considerations must be evaluated when dealing with such technologies. In a comment published online on June 2 in The Lancet, Dr. Abhinav Sharma, a junior scientist at the Research Institute of the McGill University Health Centre, presents the main challenges associated with such technology and outlines a privacy-protecting approach to digital contact tracing.
A digital contact app allows people to be co-located using GPS, Bluetooth or other such technologies and creates a digital contact trail when users are in physical proximity. With the help of machine learning strategies, an app can also calculate the quantifiable individual risk of acquiring COVID-19 and deliver behavioural messages to help the individual take appropriate action.
"These multiple personal benefits could allow for rapid epidemiological control of the pandemic," says Dr. Sharma, who is also an assistant professor in the Department of Medicine, Divisions of Cardiology and Experimental Medicine at McGill University and the senior author of this text. This paper integrates a multi-disciplinary approach to privacy with co-authors in the fields of law, artificial intelligence, behavioural science and computer sciences.
However, in order to efficiently limit the transmission of viruses, the technology needs to be widely adopted in the population, and this goal is far from being achieved. For numerous reasons, the public confidence in digital technologies has eroded and needs to be restored, explain the authors.
Education, express consent and data management

According to the authors, advocating an approach that emphasizes voluntary consent and prevents any central public or private authority from accessing identifiable data would encourage people to download the application, thereby maximizing the benefit at the population level. The text includes a list of recommendations based on four axes: consent, oversight, virtual data acquisition and informed decision-making.
Along with a coalition of researchers and experts led by Yoshua Bengio at Mila, Dr. Sharma worked as the Health Lead on the development of COVI, an app that uses artificial intelligence to fight COVID-19 and that was designed to protect privacy and human rights.
"Having a clear framework for privacy protection is critical," says Dr. Sharma, who hopes that "the deployment of such risk awareness strategies facilitate a reduction in the risk of transmitting COVID-19 while enabling a maximum number of people to avoid being confined."
June 16 2020