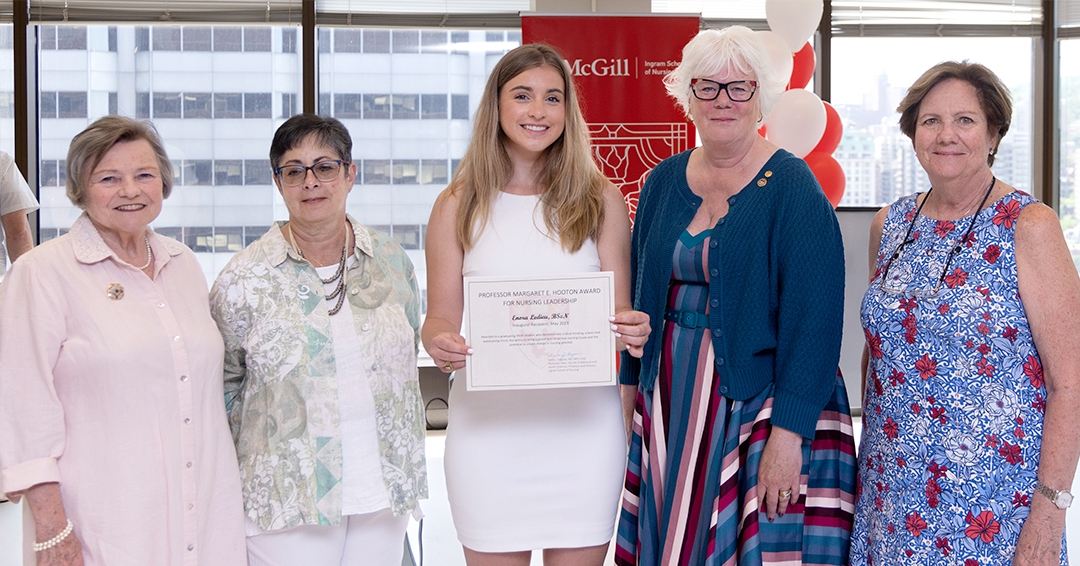 New award honours the life and legacy of Professor Margaret E. Hooton, described as a "master teacher, astute clinician, lifelong learner, mentor and contrarian."
Homecoming is an exciting time as alumni gather on campus to reconnect with their graduating class, reminisce about their student days at McGill and rekindle old friendships. Unfortunately for the McGill Nursing Class of 1970, due to the COVID pandemic, their 50th class reunion took place on Zoom. As Valerie Shannon recounted at a reception celebrating the Class of 2023 at the ISoN, during the lengthy Zoom reunion, one common theme emerged –the enduring impact of Professor Margaret Hooton on their professional lives as nurses. "We decided right then and there to create an annual award in her name for graduating students of the BScN program," said Ms. Shannon, who presented the award to Enora Ledieu, BScN. Ms. Shannon was joined by three other members of what became the core fundraising group that saw this project to fruition – Paula Levinson, Patty O'Connor and Madeleine Buck.
The group worked with McGill's University Advancement Office to raise the sum required to secure an endowment that would support this annual award. In four short months, they surpassed their original objective, raising a total of $80,000. "It's not that we were good fundraisers – it was the legacy of Margaret Hooton that alumni responded to with such enthusiasm," asserted Ms. Shannon.
That legacy included remarkable contributions to nursing leadership both in Canada and internationally. In the late 1960s, Professor Hooton held a leadership position in the newly formed United Nurses Union, dedicated to improving working conditions for nurses. She was tapped to help develop the first accreditation standards for university nursing education in Canada and played a formative role in the creation of the McGill Nurses Network. In 1984, at the request of the World Health Organization and the Canadian Nurses' Association, Professor Hooton headed to Iceland to help the country develop its curriculum for a bachelor's degree in nursing. She persuaded nurses, the university, and multiple levels of government to adopt the baccalaureate degree as the entry point to nursing practice in Iceland. In 1991, she became the first School of Nursing recipient of McGill's Distinguished Teaching Award. Four years later, she was named "Grande infirmière by the Ordre des infirmiers et infirmières du Québec (OIIQ) on the occasion of its 75th Anniversary.
Describing Professor Hooton as a "master teacher, astute clinician, lifelong learner, mentor and contrarian," Ms. Shannon noted the parallels between Enora Ledieu and Margaret Hooton. "Like Marge, Enora will be starting her career at the Royal Victoria Hospital (MUHC) in obstetrics, is concerned about working conditions of nurses, is a strong advocate for change and has shown a willingness to confront people in power."
For the past year, Enora has served with distinction as President of the Nursing Undergraduate Society (NUS). In this capacity, along with graduate students Samantha Wiesenfeld and Sydney Wasserman, she spearheaded a province-wide effort to raise awareness of a Ministry directive negatively affecting newly hired nurses with Bachelor's degrees. This included co-authoring an opinion piece published simultaneously in the Montreal Gazette and La Presse, radio and TV interviews and creating a petition that has collected close to 18,000 signatures. Throughout her time at the Ingram School of Nursing, Enora was very active in the Nursing Peer Mentorship Program's Organizing Committee. Enora accomplished all of the above while maintaining a high CGPA.
Congratulations, Enora, and thank you to the core fundraising group who created this important award, as well as the donors whose generosity led to the establishment of such a fitting tribute to the life and legacy of Margaret Hooton.