Hypertension this year's theme for World Health Day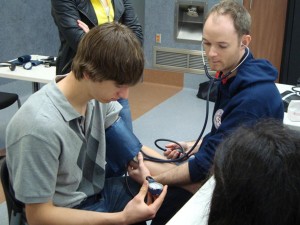 The World Health Organization (WHO) celebrated its birthday on April 7 by putting the focus on hypertension, this year's theme for World Health Day. Recognized as one of the leading international public health concerns, high blood pressure affects one in three adults worldwide. For millions, high blood pressure can lead to fatal heart attacks, debilitating strokes, and chronic heart and kidney disease.

"Dedicating a day to increasing awareness of hypertension is an excellent way to spread knowledge on the importance of correctly measuring one's blood pressure, and how to respond if certain symptoms of heart disease are present," says Dr. Ernesto Schiffrin, JGH Physician-in-Chief and current President of the International Society of Hypertension. "This day also highlights the international effort to beat the epidemic of hypertension—by developing evidence-based guidelines that take into account the availability of resources in the developing world, thus making it possible to improve outcomes for those that have to deal with resource-poor healthcare systems."

Cardiovascular diseases are the number 1 cause of death globally. They account for approximately 17 million deaths each year, nine million of which are due to complications linked to hypertension. As the world's population ages and grows, unhealthy types of behaviour—an unbalanced diet including excessive salt intake, a lack of physical activity, excess use of alcohol—increase the chances of developing high blood pressure.

Read the full story from the Jewish General Hospital 

April 5, 2013