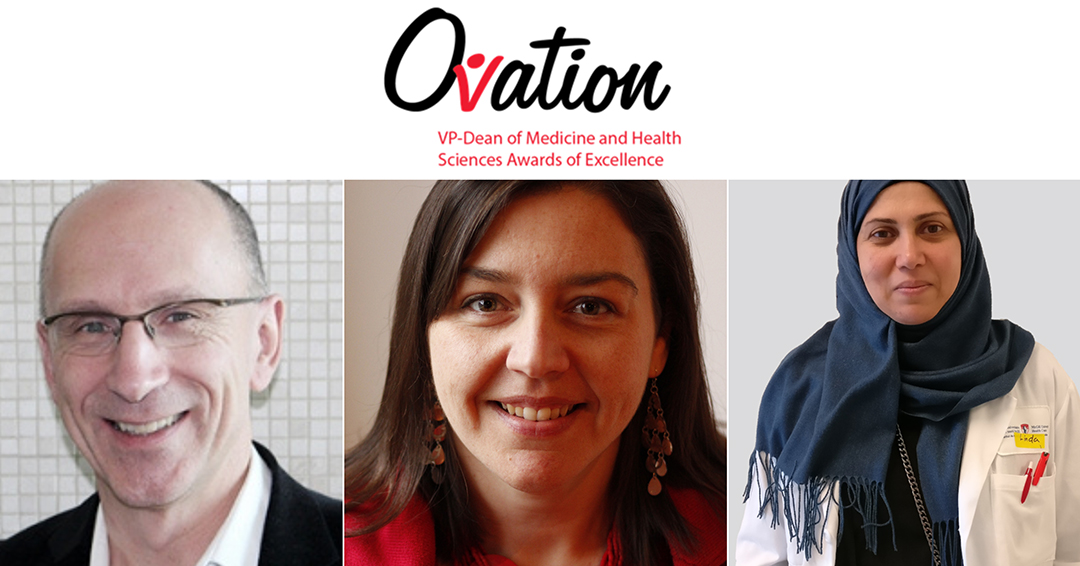 The VP-Dean of Medicine and Health Sciences Awards of Excellence, also known as the Ovation Awards, recognize remarkable Managerial, Clerical, and Technical staff members from the Faculty with three prizes: the Anne McCormick, Pamela Chase, and Priyabrata Mukhopadhyay Awards.
Award winners are selected based on performance that goes above and beyond the call of duty, dedication, creative problem-solving, initiative, motivation and the contribution to overall morale.
We are pleased to announce this year's winners:
The Anne McCormick Award (Managerial classification):
Alain Boulet
Projects and Logistics Coordinator, Campus Outaouais
The Pamela Chase Award (Clerical classification):
Nicole Gignac
Senior Administrative Coordinator, Institute of Health Sciences Education
The Priyabrata "PB" Mukhopadhyay Award (Technical classification):
Linda Kachmar
Research Technician, Meakins-Christie Laboratories (the Centre for Respiratory Research at McGill University and the Research Institute of the McGill University Health Centre)
Congratulations to Alain, Nicole, and Linda on this well-deserved recognition. The Faculty of Medicine and Health Sciences extends its appreciation and gratitude to all the excellent staff members who make up the Faculty.
We look forward to celebrating our winners at the Ovation Awards Ceremony on December 8, 2022!