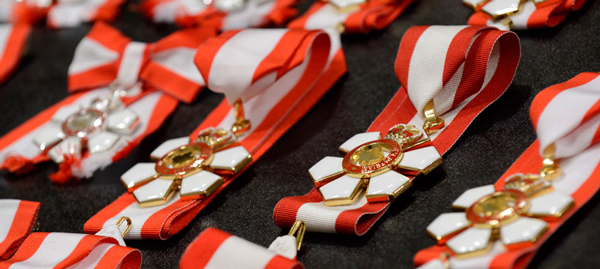 Together with Chancellor Michael Meighen, Chancellor Emeritus Dick Pound and several other McGillians, seven members of the McGill Faculty of Medicine community were named to the Order of Canada on Dec. 26, including:
Serge Gauthier (Member), pioneering researcher into Alzheimer's disease. Based at the Douglas Mental Health University Institute, he serves as Director of the Alzheimer's Unit in the McGill Centre for the Study of Aging. Gauthier is credited with setting up the first multicentre Canadian study of tacrine as a treatment for Alzheimer's disease.
 Robyn Tamblyn (Member), Professor in the Departments of Medicine and of Epidemiology and Biostatistics. Tamblyn has been a leader in the development of e-Medicine and was named for her significant contributions to "patient safety, notably through her research on physician training, health system monitoring and prescription drug management."
H. Bruce Williams (Member), who taught plastic surgery at McGill and was internationally recognized for his outstanding contributions to the field of plastic and reconstructive surgery. He was named for his work in that field, especially for helping burn victims as well as young people with congenital abnormalities.
Ervin Podgorsak (Member), who served as Director of the McGill University Medical Physics Unit from 1991-2008. He led both the McGill medical physics graduate program and clinical residency program to be the first such Canadian programs to be internationally accredited by the Commission for Accreditation of Medical Physics Education Programs.
Governor Emerita Kappy Flanders (Member), a tireless advocate for palliative care, who founded the Council on Palliative Care, McGill, and who, with generous donations of her family and friends, established the Eric M. Flanders Chair in Palliative Medicine in 1994 in memory of her late husband.
Additionally, Faculty  alumni Wendy Levinson (MDCM'81) and Keith MacLellan (BA'69, BSc'73, MDCM'77) were named Officer and Member, respectively.

Congratulations to all those honoured!

To read the full story and to read more about all McGillians named, visit the
McGill Reporter.
January 6, 2015