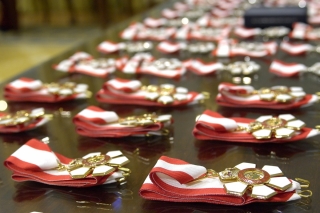 Twelve outstanding individuals associated with McGill, including four associated with the Faculty of Medicine were among 100 new appointments made to the Order of Canada on July 1 by Governor-General (and former McGill Principal) David Johnston.


Philanthropist Lawrence Rossy (BA 1965) was named a Member of the Order as were Marla Shapiro (MDCM 1979), Frances Oldham Kelsey (BSc 1934, MSc 1935) and Vivian Morris Rakoff (Dip Psych 1963).

Recipients will accept their insignias at a ceremony to be held at a later date.

To view the full list of recipients with short citations, click here.

Established in 1967 by Her Majesty Queen Elizabeth II, the Order of Canada is the cornerstone of the Canadian Honours System, and recognizes outstanding achievement, dedication to the community and service to the nation. The Order recognizes people in all sectors of Canadian society. Their contributions are varied, yet they have all enriched the lives of others and made a difference to this country.

Congratulations to all of the new appointees!

For more information about the Order of Canada, click here.