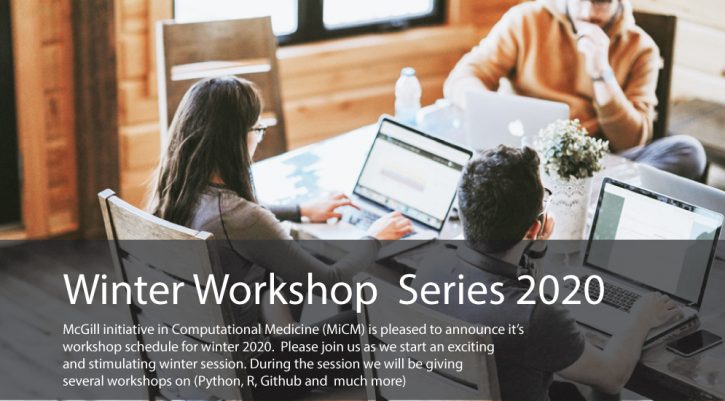 By Matthew Brett
Registration is now open as the first in a series of computational medicine workshops launches on Friday, February 28, with workshops taking place into April on a range of emerging topics and skills. Seating is still available in some of the workshops so check out the details and register now.

The series is primarily designed for students, postdoctoral fellows, medical residents, research assistants and faculty members in the Faculty of Medicine, but organizers say the workshops are open and interdisciplinary.

The series builds upon successful workshops that took place last academic year designed to address needs stemming from the rapidly evolving field of computational medicine.

Workshops this winter include sessions on Python, coding and R functions, managing clean and reproducible projects with Nextflow, Git and Github, an introduction to machine learning, precision medicine principles, and dimension reduction principles. These topics were selected following a survey that was circulated in winter 2018-19.

Dr. Celia Greenwood is a member of the McGill initiative in Computational Medicine (MiCM) committee and also chairs MiCM's Education subcommittee.

"Many aspects of research in medicine and other disciplines are routinely working with large, high dimensional data," said Dr. Celia Greenwood. "However, many students never had any formal training in how to work with such data.  Although there are online tools, having live workshops with hands-on elements to help people get started should really help."

The MiCM Education subcommittee designed this workshop series in response to informal anecdotes and personal experience about the growing demand for training in computational medicine.

The MiCM committee is headed by Dr. Guillaume Bourque. MiCM Education subcommittee members include Dr Jean-Baptiste (JB) Poline, Dr. Erica Moodie, Dr. Jean-Baptiste Rivière, Dr. James Brophy and Dr. Mathieu Blanchette.

The subcommittee welcomes feedback on topics that would be of interest and alternative timing or formats. For more information on workshops, view the MICM website or email: workshop-micm@mcgill.ca

Register now
and please share the workshops with students, residents and colleagues.
February 26 2020