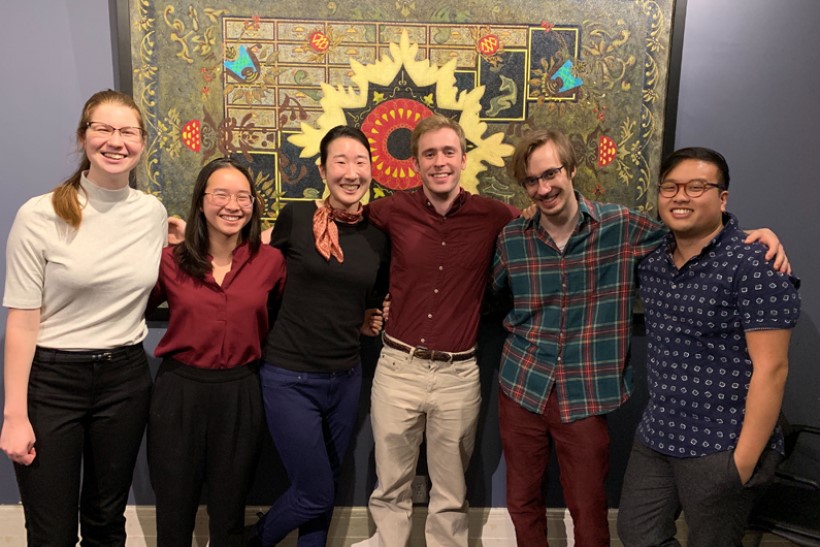 By Andrew Dixon, first year McGill medical student and CHASM team member

Launched in 2017 by a group of McGill medical students, the Community Health and Social Medicine Incubator (CHASM) provides funding of up to $1000, mentorship and a curriculum for student-led initiatives that work to address the unique health needs of historically marginalized populations in Montreal.

Born out of a mission to better serve local health needs, CHASM combines the best of start-up culture with the principles of non-profit, community-based projects that are tasked with ethically and sustainably improving health outcomes. The projects coming from the first cohort have held up these principles valiantly:

Monthly Dignity
provides menstrual hygiene products for women who are precariously housed in Montreal. So far, they have delivered more than 44,000 products and have expanded to include a chapter in Paris, France.
SYBS
(Supporting Young Black Students – Careers in Health) has partnered with local high schools to provide mentorship and hands-on workshops to support black high school students in their exploration of careers in health care.
CATCH
(Community Ambassadors to Conquer HPV) has been busy developing partnerships in the community as well as planning a workshop at a local CLSC to provide information on resources and ways to prevent HPV infections. They are also working with local organizations to provide and subsidize the cost of HPV vaccines in high-risk groups.
Continuing to build on a solid foundation
This year's second cohort is also on their way to generating sustainable impact in their communities. PEEPs (Primary Eye Exposure and Prevention Sessions) has partnered with the Canadian Institute for the Blind to talk about eye safety and how to prevent ocular injuries with the goal of raising awareness about these preventable injuries. CIME (Clinique Interprofessionnelle Montréalaise Étudiante) is working on creating an interdisciplinary student-led clinic for refugees which includes community-driven health and nutrition workshops.

CHASM has been busy developing new programming this year, which included a new Design Thinking workshop with Kevin Clark, a product designer at Shopify. CHASM has also partnered with the Faculty of Medicine's Community Health Alliance Project (CHAP) course to provide students with the opportunity to conduct a needs assessment with a community partner for their project, which can be brought to impact as part of CHASM's Winter 2020 Cohort. Students will be offered to work with organizations such as Head and Hands and the Montreal Museum of Fine Arts. These new initiatives have been spearheaded by new CHASM team members Brianna Cheng (MSc Epidemiology '20), Anne Xuan-Lan Nguyen (MDCM '23), and Andrew Dixon (MDCM '22).

"We are thankful for the ongoing support from the McGill Global Health Programs, the Social Accountability and Community Engagement Office of the McGill Faculty of Medicine, and our network of mentors. We would like to specifically extend our thanks to Kristin Hendricks and Dr. Saleem Razack," says Brianna Cheng.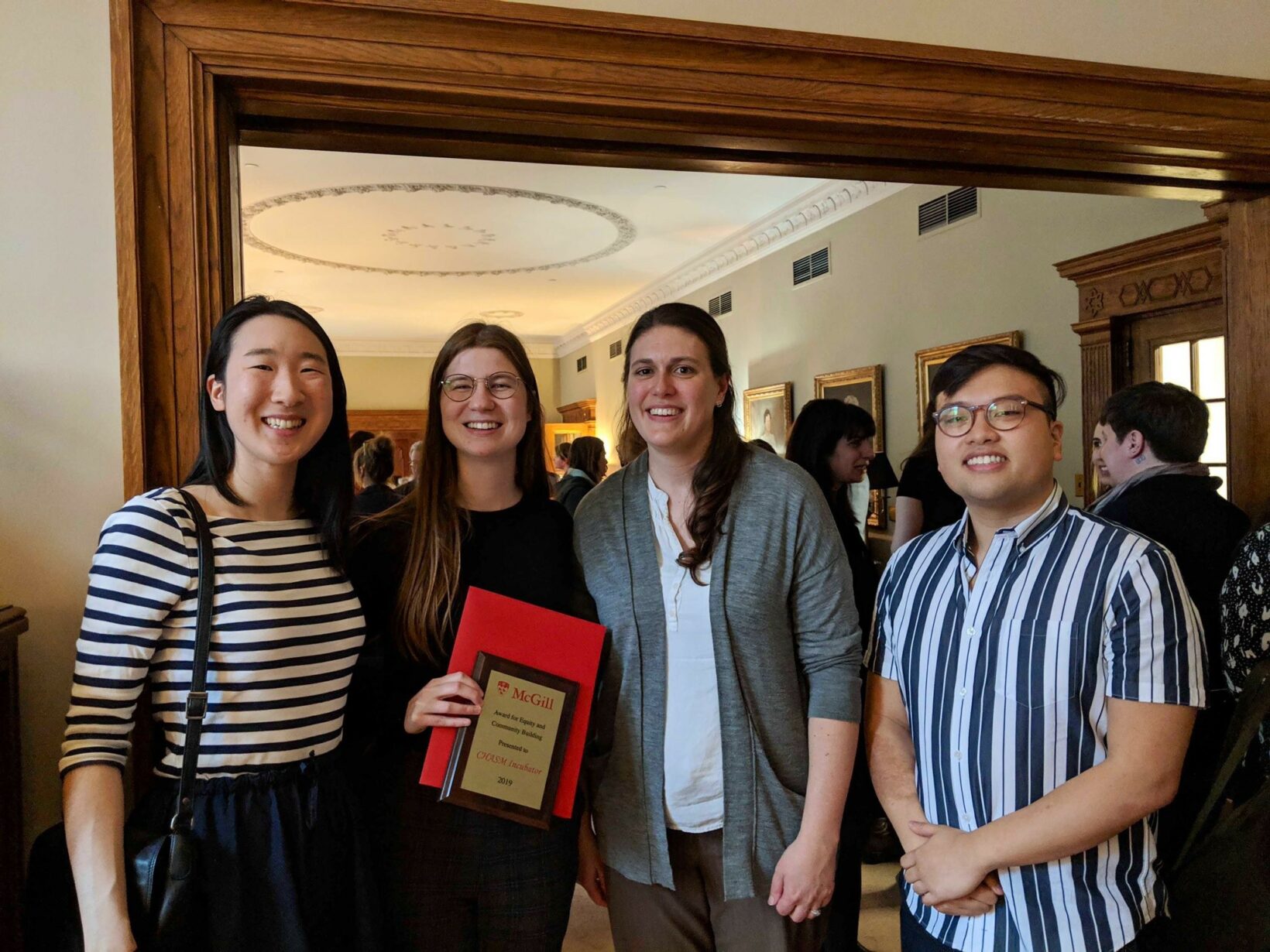 Recent string of recognition for CHASM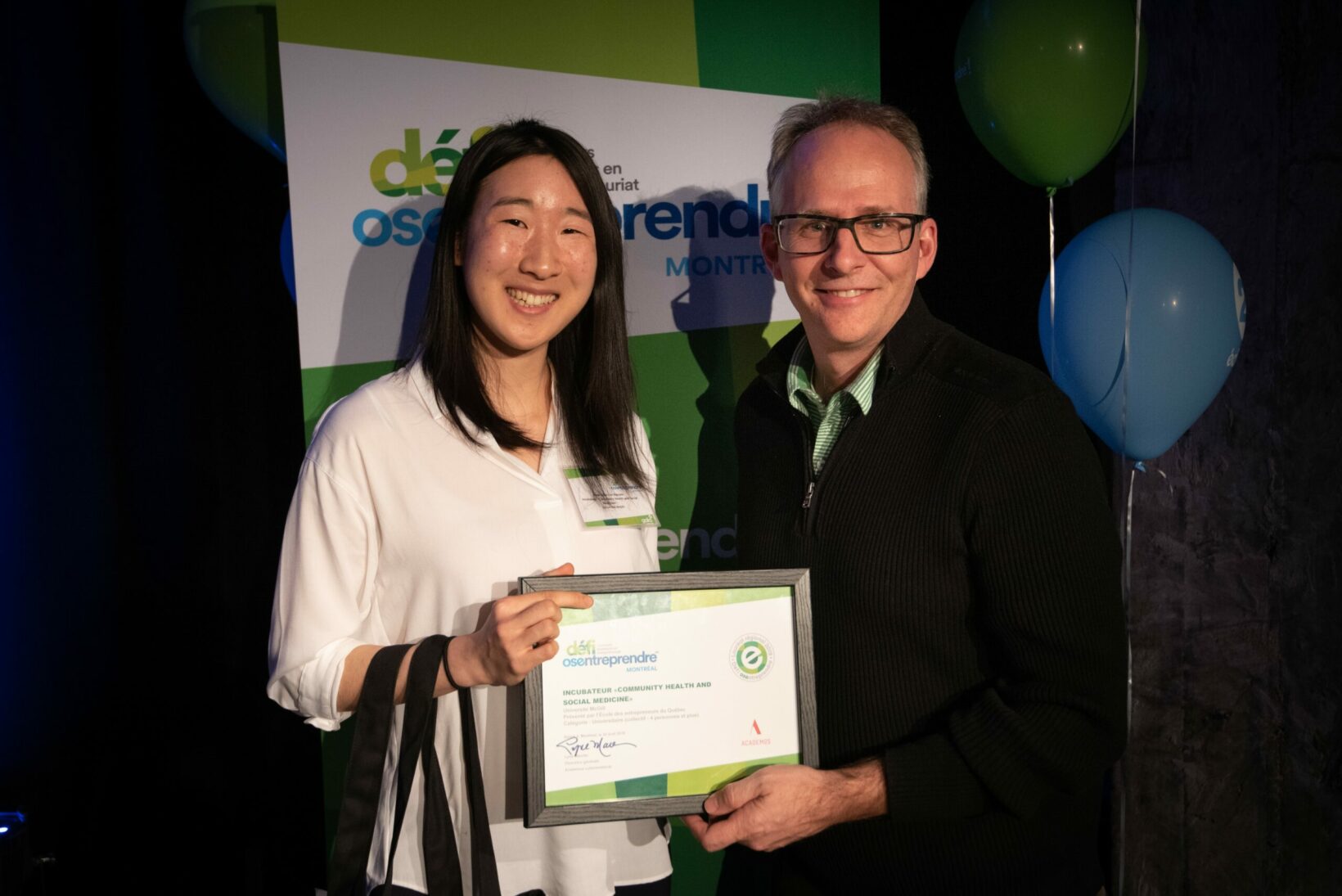 The team at CHASM is very humbled to share excellent news regarding their recent success. CHASM has received the prestigious Equity and Community Building award from McGill University. CHASM has also been selected as
a regional level winner for OsEntreprendre
and has received a
Rising Youth Community Service grant from TakingITGlobal
. The former is a Quebc entrepreneurship recognition program and the latter is a program led by the Government to help youth build Canada and develop life skills by giving back to their communities.
One of the core missions of the incubator has always been enhancing service learning and education. As a part of this education piece,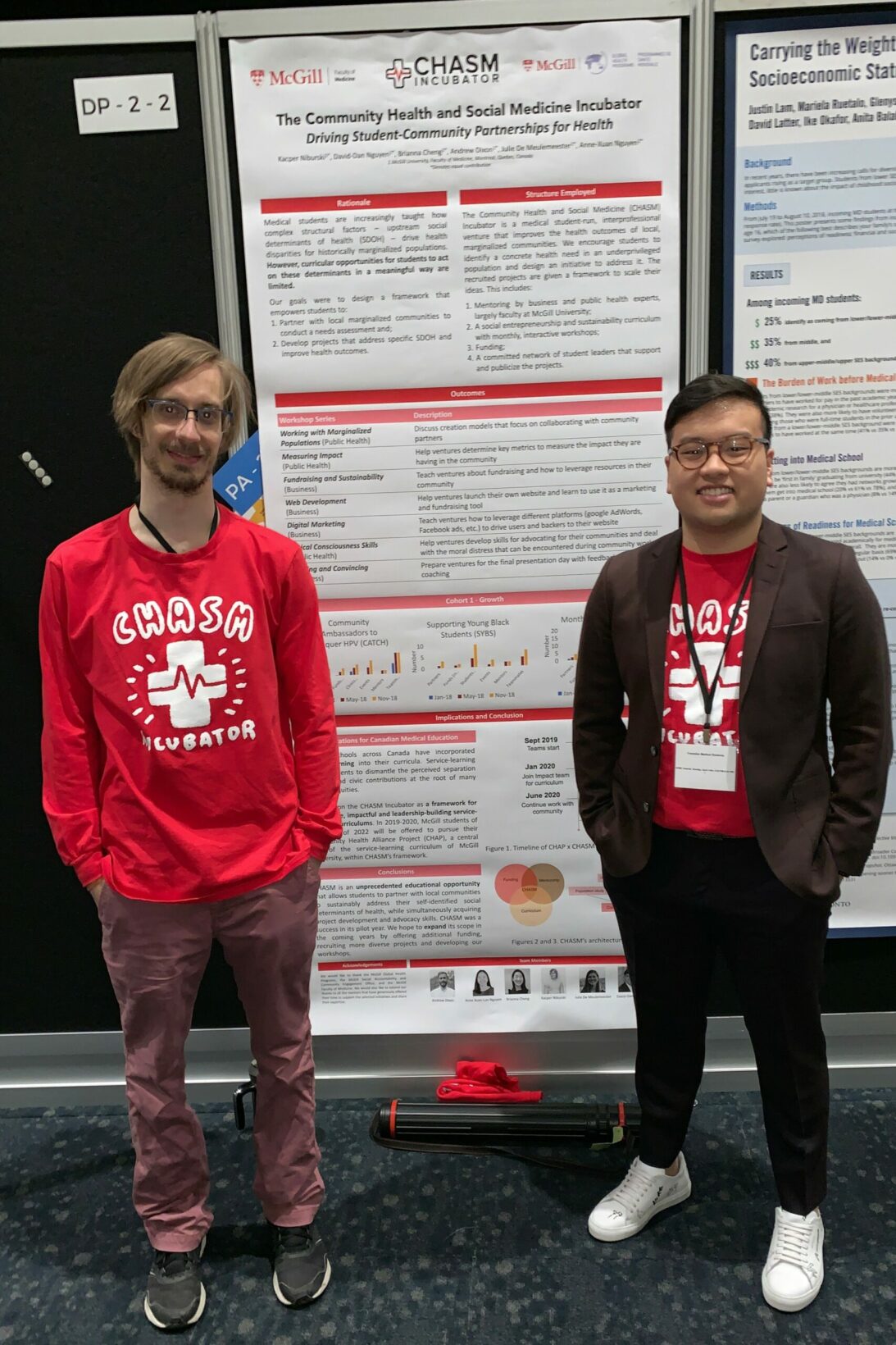 CHASM has been hard at work to share our model of community health innovation. We were selected to present at CCME (Canadian Conference on Medical Education) in April 2019, as well as at ISIRC (International Social Innovation Research Conference) in Glascow, Scotland in September 2019. These are just a few of the wonderful occasions CHASM has to talk about the importance of community health and engagement.

"As we continue to consolidate CHASM's foundations, our focus will shift towards expanding our model, refining the needs assessment component of the incubator, and formally evaluating our impact," notes Anne Xuan-Lan Nguyen.

If you are interested in social medicine and are looking for a way to support CHASM and it's initiatives, there are just a few more days left in our Seeds of Change fundraising campaign. Your support is appreciated – thank you for helping CHASM bridge the gap!

May 13, 2019