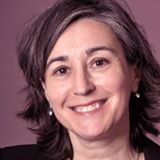 Dear Colleagues,

We are very pleased to announce the appointment of Chantal Thomas as Managing Director, Development, in the Faculty of Medicine, effective September 5, 2017.

Chantal brings a wealth of experience to the position as she has been working in advancement leadership roles at the Université de Montréal since 1991, including their most senior role, Executive Director, Office of Development and Alumni Relations.

Under her leadership, Université de Montréal achieved record donations. Chantal oversaw a comprehensive restructuring of the unit and served as the Acting Executive Director of Campus Montreal. Her earlier experience at U de M includes roles as Director of the Major Donations and Planned Giving Division, as well as Senior Development Advisor, Faculty of Medicine.

Chantal's status as a leader in the field of advancement is further evidenced through her extra-curricular endeavours. She is an active member of various professional and philanthropic boards, associations, and organizations, including the Conseil Québécois de la musique, the Besrour Centre of the College of Family Physicians of Canada, and Quatuor Molinari. She has also engaged in multiple speaking engagements and presentations with professional organizations and associations, including the Association de planification fiscale et financière, the Canadian Association of Gift Planners, the Association of Fundraising Professionals and the Canadian Council for the Advancement of Education. Chantal holds a Bachelor of Music from Université de Montréal, an MBA from HEC Montréal, a Certification in Philanthropy from Indiana University, as well as a variety of other designations and accomplishments.

Chantal's extensive experience in philanthropic leadership in higher education will be a fantastic asset to McGill and to the Faculty of Medicine.

Please join us in welcoming Chantal to the team.

Sincerely,
Dr. David Eidelman


Vice-Principal (Health Affairs)


Dean of the Faculty of Medicine


McGill University

Mr. Marc Weinstein


Vice-Principal (University Advancement)


McGill University
August 29, 2017