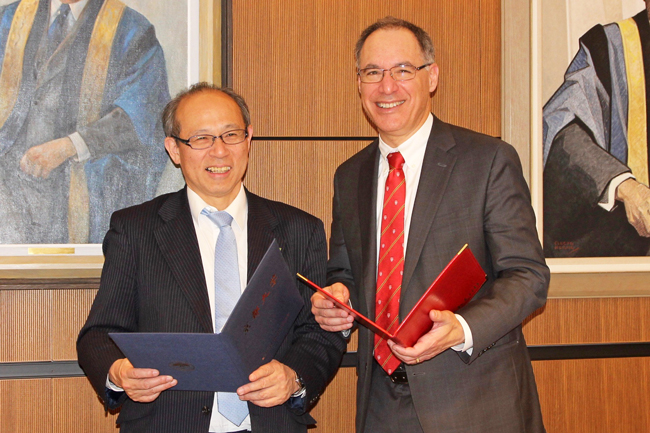 By Neale McDevitt McGill Reporter

Even Montreal's record-breaking cold spell couldn't chill the atmosphere in the James Administration Building on Monday, Jan. 15, as delegates from McGill and Kyoto University celebrated the establishment of a ground-breaking joint Ph.D. program between the institutions.

"Welcome to McGill on this wonderfully cold winter day," said Phil Oxhorn, Associate Provost (International), to the Japanese contingent across the conference table, including Shinji Uemoto, Dean, Graduate School of Medicine and Fumihiko Matsuda, Deputy Executive Vice-President for International Affairs and Director, Center for Genomic Medicine.

"'Wonderfully cold?'" said David Eidelman, Dean of Medicine and Vice-Principal (Health Affairs), incredulously – to the laughter of everyone in the room.

And so, the warm tone was set for the agreement exchange ceremony marking the creation of the Kyoto-McGill International Collaborative Program in Genomic Medicine. It marks the first time McGill has entered into a joint Ph.D. program with another university.

Participating students will study and conduct research in the field of human biology.  By working with biological big data, such as genomic information, intermediate phenotypes, lifestyles and environmental factors, these students will be trained to identify disease-predicting biomarkers and disease-susceptibility genes. Such techniques will be indispensable for the future development of "personalized medicine."

"The issue of using genomic and related data, big data, is very much at the centre of medical science in the 21st century. We have made it a top priority for our University and certainly for our Faculty," said Dean Eidelman. "We think that this is going to be critical for health care and for health research."

The Dean went on to say that the joint Ph.D. program would also help develop "our future leaders" to undertake joint international research in the field of genomic medicine, and to educate the next generation of scientists.

Dean Josephine Nalbantoglu emphasized the importance of training our students in a global context and congratulated the team by saying: "I am thrilled to witness the launch of this joint Ph.D. after months of hard work by both universities to bring this to fruition. One of my priorities as Dean of Graduate and Postdoctoral Studies at McGill is to expand the range of international training opportunities for our graduate students. The collaboration with Kyoto will certainly contribute towards this goal. We look forward to welcoming our first joint degree students in May."

Four students per year – two from each university – will be enrolled in the program. Participants will spend a minimum of one year at the partner university and, in addition to completing the curriculum coursework, will conduct their research under the supervision of one academic advisor from each university. Upon successful completion of the program, the Ph.D. degree will be awarded jointly by the two universities.

Also taking part in the ceremony were Rémi Quirion, Chief Scientist of Québec; and Hideaki Kuramitsu, Consul General of Japan in Montréal. Professor Quirion underscored the ongoing support of the Fonds de Recherche du Québec for the joint program. The partnership was initially established with support from the Japanese Ministry of Education, Culture, Sports, Science and Technology (MEXT) under its Top Global University Project, which is intended to foster interna­tionalization of Japanese universities.

"I am very pleased to see the concretization of this agreement between two great institutions," said Mr. Kuramitsu, Japanese Consul General, calling it a "milestone" and noting that this type of "academic exchange is one of the pillars of the Canada-Japan relationship."

Related coverage
The PIE News | McGill & Kyoto University create joint PhD program

January 24, 2018