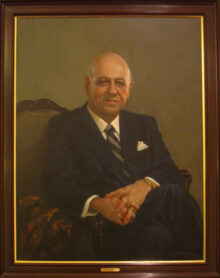 McGill community set to celebrate two decades of excellence in patient-focused cancer research

"As she had cancer three times in her life, she hoped that all her efforts would be passed on so that one day the word 'cancer' would no longer exist," said Suzanne Blanchard in a letter expressing her mother's gratitude to the clinical research team at the Gerald Bronfman Centre for Clinical Research in Oncology. "Her wish, even until her last treatment, on her last Friday of life, was that she would have the strength to finish this study and be able to help others in the future, by staying involved."

Suzanne's mother's wish to end cancer was not unlike that which prompted the Marjorie and Gerald Bronfman Foundation, some 20 years ago, to make a transformative donation toward oncology research at McGill University. That gift laid the groundwork for what would become one of Canada's top clinical cancer research centres and made a tremendous impact on the science and practice of cancer prevention and patient care for years to come.

This year, the Gerald Bronfman Centre is launching celebrations to mark 20 years of patient-focused research, the generosity and vision of the Bronfman Family and all of the lives saved and touched by the Centre's seminal work.

"Over two decades, the Gerald Bronfman Centre has benefited patients, both in our community and nationally," said McGill Principal and Vice-Chancellor Heather Munroe-Blum. "Today we celebrate the inspiration of the Bronfman family, the leadership of the Centre and the collaborators in our hospital network – including the health care staff, the patients and their families – whose collective dedication has helped to set new standards in cancer treatment in Canada."

Anniversary events get underway on Monday, November 21 at 3 p.m. with the inaugural Annual Gerald Bronfman Centre Scientific Lecture. The lecture, "Cancer Control – Life and Death in an Unequal World," will be delivered by renowned Canadian cancer specialist Dr. Simon B. Sutcliffe and will be followed by a panel discussion led by Drs. Michael Pollak and Michel Tremblay, two of McGill's pre-eminent cancer researchers.

Also, five McGill researchers and scholars who have made transformative contributions to the Centre and cancer care will be celebrated following the lecture. They include:  Drs. Carolyn Freeman, Richard Margolese and Balfour Mount, who will each receive the Gerald Bronfman Centre Lifetime Achievement Award; Dr. Henry R. Shibata, who will receive the Inaugural Gerald Bronfman Centre Award for Excellence in Research and Clinical Service and Dr. George Shenouda, who will receive the Inaugural Gerald Bronfman Centre Award for Excellence in Teaching and Mentorship.

ABOUT THE CENTRE
The Gerald Bronfman Centre for Clinical Research in Oncology, at 546 Pine Ave., is the home base and administrative hub for the McGill's Dept. of Oncology, the first such department in Canada, and several of its major programs, including the Clinical Research Program, the Division of Cancer Epidemiology, the Cancer Nutrition and Rehabilitation Program and the Program on Whole Person Care. These programs have helped McGill earn a reputation for leadership in advancing research on cancer prevention, treatment and palliative care.

PRESS COVERAGE
The Gazette
Interview on CJAD
(under Audio Highlights)