The annual Ovation Awards event to honour the year's winners of the VP-Dean of Medicine and Health Sciences Awards of Excellence, was held virtually for the first time this year as a result of the pandemic. Friends, family and colleagues gathered on Zoom on Wednesday December 9, to applaud the outstanding contributions of this year's laureates, permanent administrative support staff and technicians from across the Faculty and its Schools. The awards recognize high performance, above and beyond expectations, creative problem-solving, initiative, dedication, motivation and contribution to morale of Faculty staff classified as Clerical (C), Technical (T) or Management (M) with three awards.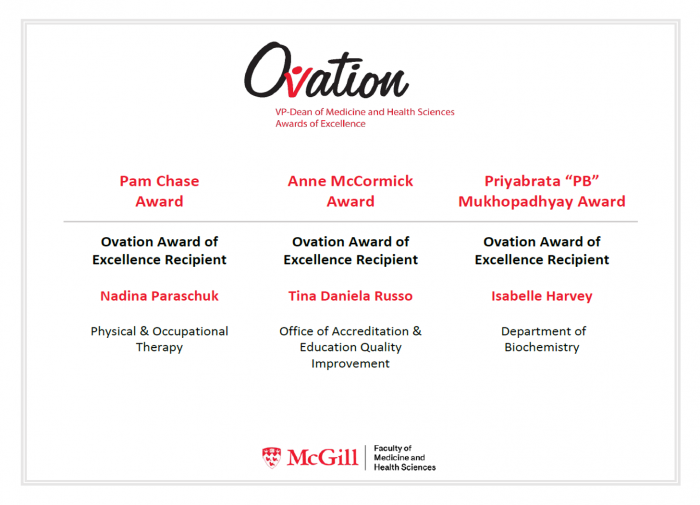 "The three Faculty members we are recognizing today personify excellence in administration. Specifically, they are known for qualities, such as: high performance, above and beyond expectations, creative problem-solving, initiative, dedication, motivation, and contribution to morale. All of these are essential in advancing the mission of an internationally renowned University and Faculty," noted Dr. David Eidelman, Vice-Principal (Health Affairs) and Dean of the Faculty of Medicine and Health Sciences. "Our administrative teams are the backbone of the Faculty of Medicine and Health Sciences, its schools, departments and units. We could not achieve what we achieve without you. The COVID-19 pandemic has underscored just how true this is."

This year, the Priyabrata "PB" Mukhopadhyay Award, for the T classification, was given to Isabelle Harvey, Chief Research Technician in the Department of Biochemistry; the Anne McCormick Award, for the M classification was presented to Tina Russo, Educational Enhancement Officer in the Office of Accreditation and Education Quality Improvement; and the Pamela Chase Award, for the C classification was given to Nadina Paraschuk, Administrative Student Affairs Coordinator at the School of Physical and Occupational Therapy.

We reached out to the three laureates and here is what they each had to say about beings selected for their respective awards this year:

"Being awarded the Priyabrata Mukhopadhyay Award during this pandemic means a lot to me as each of us have seen our lives impacted and we quickly had to adapt daily to these changes," says Isabelle Harvey. "From a fundamental research point of view, respecting the rules while staying safe and healthy was a real 'tour de force'. Having to work remotely knowing that colleagues and students had to pursue their research on campus involved a lot of creativity and initiative. The Faculty of Medicine and Health Sciences, the Goodman Cancer Research Centre, the Biochemistry Department, Dr. Sonenberg and his team all made this recognition possible. I am very proud to be part of this large family."

"It is an honour to have been selected to receive the Anne McCormick Award knowing that the Faculty of Medicine and Health Sciences is recognizing my work and accomplishments in a formal way," adds Tina Russo. "Every year has its own challenges and rewards. I don't focus on being successful, instead, I work towards being significant and having a positive, long-lasting effect.  It means so much to me that the daily work, that I am so passionate about also resonates with others."

"I have been at the School of Physical and Occupational Therapy since October 2015 and I feel very blessed and fortunate to be part of such a tremendous School and part of the McGill Community.  I quickly realized that McGill was much more than a university.  I love that as employees, we can partake in all that McGill offers and I love working at SPOT in Clinical Education knowing that we are preparing students for these much-needed professions," says Nadina Paraschuk. "Being chosen for this year's Pamela Chase Award is not only motivating, it gives me a sense of peace knowing I am right where I am supposed to be at this time in my career.  One never knows a person's journey to get where they are. You will never know how deeply touched and how wonderful you have made me feel with this recognition."

Congratulations to our three winners and to all of our nominees for this year's awards!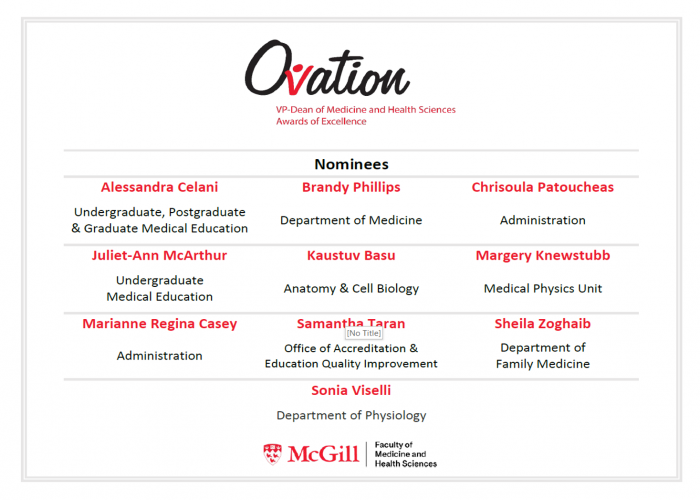 December 16 2020