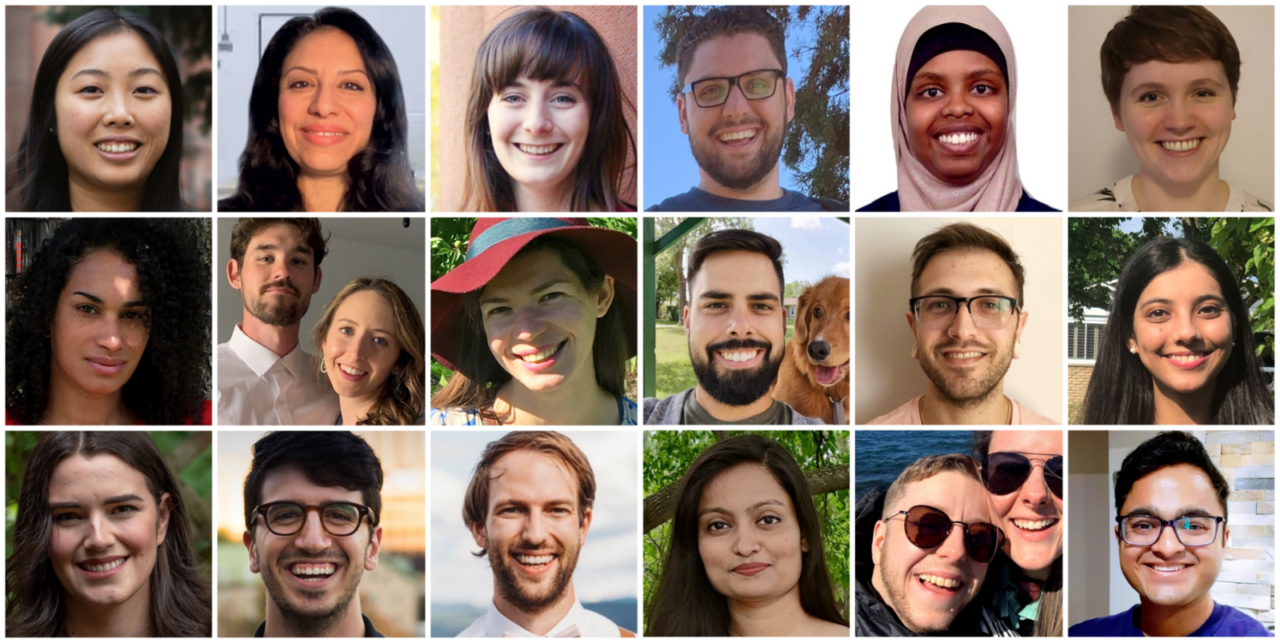 Spring is a time to celebrate both new graduates and award winners at the McGill University School of Physical & Occupational Therapy (SPOT). In the words of SPOT Director and Associate-Dean, Dr. Laurie Snider, "Although you are graduating from your programs at SPOT, your learning is not over. Your education as a health professional is a powerful tool. The science of rehabilitation is constantly changing. The health system is constantly evolving. Now is your time to commit to lifelong learning. This is the beginning, not the end."
What follows are words of gratitude and reflection from award recipients in the Graduate Program (in no particular order). These hard-working graduate students from around the world are recognized for their excellence in research.
"Ever since graduating the Occupational Therapy Program, I have worked to support the pediatric population and their family. From my clinical experience came unanswered questions by the literature regarding creative art strategies and their influences on the relationship of a neurodiverse population. SPOT gave me tools and support to navigate this new doctoral adventure, in which I am thrilled and excited," says Marc-Andre Clement (current PhD student).
Dina Gaid, PhD, says, "For six years, I was involved in my academic, professional, and social activities at McGill. It was a great experience that shapes my personality and drives me to re-order my priorities. I enjoyed being involved in many research projects and engaged in McGill activities with my colleagues."
OT and PT professional program students and graduates were also honoured by the leadership, faculty, and staff of the School, and had some heartfelt words to share about their awards and experiences at McGill.
William Murphy-Gelderman, recipient of the Alice Chan-Yip Multicultural Award, says, "Thank you so much for investing in students and projects that promote diversity and cultural awareness. It takes time and funds to create opportunities for us students to pursue our passions for equitable social change that promotes cultural diversity and inclusion!"
Erin Lamb, a recent OT graduate, says, "I would like to thank you for this generous award. As a new graduate beginning to practice, these funds are key for the ability to further my education with courses, conferences, and webinars. Thank you for investing in my future as an OT."
Tanisha Panjwani indicates that for her, "My clinical placements were definitely a highlight of my time at McGill. I had the best, most unforgettable learning experience during my last stage. Feedback from my Clinical Instructor helped me start my career as a confident clinician."
Sonia Toy says what she most enjoyed about McGill was, "The knowledge and enriching opportunities it has provided me in my physiotherapy degree."  George Roumeliotis explains that, "The McGill School of Physical and Occupational Therapy is composed of world-class researchers, many of whom I currently work with (having graduated last fall). Having the opportunity to liaise with these faculty members firsthand during my studies was one of the main reasons for choosing McGill."
For Amanda Lee, it was, "The people I met along the way (that I most enjoyed about my time at McGill). The PT program had exceptional teachors, mentors and students. We had an active student society which has given me great memories to look back on, both in and out of class."
Susana Cere was proud to attend McGill University's OT program, for several reasons."I felt that the McGill Occupational Therapy program would offer an ideal combination of theoretical and practical learning which would provide me with the knowledge and skills I needed to become an OT. The McGill program used evidence-based research and empirical evidence as resources of knowledge in OT while promoting critical thinking. McGill also offers courses to teach about interprofessional development and cohesion, which is such an important aspect of working as an OT. In addition, the school of Physical and Occupational Therapy at McGill is in a top-ranked academic institution in its education and ability to produce highly innovative research and in research translation."
Emmett Dwyer, "Would like to take this space to express (his) utmost gratitude and appreciation for the award (he) has been presented. Knowing that (his) continued passion and link with McGill has been recognized on such a large scale truly makes (him) feel like (he) has been provided a pathway for continued growth."
Deanna Casanova explains why her award inspires her. "I am tremendously grateful to be among the recipients of a SPOT award. I have regularly doubted my abilities as a student researcher. This recognition has helped me develop confidence in my capacities to one day pursue a PhD."
Very sincere congratulations to all SPOT graduates and award recipients!
Full list of SPOT 2021 award recipients:
Judith Kornbluth Gelfand Pediatric Fellowship: Stephanie Tremblay
Barbara Rosenthal Prize: Marc-Andre Clement
Kavita Kulkarni Memorial Prize in Rehabilitation Science: Conchita Saldanha
Margherita Rapagna Memorial Prize in Rehabilitation Science: Marco Zaccagnini
Dr. Alice Chan Yip Multiculturalism Award: William Murphy-Gelderman
Gevorg Chilingaryan Award of Excellence: Dina Gaid
Gloria Gilbert Chronic Pain Award: Anthony Teoli
Kay Rothman Amor Wolofsky Travel Award (PT): Prateek Gupta
SPOT Alumni Travel Award (OT): Claire Gane, Michelle Paquin
Helen M. Gault Award (OT): Emmett Dwyer
Helen M. Gault Award (PT): Philippe Lamothe
Canadian Association of Occupational Therapists' Award: Susanna Cere
Edith Aston-McCrimmon Professional Award (OT): Erin Lamb
Edith Aston-McCrimmon Professional Award (PT): Chelsea Eng
Patricia Ann MacDonald Wells Van Daele Memorial Award: Amina Mohamed
Nicol Korner-Bitensky Altruism Award (OT): Tayseer Veriain
Nicol Korner-Bitensky Altruism Award (PT): Philippe Lamothe
Carol Rutenberg-Silver Memorial Award: Tanisha Panjwani
Sandra Perlman Memorial Prize: Amanda Lee
L'Ordre professionnel de la physiothérapie du Québec (OPPQ) Clinical Prize: Neel Chandarana
Association québécoise de la physiothérapie (AQP): George Roumeliotis
CAMPT Award: Neel Chandarana
Canadian Physiotherapy Association Award: Lindsay Penner
Canadian Physiotherapy Association Leadership Award: Sarah McLeod
Canadian Physiotherapy Association Cardio-Resp Division Student Award: Johnson Thangathurai
CPCRS CPA Cardioresp Society Award: Sonia Toy
L'Ordre des ergothérapeutes du Québec Award Clinical Prize of Excellence: Vanessa Girard
Canadian Occupational Therapy Foundation-Future Scholar Award: Deanna Casanova, Vanessa Girard, Richard Huynh, Michelle Paquin
Congratulations to all!
Details of awards can be found here: https://www.mcgill.ca/spot/about/convocation-awards
Photos of all recipients can be found here after June 30: https://www.mcgill.ca/spot/alumni/photogallery
July 8, 2021