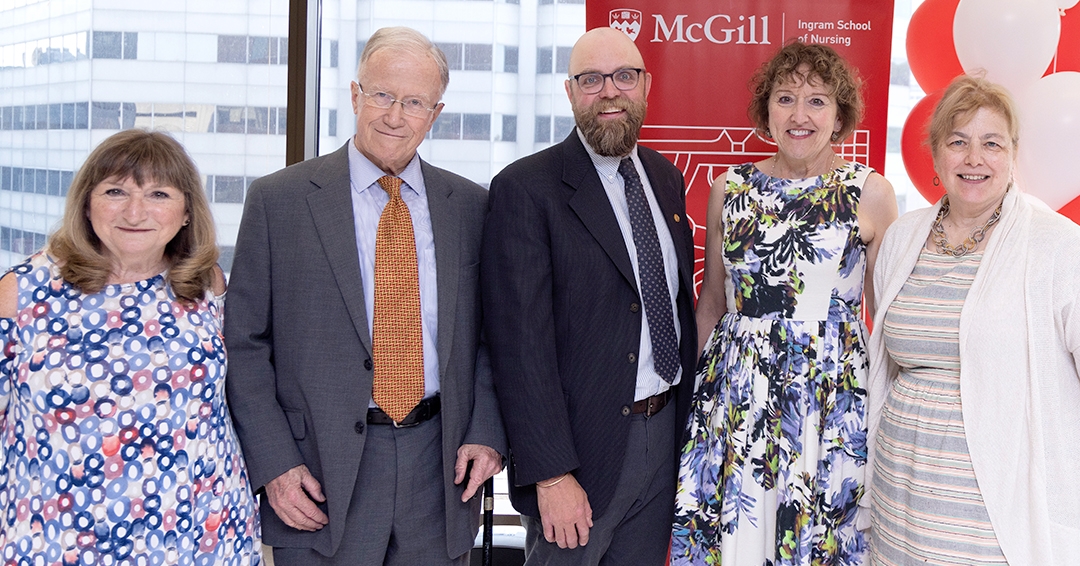 Transformative program paves the way for a new era of inclusive and innovative education.
This spring marked a major milestone in the history of the Ingram School of Nursing (ISoN) as 34 students were part of the first graduating cohort of the School's unique Bachelor of Nursing (Integrated) Online stream.
Calling the BNI Online the gold standard against which future online programs will be measured, Chris Buddle, Associate Provost, Teaching and Academic Planning, McGill University, congratulated the first cohort of graduating students at a reception held on May 30th at the ISoN. "This transformative program has paved the way for a new era of inclusive and innovative education which reflects McGill's commitment to providing accessible education both on and off campus. As graduates of the BNI online, you have proven that distance is no barrier to education."
Launched in 2021 thanks to the generous support of the Doggone Foundation and the exceptional collaborative efforts between McGill's Teaching and Learning Services and ISoN faculty, the BNI Online is McGill's first fully online program and the only online BNI program in Quebec. Designed for independent learners, the program is open to students from across the province who obtained their DEC in nursing from CEGEP within the past five years.
Speaking on behalf of her fellow learners, BNI Online graduate Leah Prairie said she treasured not only the lessons learned but also the patience, passion and perseverance of her professors and the support of technical and administrative staff. A native of a rural community in the Outaouais region, Leah greatly appreciated the opportunity to obtain a bachelor's degree from the comfort of her own home, especially during the climate of fear and uncertainty brought on by the COVID pandemic. "To Mr. Paul Marchand, Ms. Susan Avon and everyone with the Doggone Foundation, on behalf of every McGill nursing student, I would like to express our sincere gratitude for your generous donations to our program. You are truly impacting the lives of our future nurses and, as a result, the lives of our community."
Creating a mirror image of the BNI on campus program in an engaging online format was a mammoth task, according to Annie Chevrier,  who led the BNI Program Online format to its completion. "Starting in the fall of 2019, a mighty team of extraordinary and talented instructional designers, course ware developers, audio-video editors, graphic designers, translators and expert nursing faculty worked tirelessly to develop, launch, and finalize all the 20 courses of the BNI Online," she explained. In particular, Professor Chevrier singled out Professor Buddle as well as Professor Laura Winer, Director, Teaching and Learning Services, and Professor Anita Gagnon, Associate Dean, Faculty of Medicine and Health Sciences and Director, Ingram School of Nursing, for their leadership and steady support of the program.
Leah, who will be working as a nurse in an inpatient cardiac unit while pursuing a Master's degree in public health at McGill in the fall, noted with pride that for the first time she will be physically attending classes at a university she has called home for the past two years. Congratulating her classmates on their achievements, she concluded, "We do not always choose when we lead or whom we lead, but we do get to choose how we lead. So let our generation be marked by compassionate, bold, reliable, strong and gentle leaders. May we take on that role confidently wherever we have been called."