On November 24, 2016, the McGill University Faculty of Medicine celebrated the 2016 winners of the Maude Abbott, Haile T. Debas and Rosemary Wedderburn Brown Prizes. During an evening event held in Holmes Hall each laureate had the opportunity to provide a brief overview of their research and personal journey after having been presented with their respective award by Dr. David Eidelman, Vice-Principal (Health Affairs) and Dean of the Faculty of Medicine.

Maude Abbott Prize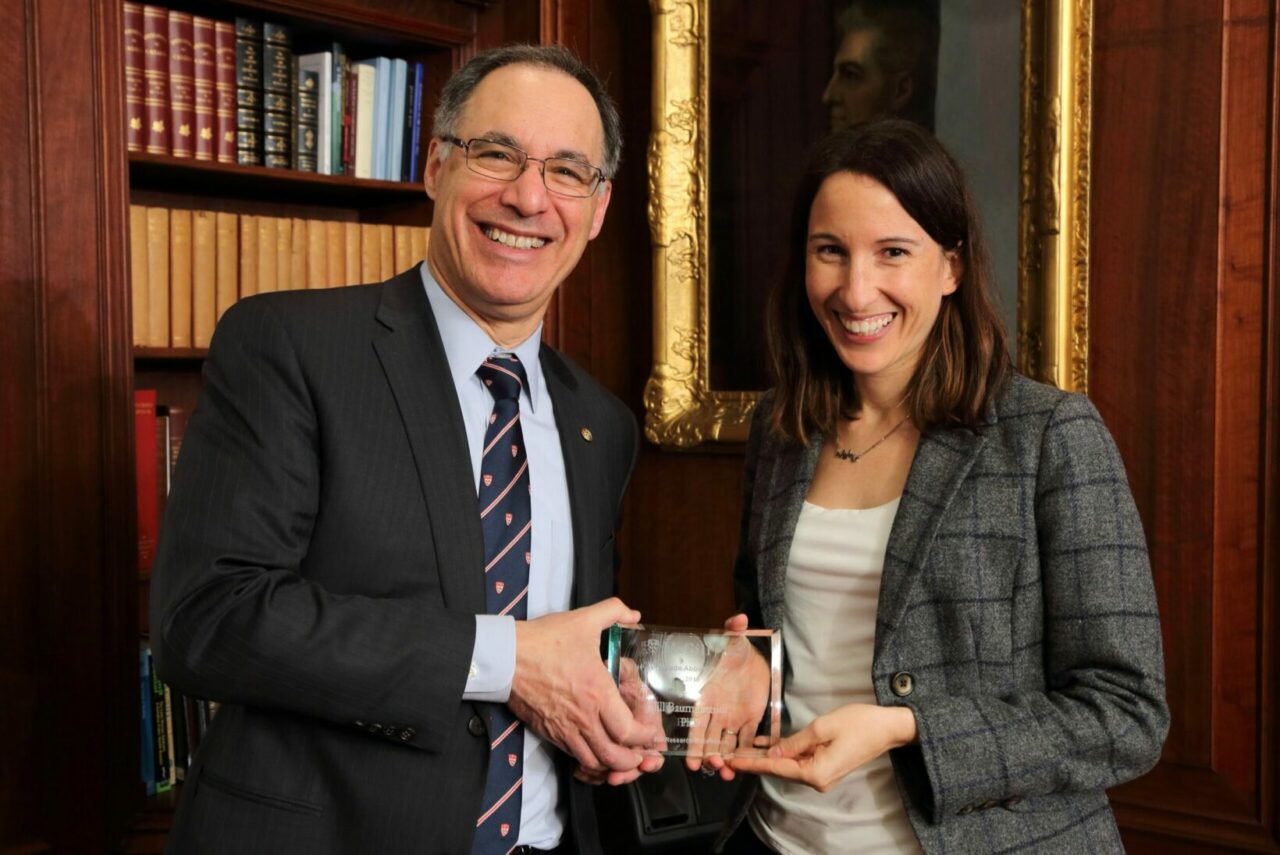 Professor Jill Baumgartner, Assistant Professor,  Institute for Health & Social Policy, Department of Epidemiology, Biostatistics & Occupational Health, is the 2016 winner of the Maude Abbott prize. Professor Baumgartner's research focuses on understanding the factors that influence people's exposure to environmental pollutants and their impacts on human health, with a focus on China and other developing countries. She is a CIHR New Investigator and holds a joint PhD in Population Health Sciences and Environment & Resources from the University of Wisconsin-Madison and a Masters in Population and International Health from Harvard University.

The Maude Abbott prize was established in 2010 by the Faculty of Medicine to recognize outstanding female Faculty members who excel in Education, Research or Administration with a focus at the early career stage. Maude Abbott was one of the first women to obtain a bachelor's degree in arts from McGill University, and one of Canada's earliest female medical graduates, although from Bishop's. She was also an expert on congenital heart disease.

"I am passionate about bringing together diverse groups of people in research and policy to tackle the grand challenges in global environmental health," says Professor Baumgartner. "For me, this award is shared with my trainees and collaborators who work with me through challenging conditions (limited electricity, remote locations) and across disciplines and cultures to identify solutions that can reduce environmental risks and improve health. I am truly honored that McGill is recognizing these efforts and research contributions with the Maude Abbott Award, and am excited to continue moving forward at such a supportive institution like McGill." 

Haile T. Debas Prize
The 2016 Haile T. Debas prize was awarded to Dr. Kent Saylor, Assistant Professor, Department of Pediatrics and Director of the Indigenous Health Curriculum at the McGill Faculty of Medicine.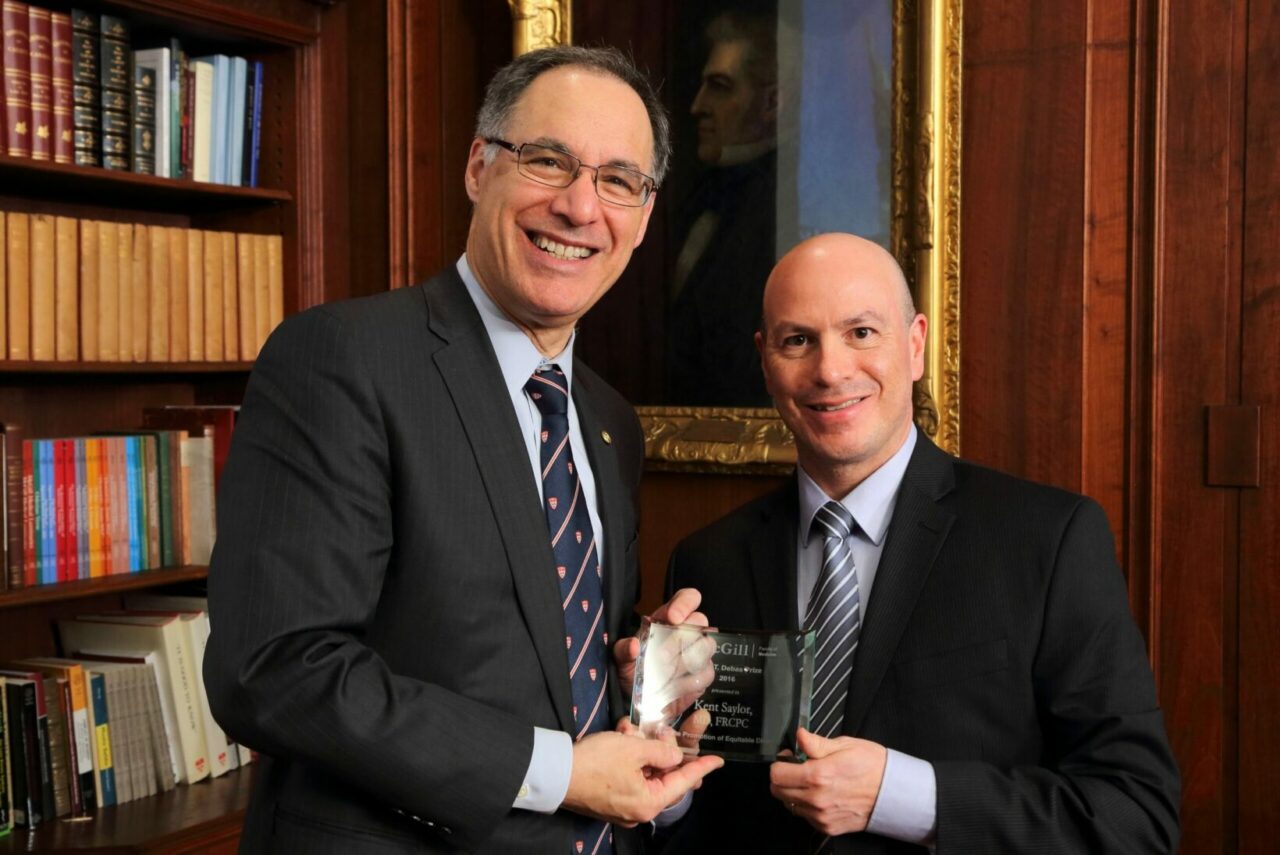 A member of the Mohawk Nation, Dr. Saylor works in the Northern and Native Child Health Program of the Montreal Children's Hospital.  He has been a consultant pediatrician working with Indigenous children and families for 16 years and is the past Chair of the First Nations, Inuit and Metis Health Committee of the Canadian Paediatric Society.

Dr. Saylor is currently in charge of the content and delivery of the Indigenous Health Curriculum in medicine at McGill and helps to support the current Indigenous medical students at the University.  With colleagues at McGill and with Indigenous colleagues in the McGill RUIS he is helping to lead the efforts of trying to increase the number of Indigenous health care professional students in all schools at the Faculty of Medicine and is hoping to initiate teaching programs in all schools.

The Haile T. Debas prize was also established in 2010 to promote equitable diversity at all levels in the Faculty of Medicine by recognizing a Faculty member who helps promote diversity, which could be by acting as role a model or mentor, or by implementing new approaches to increase underrepresented minorities. Haile T. Debas is a McGill Alumnus recognized internationally for his pioneering contributions to academic medicine, as well as to global health.

"I am honored to be the 2016 recipient of the Haile T. Debas Award for promoting diversity at the Faculty of Medicine," comments Dr. Saylor on being selected for this prize. "This award is important to me as a role model for future Indigenous health care students at McGill.  It tells me that McGill is recognizing the importance of Indigenous peoples' health and is ready to be part of the solution in dealing with the health challenges being faced by Indigenous peoples.  I hope current and future Indigenous students will see that McGill is welcoming them to the university and is ready to support them through their training.  We have a long road ahead in addressing the health discrepancies faced by Indigenous peoples and I think we are moving in the right direction."

Rosemary Wedderburn Brown Prize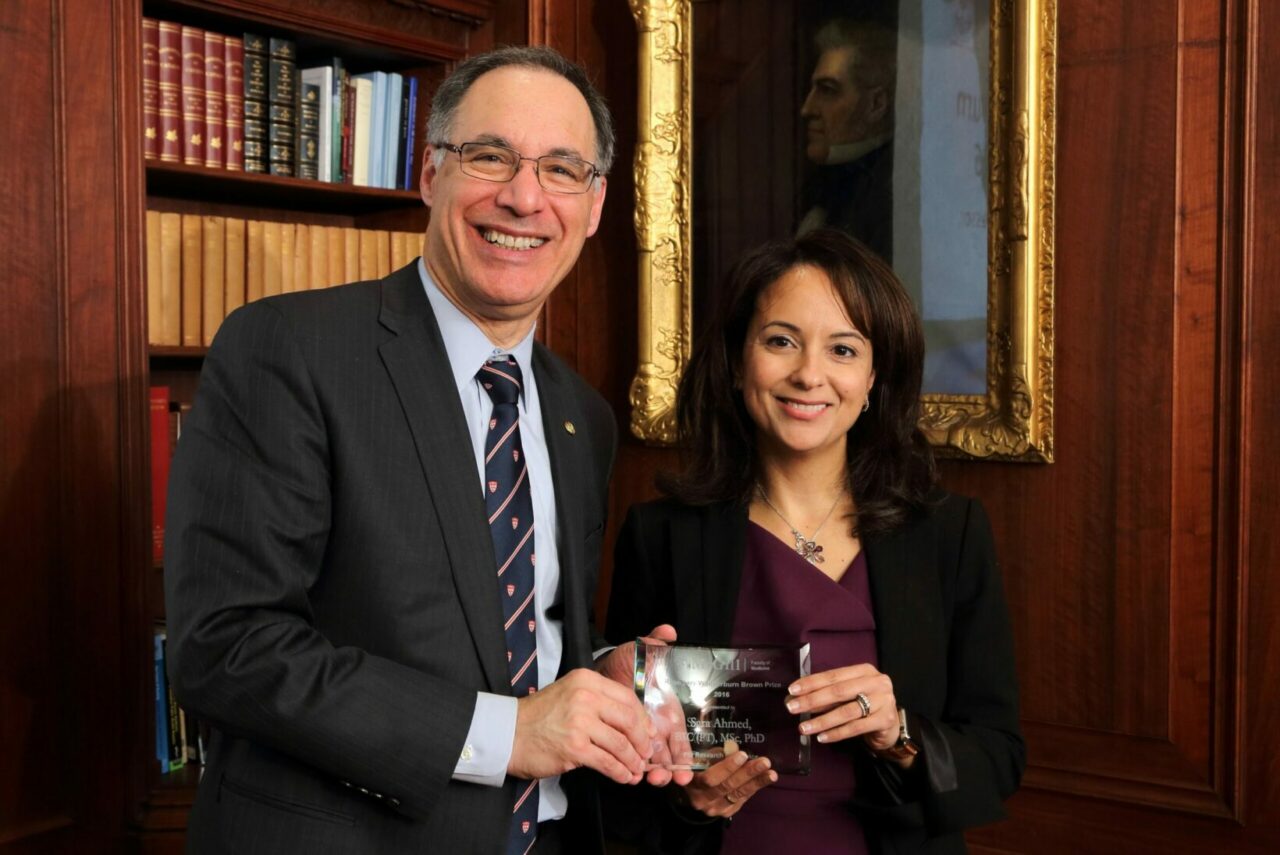 The 2016 Rosemary Wedderburn prize was awarded to Professor Sara Ahmed, Associate Professor at the School of Physical and Occupational Therapy. A three-time graduate of McGill University and an FRQS Senior Research Scholar, Professor Ahmed conducts research aimed at improving health outcomes for individuals with chronic disease. Her research includes studies that address the challenges of using patient reported outcomes (e.g. health-related quality of life, self-efficacy)  in chronic disease management programs, and the use of advanced psychometric approaches for improving the efficiency and value of outcome evaluations; that develop and evaluate the impact of chronic disease self-management interventions integrated into electronic personal health records (e.g. web-based asthma and COPD self-management applications); and that further knowledge exchange and transfer related to best practices for chronic disease management.

The Rosemary Wedderburn Brown Prize recognizes Faculty members in the Schools of Communication Sciences and Disorders, Nursing and Physical and Occupational Therapy with outstanding scholarly potential and demonstrated research excellence in the early stages of their career. Rosemary Wedderburn Brown, also a McGill alumnus, was a renowned advocate dedicated to equality and rights for women, minorities and the disadvantaged. She was also the first Black Woman Elected to a Canadian Provincial Legislature.

" I am humbled to have been selected to receive an award endowed in Rosemary Wedderburn Brown's name," says Professor Ahmed. "Her work empowered individuals and communities to develop the skills and measures needed to increase their autonomy and self-determination.  For me, this resonates well with my research program that aims to support patient- centred health care for individuals living with chronic disease. Patient-centered care can be attained by coordinated collaboration between professionals and patients, and ensuring that patients receive the support they need to make decisions, and to participate actively in their own care.  Empowering patients is achievable using modern technologies and open minds to do things differently, in a way that respects patients' needs and preferences."

Congratulations to all three laureates!

November 29, 2016