The annual Equity and Community Building Awards were handed out yesterday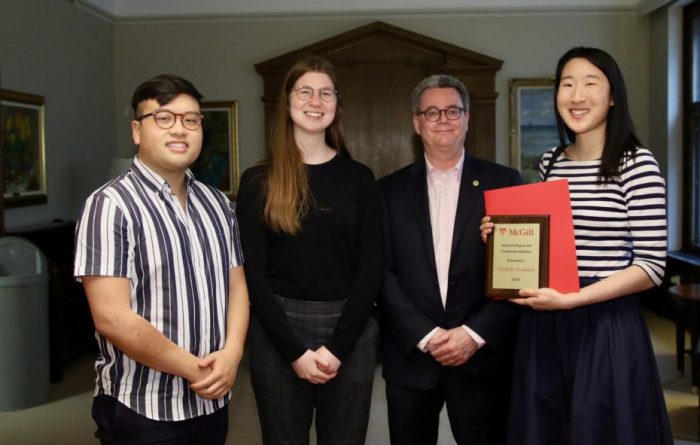 Source: N, Editor, McGill Reporter

It was everything you'd expect of an awards ceremony celebrating the bridge-builders of McGill.

Students, staff and faculty squeezed into the West Lounge of the Royal Victoria College Resident for the annual McGill Equity and Community Building Awards. The awards recognize the people who foster links with the local community and who nurture an environment of equity at the University. Laughter and friendly chatter filled the air as children skipped through the forest of adult legs.

"Yes, I'm excited too!" said Angela Campbell, Associate Provost (Equity and Academic Policies) and MC for the event, when a child squealed with glee during her opening remarks.

"This is the 7th year that we recognize and celebrate McGill students, faculty, staff and teams who focus their energy on pursuits that enrich McGill's commitment to being an equitable and inclusive campus," said Provost Christopher Manfredi in his opening remarks. "I am grateful to all members of the McGill community who engage in this work, and to those who recognize and value their efforts. This commitment to equity is manifest in different important ways, as is reflected by the wonderful contributions of those whom we are gathered to recognize.

"Your work promotes dialogues across difference, enhances McGill's spirit and culture of openness, and helps to ensure that all members of our University community see themselves as welcomed, valued and capable of success."

The Awards recognize people in four streams: students; academic staff; administrative and support staff; and teams. This year, there were two winners in both the student and team categories.

Here are this year's Faculty of Medicine recipients along with the citations by Angela Campbell.

Team Category: The Community Health and Social Medicine 
The Community Health and Social Medicine (CHASM) Incubator was founded by McGill medical students in June 2017 as part of the Medical Students' Society's Global Health portfolio. It is an interdisciplinary, student-run venture that aims to improve the health outcomes of local, marginalized communities. Currently in its second year, the group provides the framework and resources necessary to get new, great ideas that address health inequities existing in populations in Montreal up and running.

CHASM's program takes the most innovative aspects of start-up culture and blends them into a practical, project-based model. They nurture the ideas of community-based ventures and connect them to business and non-profit leaders. By providing each group with seed funding, educational workshops and resources designed with the help of McGill public health leaders, as well as tailored mentorship, CHASM strives to foster an ecosystem in which students and grassroots organizations are empowered to realize their mutual health system goals.

We are excited by the promise of the CHASM Incubator, and are happy to acknowledge their work with the presentation of this award.

May 3, 2019