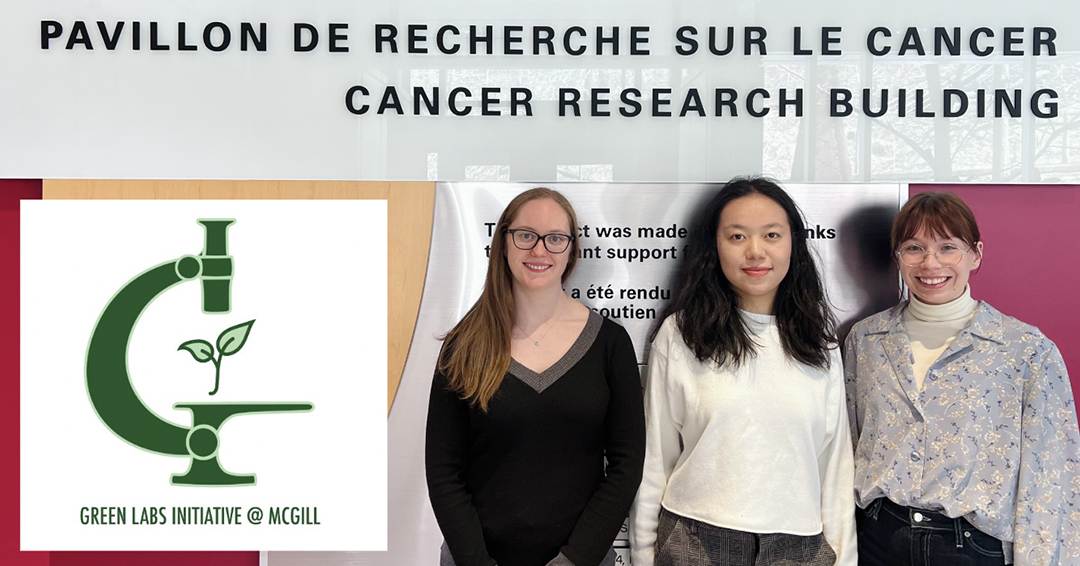 Happy Earth Day!
Cancer research is progressing at a pace faster than ever before. As more and more findings at the bench are translated into novel therapeutics and brought to patient bedside, we must ensure that this process is advancing sustainably. As scientists, we carry the unique responsibility to perform "healthier" experiments and to create greener workspaces while expanding our cancer discoveries.
Since 1970, Earth Day is celebrated every April 22nd to raise awareness protecting our environment and to promote global greener practices. Now, Earth Day is the largest global event uniting more than one billion people annually, including the GCI, to reiterate the importance of sustainability and to reduce our environmental impact.
"It's estimated that McGill research labs account for almost 50% of campus energy use. This is one of the main reasons the Green Labs Initiative (GLI) was formed and became a campus-wide initiative, working to bring sustainable practices and actionable information to various buildings and departments on both campuses. The next generation of scientists currently training at the GCI are bringing us the ideas and practices needed to fundamentally change mindsets and habits of cancer researcher in the future." – Kayla Heney, (GLI) @ McGill Administration Team.
Small Actions with Big Impact for a Greener Lab
Whether it is a media change to feed our cells or an agarose gel for genotyping, every experiment has potential to be greener at the GCI. Trainees and researchers are encouraged to recycle appropriately, to "shut the sash" of our fume hoods, and to turn off any equipment and lights at the end of an experiment or workday.
We also urge PIs and staff to gear towards eco-friendly reagents, combine purchasing orders and implement polystyrene, ice pack and PPE recycling within their labs.
"As researchers working in a lab, but a lot of little things can make a difference. Using the smallest tube possible to make reagents and reusing tubes for frequently used solutions are simple but significant ways to reduce our plastic usage. We are also very fortunate at GCI to have the Plastics Recycling Program! We can recycle tip boxes, bottles, and other plastics. These simple daily actions can make a real difference in making our research more sustainable." – Marie-Ève Proulx, GCSS Green Liaison Representative.
As part of our sustainability efforts, we have expanded the original 3 R's to easy 5 R'd to follow around the lab:

– REDUCE i.e., consolidate reagent ordering
– REUSE i.e., adopt for glassware instead of single-use plastic when possible
– RECYCLE i.e., packaging, plastic, paper
– RETHINK i.e., rework a protocol with greener chemistry
– REFUSE i.e., avoid purchasing from companies that over-package
Additionally, thanks to the ongoing efforts of the GLI and GCSS, the GCI is now equipped with reusable kitchenware, paper, plastic recycling and compost bins, integrating GLI in Lunch & Learn series, and disseminating sustainable research practices through Spotlight Seminars.
"Protecting the environment is never just an overnight effort. As long as we are willing to start today, nothing is too late. As students and researchers, we should always follow the 5 R's in the laboratory and promote the idea of protecting the earth. Meanwhile, PIs can play a key role in promoting the use of recyclables and eco-friendly reagents. We believe that our joint efforts will make a huge difference!" – Linjia Ji, GCSS Green Liaison Representative.
Let's celebrate Earth Day by continuing our commitment to sustainable and responsible research and protect our planet from our bench. Together, by embracing green practices today, we can ensure a better and healthier environment for cancer research tomorrow.
Resources:
– McGill Sustainability
– My Green Lab
– GLI Starter Pack
– McGill Hazardous Waster Management
Social Media:
– Green Lab Initiative McGill Facebook: @GLIMcGill
– Green Lab Initiative McGill Slack: GLI @McGillU
– GCI Green Initiative Instagram: @thegreengci
Upcoming Events:
– May 17, 2023: GLI Lunch & Learn Series on McGill's Sustainable Lab Certification Program
Get Involved:
– Green Labs Initiative McGill: gli.mcgill.community@gmail.com
– Green Initiative GCSS: gcss.gcrc@mcgill.ca, green.gci@mcgill.ca