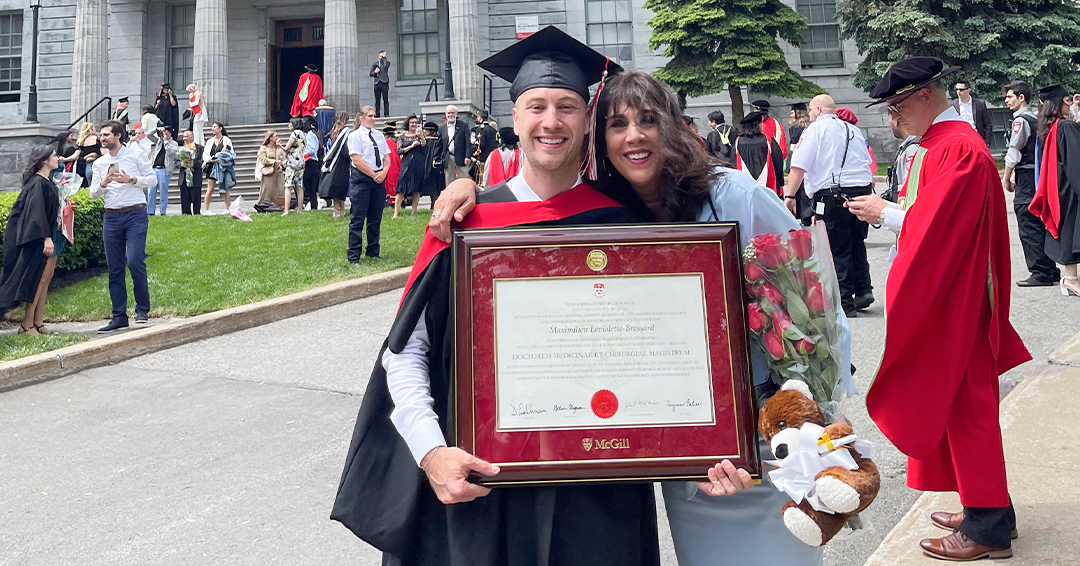 Maximilien Laviolette-Brassard, Kanien'kehá:ka, from Kahnawake Mohawk Territory graduated with his MDCM from McGill in the Spring of 2022. He is now doing his residency in urology at the Université de Sherbrooke. We checked in on Dr. Laviolette-Brassard to hear about how his residency is going; his shout outs to Kent Saylor and the Indigenous Health Professions Program; and what the National Day for Truth and Reconciliation Day means to him.
Can you please tell us why you chose to study at McGill? As part of the admissions process of the Indigenous pathway [Quebec First Nations and Inuit Faculties of Medicine Program], Dr. Kent Saylor and other Indigenous McGill students presented the Indigenous health curriculum and the campus, along with the First Peoples' House and other resources. I thought it would be a good fit, and since I'd done all my previous studies in French, I figured studying medicine in English would be a fun challenge.
How did you decide to pursue your MDCM? I studied biochemistry at Université de Montréal, then began a research master's on metabolic syndrome in children at Hôpital Sainte-Justine. I really liked science, but missed feeling connected to other people. I also wanted to better understand the human body. The idea of working in healthcare, particularly as a physician, really appealed to me. However, there were a lot of obstacles in my way and I didn't think it would be possible. I found out about the Indigenous health program, and since I'd already studied science, I applied and got accepted!
How was your experience at McGill, in general and as an Indigenous student? I am extremely thankful to have met amazing friends during my medical studies at McGill. I learned a lot on a personal level and got to experience a wide range of clinical settings serving different populations. My medical studies made me realize that there's still a long way to go in terms of medical students' well-being. Having recently lost a friend and classmate, I decided to advocate for medical students' well-being. Unfortunately, this issue isn't given enough attention within McGill's Faculty of Medicine and Health Sciences.
As an Indigenous student, I felt that McGill provided good support, especially thanks to Dr. Saylor and Alex Allard-Gray from the Indigenous Health Professions Program. Additionally, McGill's First Peoples' House is a unique resource that helps create a welcoming atmosphere. Unfortunately, I witnessed several instances of racism in McGill's hospital settings. McGill University's health network should be a safe space for everyone, regardless of their background. There's still a long way to go to achieve that…
Do you have any suggestions for ways the Faculty could make Indigenous students feel more welcome or areas it could improve its teaching about Indigenous health? McGill's Indigenous health curriculum is actually one of the program's highlights. Right from day one, all medical students start with a small-group activity on Indigenous health that dismantles various stereotypes regarding First Nations and Inuit. We then have four years of Indigenous health courses. I think this is a great starting point to help non-Indigenous students understand the history and culture of Indigenous peoples in Canada.
One point I think that could be improved is increasing our interaction with Francophone universities. During my studies, Indigenous students from the three Francophone faculties of medicine organized activities together, but McGill rarely joined. I don't know if it's because of the language barrier. I also think there should be more opportunities to do medicine rotations in remote communities to better understand the reality there.
Can you tell us what you're up to these days and what are your plans for the future? I'm doing a urology residency at Université de Sherbrooke. I'm not sure yet if I'll be working at a tertiary centre or at a community hospital. If I work at a big centre in Montreal, for instance, I'll be able to serve Indigenous communities in the city and in my own community, Kahnawake, which is just a 15 minute drive away.
Why did you choose urology? I chose urology because I became interested in surgery and sexual health during my medical studies. This specialty also includes many different medical and surgical treatments; there's lots of variety and not much routine. I found this to be the best fit for my interests and personality.
Are there any particular urology needs in your community that contributed to your choice? I mainly chose urology because that's what I saw myself doing for the rest of my life. But the further I get in my residency, the more I think about how I could use my experience and specialty to give back to my community. It's a question I ask myself every day because I know the need is there. Anyone can end up needing a urologist, whether in Montreal or a remote community.
Can you tell us what the National Day for Truth and Reconciliation means to you, as an Indigenous person and as a health professional? I think it's important to remember that colonialism still affects us today and we need to keep fighting to help Indigenous people access quality healthcare. Reconciliation is an ongoing process, and we must continue working to establish a mutually respectful framework for living together. This is a special day for me because it represents resilience and hope.
I want to reach my potential as a surgeon and continue learning in order to help improve my future Indigenous patients' health and quality of life.
Is there anything you'd like to add? I think it's great that McGill puts so much emphasis on Indigenous health across its platforms. It's among the Quebec universities that do this the most, and I think that's fantastic. Keep it up!
Related:
Indigenous Health Professions Program
McGill Indigenous Candidate Pathway
Quebec First Nations and Inuit Faculties of Medicine Program