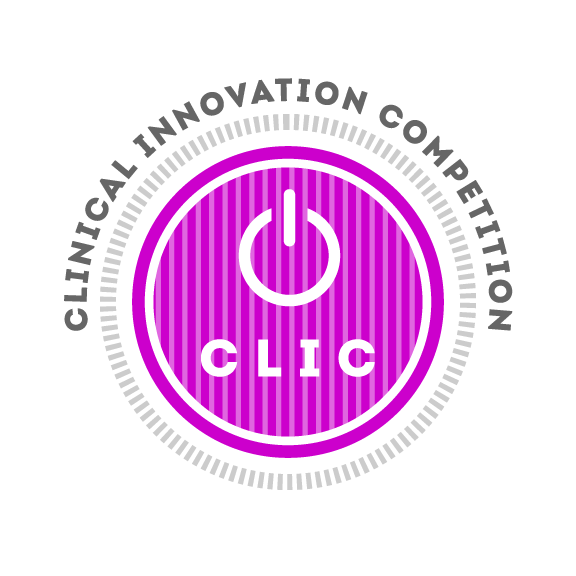 The McGill Clinical Innovation Competition (CLIC) aims to inspire members of the Faculty of Medicine community to conceive and develop promising ideas that will have a direct and positive impact on Canadian or global health care. The competition was inspired by McGill medical school alumnus Dr. Raymond Hakim. Dr. Hakim was a key founder of Renal Care Group, Inc., a specialized dialysis company that grew to serve tens of thousands of patients. Dr. Hakim's vision was to offer a prize to promote new ideas, processes or devices in health care that will have a tangible and meaningful impact on patients, resulting in the Hakim Family Innovation Prize for most transformative innovation. Now in its third year, the CLIC event has grown to include the Marika Zelenka Roy Innovation Prize for the innovation providing the best solution to an unmet clinical need and the MI4 Innovation Prize to recognize a preventative, diagnostic or therapeutic innovative approach designed to address infectious or immune-related threats to human health.

This year's CLIC Pitch and Awards Ceremony will take place virtually on May 21, 2020 starting at 4:30 pm EDT. We reached out to last year's winning teams to see where they are now.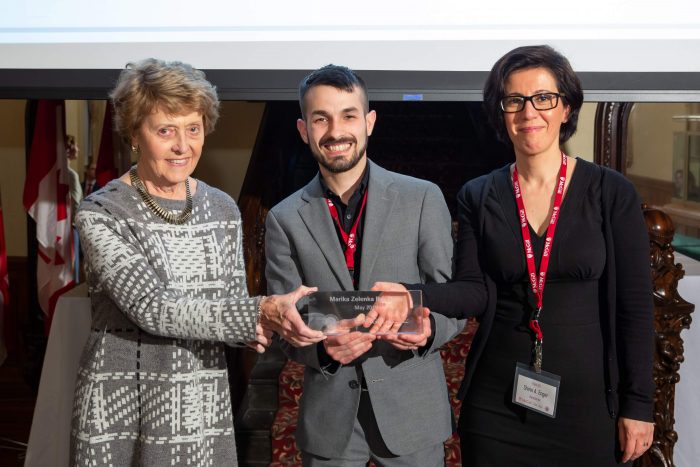 Marika Zelenka Roy Innovation Prize Winner
The winner of the 2019 Marika Zelenka Roy Innovation Prize was BetaSense (now BetaScint). BetaScint allows a high performing, invasive nuclear medicine imaging technique to be performed non-invasively in a greater number of clinics. The product is a non-invasive detector that is placed over a patient's wrist during a positron emission tomography scan that can collect the same information normally collected by a highly invasive blood sampling procedure. This allows smaller clinics to take advantage of this powerful technique and give many patients access to personalized medicine.

We caught up with Liam Carroll, PhD candidate in the McGill Medical Physics unit, to discuss BetaScint.

What has happened with your company in the last year?
We have completely re-designed the detector to improve its accuracy and reliability. Thanks to the Marika Zelenka Roy Innovation prize, we were able to partner with Novo and are preparing our prototype for our first-in-human trials. This was originally planned for the fall of this year, but due to the COVID-19 outbreak, at the moment the date is undetermined. These tests will take place at hospitals in Montreal, Sweden, Germany and the US.

Why is it important to have funding of this kind in the field of innovation?
This sort of non-dilutive funding allows innovators from academia to build a solid product and company before needing to seek out dilutive funding.

What are some of your plans moving forward?
As soon as we regain access to our lab, we will finish benchtop testing so we can finalize our design with Novo. Following that, we will be able to start our first-in-human testing.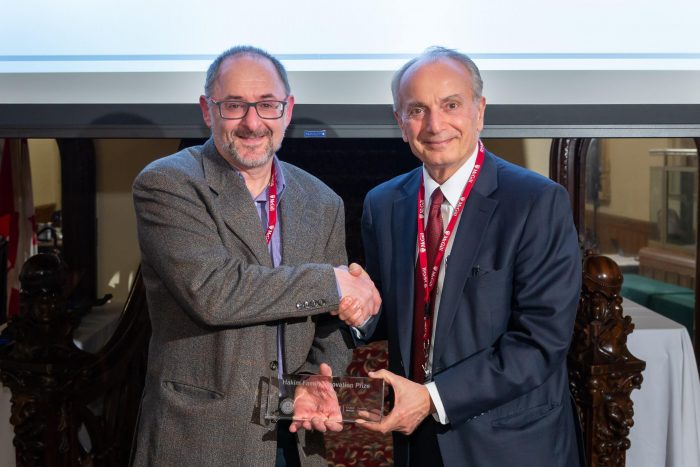 Hakim Family Innovation Prize Winner
A technology created by Dr. Uri Saragovi won the Hakim Family Innovation Prize at the 2019 CLIC competition.  Dr. Saragovi's team developed an accurate blood-test for quantitative detection of ovarian cancer tumor markers that is diagnostic of 95 per cent early stage ovarian cancer and is absent in normal or non-cancer pathologies; this tumour marker may also detect early recurrence. Currently the majority of cases of ovarian cancer are detected at late stage 3 and 4. This technology has a significant impact on medical practice to diagnose and treat women earlier, giving them a greater chance of survival.

Dr. Saragovi, Professor of Pharmacology and member of the Centre for Translational Research in Cancer at McGill University, gave us an update on his technology and some of their future plans.

What did the Hakim Family Innovation Prize enable you to do with your technology?
The Hakim Family Innovation Prize allowed us to carry out work on patient samples that validated the technology, granting us the ability to file for patents and further business development with a diagnostic partner who has the resources for clinical development and commercialization.

Why is it important to have funding of this kind in the field of innovation?
Most academic programs fail to produce a proper data package, are rarely licensed, and fail to translate to the clinic. These failures represent a tragic loss of opportunity to the research community and to the health care system. This is due in part to lack of education on how to understand clinical need and how to best translate technologies. Mainly, however, the failures are the result of the notorious "valley of death", the stage where there is no funding available from traditional sources to carry out validating work to produce a proper data package. Without this, it is nearly impossible to generate interest in industry to carry on with clinical validation.

The Hakim Family Innovation Prize allowed us to cross the valley of death of academic translation.  We have created significant value as the patient work was required to attract attention, file patents, and spinout a license that will move the technology to the clinic, creating value for patients and stakeholders.

How has the COVID-19 outbreak impacted your work and/or research? 
The laboratory and clinical research had to pause, but we continued the business development in full force, and were able to close a deal in about four months start to finish, which is very good even in normal times.

What are some of your plans moving forward?
We are first planning to validate and further develop our test to pursue regulatory approval for monitoring and diagnosing. Then we will support the transition to the clinical setting, following which we will extend the test for population screening and, after that, therapeutics development.

*Please note that while this technology was submitted to the 2019 CLIC competition under the name R3 Therapeutics, this name is no longer in use as the technology is licensed to a biotech.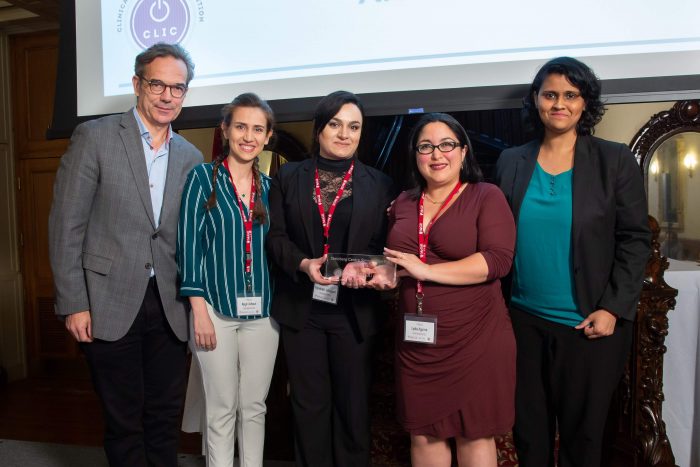 Steinberg Centre Simnovation Prize Winner
The recipient of the Steinberg Centre Simnovation Prize at the 2019 CLIC competition was FemTherapeutics. FemTherapeutics developed a solution to treat Pelvic Organ Prolapse (POP), a condition diagnosed in 1 in every 10 women. POP involves the abnormal descent of the pelvic organs beyond the vaginal walls leading to vaginal discomfort, urine leakage, and bowel problems. The current solution is an intravaginal device called a pessary which causes bleeding and open sores due to its geometric shape which does not fit the female anatomy. FemTherapeutic's non-invasive proprietary technology allows POP patients to obtain a customized pessary, decreasing pessary failure rates and unwanted side effects.

Negin Ashouri, Surgical Innovation Fellow at McGill University and CTO of FemTherapeutics, gave us an update on their company's activities.

What has happened with your company in the last year?
We incorporated in April 2019 and started operations from the Steinberg Centre for Simulation and Interactive Learning in September. Our three main areas of progress were our company structure, intellectual property, and technological development.

During the last year, we attended two accelerators. The first was the McGill X-1 Accelerator that helped our start-up grow through workshops and by allowing us access to an advisory board, as well as connecting us with professionals in various fields across Canada and the United States. The second accelerator was the Centech Acceleration Program, which helped us refine our business model and our product concept. After this three-month acceleration, we were accepted into Centech Propulsion, where significant progress has been made under their mentoring and guidance.

What did winning this prize enable you to do with your company?
Winning the Steinberg Center Simnovation Prize helped us enormously in various ways.

The prize included two years' access to valuable office space at the Steinberg Centre, where we carry out a great deal of our work, including meetings with external partners and presentations.

For our technological development, the prize included an agreement with design company Novo, with whom we have been working while developing our technology.

The prize has also has helped us with access to other services and networks such as contacts within the hospitals, special materials, pelvic bench models, etc. which facilitated our progress in terms of testing and validating our developments.

Why is it important to have funding of this kind in the field of innovation?
As a start-up, resources are limited and monetary services or networking offers can make all the difference. As a medtech start-up, pairing with the Steinberg Centre and having their support and access to medical resources has been critical in pursuing our innovations.

How has the COVID-19 outbreak impacted your work and/or research? 
One of the areas we were actively pursuing was our technological development. With the help and support of our clinical supervisor, Dr. Mihnea Gangal, we were assisting the hospital to do technology validation sessions. When the COVID-19 outbreak hit, access to the hospitals was restricted and we had to pause these evaluations. We decided for the moment to shift our focus to the technological development that does not require in-person evaluation.

What
are some of your plans moving forward?
We are now part of Centech Propulsion, with whom we will pursue our developments while still operating from the Steinberg Centre. While our timeline has been disrupted by the COVID-19 outbreak, we are still planning on having our product accredited to pursue clinical trials in the upcoming year.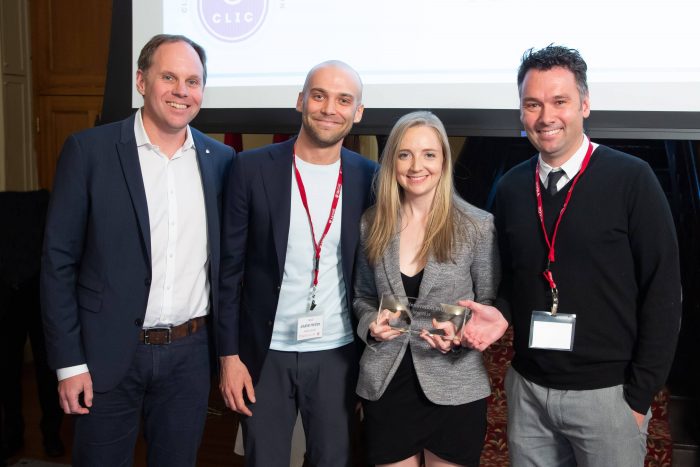 MI4 Innovation Prize
The recipient of the MI4 Innovation Prize was Antibiotic Sentinel. Antibiotic Sentinel is a web-based application that provides up-to-the-minute information to help doctors select the best antibiotic to maximize the chance of curing an infection while minimizing harmful side effects. This novel tool will immediately aid the care of patients presenting with serious bacterial infections and eventually learn to predict them.

We spoke to Dr. Emily McDonald, Investigator at the RI-MUHC and Director of the MUHC Clinical Practice Assessment Unit, and Dr. Todd Lee, Scientist at the RI-MUHC and Associate Professor of Medicine, Division of Infectious Diseases at McGill University, about their company.

What has happened with your company in the last year?
Our company has worked on making Antibiotic Sentinel even more user friendly. With the help of the Steinberg Centre for Simulation and Interactive Learning, we have strengthened our business case and have been pursuing options for developing the company.

What did winning the MI4 Innovation Prize enable you to do with your company?
With the MI4 Innovation Prize, we were able to work on the complex algorithms that power the app and have given Antibiotic Sentinel the capability of being used in large hospitals with thousands of users. We have also enhanced the security features of the app and its ability to process large amounts of data.

Why is it important to have funding of this kind in the field of innovation?
Funding of this kind can take a good idea and elevate it to a level where people who need solutions the most can actually have access. You can take an app that a few people were using and disseminate its use to many more people. It allows researchers and innovators to continue working on their projects in order to really improve them and make the product the best it can be.

How has the COVID-19 outbreak impacted your work and/or research? 
COVID-19 has been a main focus in everyone's lives for the past couple of months. A lot of projects have been put on hold to focus on immediate solutions for the pandemic. Our team has been carrying out two large studies looking at hydroxychloroquine for the treatment of and the prevention of the spread of COVID-19.

We are looking forward to continuing to scale up Antibiotic Sentinel. Some people who are hospitalized with COVID-19 develop bacterial infections, so an app that helps select antibiotics is more relevant now than ever. It's important that we select the right antibiotic to treat this dangerous complication of COVID. Antibiotic Sentinel helps with that.

What are some of your plans moving forward?
We were very lucky to be chosen among the top five finalists for this year's Clinical Innovation Competition for another project we have been working on for many years, MedSafer. This software helps doctors, patients and pharmacists stop the prescription of unnecessary or harmful medications for older adults. We have our work cut out for us! We will continue to work to make Sentinel and MedSafer available to the clinicians working on the frontline. Our goal is to make these apps relevant for everyone. Even during a pandemic, we can't forget to prescribe antibiotics safely and optimally.
May 15 2020