McGill Interdisciplinary Initiative in Infection and Immunity (MI4) researchers deploy non-invasive "smart" testing across workplaces in hard-hit Montreal borough.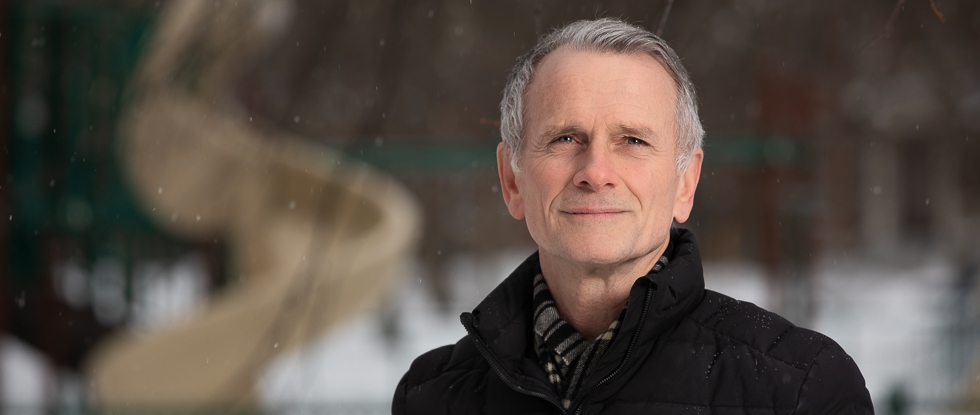 Source: Michelle Pucci for FMHS Focus

Swish, gargle, swish, gargle, spit.

At factories, offices and stores across Montreal North, thousands of seemingly healthy workers are spitting into sterile cups to be tested for COVID-19 as part of a pilot project by researchers at McGill University and the McGill University Health Centre (MUHC).

Saliva saline-solution samples are a less invasive method of testing and more efficient than the nasopharyngeal swabs that have primarily been used in Quebec testing centres, says respirologist Dick Menzies, MDCM'78, MSc'89, (pictured, above) director of the McGill International Tuberculosis Centre. Although vaccine rollout is well underway, testing is still needed to limit further spread according to Menzies.

"News from South Africa and from the UK is that vaccines may prevent severe disease, but may not actually stop transmission," Menzies says. "It's not clear that you can stop testing, and no one is suggesting that you can stop all the other measures of social distancing."
Without information about which groups are higher risk we're just shooting in the dark, says project-lead Dr. Jonathon Campbell, a postdoctoral fellow at the McGill Department of Epidemiology and Biostatistics and based at the Research Institute of the MUHC. "Intelligent testing is actually making explicit our decisions of where we're going to put resources, and those decisions should be evidence-based."

Every day for five weeks, Campbell and research assistants are setting up folding tables and plexiglass screens in the breakrooms of Montreal North workplaces to collect the samples. They wear masks and gloves instead of full-body PPE and goggles worn at public testing centres. The cups of saliva solution are currently sent to the MUHC lab where they are processed using RT-PCR alongside nasopharyngeal samples from public testing centres. Overnight, the results come in, and Campbell  and his team are often able to call anyone who tested positive before they head back to work the next morning.

"Generally, it's 24-hour turnaround, so you have a full day of uncertainty," Campbell says. "But now you finish your workday and in most cases you find out before going to work the next day."

Non-healthcare essential workers have been on the frontline throughout stay-at-home orders. Despite more stringent safety measures, workers in the public service, auto shops, factories, warehouses, grocery stores and daycares are at a greater risk of getting the virus. About 3 per cent of the project's tests have come back positive, even though all workers tested felt healthy.

One reason COVID-19 has spread so rapidly is that it is contagious even among asymptomatic people. For Menzies, intelligent or systematic testing is the best way to prevent transmission.

"Asymptomatic people are relegated to lower priority for analysis in the lab," Menzies says, which is counter-intuitive because "people who are symptomatic, one hopes, should already be staying home. The people who are asymptomatic and at risk, those are the ones you want to test."

Nasopharyngeal swabs are more difficult to perform, because they require a nurse or health-care worker to insert a dry swab through a person's nostril to the posterior nasal wall. The tests are unpleasant and expose nurses to risk that a person being swabbed might sneeze or cough. Personal protective equipment, once in short supply, is crucial, and supply chain problems can arise from lack of swabs.

"Nurses are in short supply everywhere," says Menzies. "They have to gown up and there is still occupational risk."

Saliva samples are more cost-effective and an alternative to nasal swabs, according to a review in the Annals of Internal Medicine. Menzies and Campbell contributed to this effort, which received support from the donor-funded McGill Interdisciplinary Initiative in Infection and Immunity (MI4). Their analysis of 37 studies comparing both testing methods found saliva samples were as accurate as swabbing, but less than half the cost—an approximate difference of $600,000 per 100,000 people tested. Menzies says with the current rate of testing using swabs, Quebec could stand to save about $1.5 million per week.

Better evidence about transmission and cases can lead to fewer restrictions such as the curfew in effect in Montreal. "Lockdowns are not sustainable measures," says Campbell. The appearance of new COVID-19 variants and asymptomatic infection requires testing and retesting. COVID-19 screening that involves spitting into a cup instead of having a swab dug into one's nose increases the willingness to submit to repeated testing.

"Right now, we're only going to businesses one time, and we know that is a snapshot at that one time," says Campbell, but preventing transmission may require more than the occasional snapshot.

March 29 2021