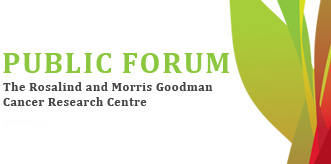 Session 3: Having a Bone to Pick with Cancer

Date: Tuesday, April 30, 2012

Time: 6.30 p.m. – 8.30 p.m.

Address:

McIntyre Medical Building, Martin Theatre, 6th Floor,

1200 Pine Avenue West, Montreal, H3A 1X1

Facilitator: Nicole Beauchemin, PhD

Featuring:

Bone Cancers: The bad and the ugly
Robert E. Turcotte, MD, FRCS(C)

Musculoskeletal Oncology
Chair Maurice E. & Marthe Muller

McGill University

Professor and Chairman Division of Orthopaedic Surgery

Associate Member, Department of Oncology

Chief, Department of Orthopaedic Surgery

Medical Director, Supraregional Sarcoma Program

Head, Division of Surgical Oncology

McGill University Health Center-MGH Site

Understanding Metastatic Bone Cancer and Bone-Targeted Agents
Richard Kremer, MD., PhD, FRCP(C)

Professor, Department of Medicine

Director, Bone and Mineral Unit

McGill University

Co-Director, Musculoskeletal Axis of the Research Institute

Co-Director, Musculoskeletal Axis

MUHC

Bone metastases: Clinical and research advancements in the diagnosis and treatment
Michael H. Weber, MD, MSc, PhD, FRCS(C)

Assistant Professor, Department of Surgery

McGill University

Orthopaedic Spine Surgeon, Montreal General Hospital

Survivor's Testimonial
Sessions will be delivered in English. Question and Answer period will be bilingual. Refreshments will be served.

Admission is free, but registration is required. Contact Ms. Annette Novak at (514) 398-4970 or email annette.novak@mcgill.ca