Recruitment for Health-Canada approved clinical trials underway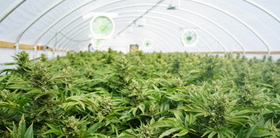 Source: Santé Cannabis
Santé Cannabis, Quebec's first specialized medical cannabis clinic and resource centre today announced its expansion to become Canada's first independently credentialed centre of excellence in cannabis research. As a contract research organization (CRO), Santé Cannabis provides clinical research services to the pharmaceutical, biotech and cannabis industries focused on the investigation and development of cannabis and cannabinoid products.
Trusted by 2,000 referring physicians across the province of Quebec, Santé Cannabis' unique service offering as a CRO is built on the expertise of assessing more than 5,000 patients, the collection of a world-leading database of medical cannabis patient experience and the development of a diverse spectrum of medical cannabis clinical trials, including two Health Canada approved clinical trials currently recruiting at the clinic.

"The greatest obstacle to a patient's access to cannabis is the limited clinical, scientific evidence," said Erin Prosk, President and Co-Founder of Santé Cannabis.  "For years now, we have heard about the lack of evidence to support the medical use of cannabis, we can't just keep talking about it. Our patients deserve better, they need action. At Santé Cannabis, we are committed to building the body of scientific evidence and to leading medical cannabis products into the pharmacy and into prescription drug coverage."

Leading medical cannabis services now offered free of charge for patients:

Access to funding for its clinical research program has now permitted Santé Cannabis to eliminate all patient service fees for its current and future medical cannabis patients. "The elimination of our fees represents a huge milestone for patient access in 
Quebec
," states Ms. Prosk. "Service fees at Santé Cannabis were an unfortunate necessity in order to meet regulatory requirements and to provide our extensive support and monitoring services. We are pleased to announce today the removal of one barrier to medical cannabis access and we are grateful for the support of our partners and the commitment of our patients to support our research goals."
Santé Cannabis will continue to provide its leading medical cannabis education and support services as well as the assessment, follow-up and monitoring of medical cannabis patients.

Impact for physicians and healthcare professionals:

Dr. 
Antonio Vigano
, Research Director of Santé Cannabis is an Attending Physician in the Supportive and Palliative Care Division at the McGill University Health Centre and an Associate Professor in the Department of Oncology at McGill.  Dr. Vigano is the Principal Investigator of two medical cannabis clinical trials currently recruiting at Santé Cannabis.
"Medical cannabis has an important therapeutic role for patients experiencing pain and other symptoms that significantly impact quality of life and are unrelieved by conventional treatments," said Dr. Vigano.  "Our work has established Santé Cannabis as a Canadian and International leader committed to answering the remaining questions about the safety, efficacy and clinic use of medical cannabis products and will provide guidance for physicians and healthcare professionals."

Dispensing cannabis products to enrolled patients: A first for a community-based clinic site inCanada:
Santé Cannabis is currently recruiting patients to two clinical trials; a Health Canada approved Phase 3 trial for the investigational inhaled cannabis product PPP001 for the treatment of advanced cancer pain and associated symptoms, as well as a Phase 2 study investigating oral capsules of cannabis oil, PPP005, for the treatment of chronic pain. Health Canada has issued a Section 56 exemption permitting Santé Cannabis to store, dispense and deliver cannabis study packages to patients enrolled in each trial. This is the first such exemption issued to a community-based site in Canada.

Both clinical trials are sponsored by Tetra Bio-Pharma, a global biopharmaceutical leader in the clinical research and development of cannabinoid-based drugs and natural health products.

Related coverage

Daily Hive | Santé Cannabis is working towards better access for patients

Radio-Canada | Le cannabis à usage récréatif plus simple, mais moins sécuritaire pour les malades

July 19, 2018