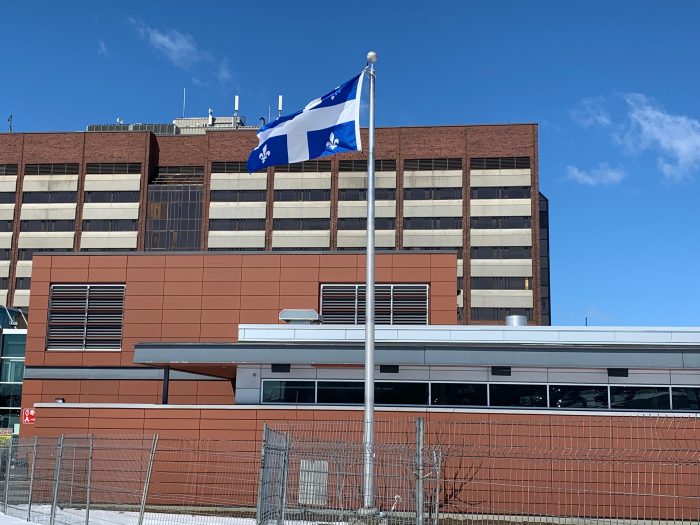 Grand opening set for 2020
By Lisa Dutton

Crews are busy at work as phase two of construction of the McGill Faculty of Medicine's Campus Outaouais starts. The new facilities, which include the Faculty of Medicine's satellite campus and the expanded Groupe de médecine familiale universitaire (GMF-U) de Gatineau are expected to open in summer 2020. The construction project will add two floors to the building housing the Emergency Department of the Gatineau Hospital. One floor will be the new, three-times larger home of the GMF‑U de Gatineau and the other will house the undergraduate medical education (UGME) teaching facilities, including a high-tech simulation and interactive learning centre. Teaching at the new campus will take place in French.

The project is a partnership between McGill University and the Centre intégré de santé et des services sociaux (CISSS) de l'Outaouais. The Quebec Ministry of Health and Social Services is financing the $32.5-million construction project while the Ministry of Education and Higher Education is providing transition funding of $4.1-million, of which $750-thousand is for francization.

"It's very gratifying to see this long-awaited project taking shape. This is a historic moment for McGill and the CISSS de l'Outaouais," says Dr. David Eidelman, Vice-Principal (Health Affairs) and Dean of Medicine at McGill. "We are deeply committed to creating a centre of excellence in health with our Outaouais partners in order to attract more medical students and residents to study, train and establish their medical practice in the Outaouais region."

"Ultimately, by offering the full spectrum of medical training here, we hope to increase the number of physicians working in the four corners of the region," says Josée Filion, the Interim President and Director General of the CISSS de l'Outaouais. "With time, this will curb our shortage of doctors, which is great news for our citizens."

70% of family medicine residents trained in Outaouais remain in Outaouais
Evidence from other Quebec satellite medical campuses show that educating and training future doctors in a region translates into more physicians available to meet the local population's health care needs. Since 1988, when McGill opened its Family Medicine Residency Program in Gatineau, upon graduation 70 to 80% of residents established their practice in Outaouais.

"For the past 30 years, McGill has been working closely with the CISSS de l'Outaouais and its predecessors. The University's ties to the region were strengthened in 2003 when the Ministry of Health and Social Services created four Réseaux universitaires intégrés de Santé (RUIS)," explains Dr. Samuel Benaroya, Associate Vice-Principal and Vice-Dean of Health Affairs at McGill. "Each of these four networks is linked to one of Quebec's four medical universities: Université Laval, McGill University, Université de Montréal and Université de Sherbrooke. The RUIS mandate is to help improve access to health care, teaching and research in designated areas of Quebec. The McGill RUIS has responsibility for 63% of the Quebec territory extending from the western portion of the Montérégie to Outaouais and to northern Quebec."

Campus Outaouais: from undergraduate medical education to residency training
McGill will admit 24 students annually to its four-year MDCM Program, for a total of 96 undergraduate students. The relatively small student body will allow students to form strong bonds with their peers, members of the Outaouais based, McGill Faculty, their patients and the region.

Additionally, once the Campus opens, the number of training positions in the McGill Family Medicine Residency Program will increase from 15 to 18.

"This major project is progressing rapidly as we recruit and onboard new members of the Faculty in preparation for the arrival of students," explains Dr. Gilles Brousseau, Assistant Dean of Medical Education for the Outaouais Region. "To date more than 60% of Campus Outaouais' academic leadership and over 30% of its administration team have been hired. Recruitment will continue at a steady pace between now and spring 2020."

"The opening of the Campus Outaouais is a major step in the development of Outaouais' academic mission. It moves us closer to becoming an integrated university health and social services centre (CIUSSS). This, in turn, will strengthen our research activities and ultimately the health care provided to patients in the region," explains Laurence Barraud, Director of Teaching, University Relations and Research at the CISSS de l'Outaouais.

Working group is exploring options to offer Med-P Program in French in Gatineau
There are two pathways to medicine at McGill. Students with a CÉGEP diploma must complete a one-year preparatory program (Med-P Program). This program consists of courses in molecular biology, physiology and others. The goal is to ensure CÉGEP students have the knowledge necessary to start their medical degree. Students with a bachelor's degree can apply directly to the MDCM Program.

The process to offer the Med-P Program in French in Outaouais is ongoing. McGill University's Faculty of Medicine and Faculty of Science are pleased to be working with the Université de Québec à Outaouais (UQO) to address this Quebec Government priority.

More good news: the GMF-U de Gatineau to hire 12 additional family doctors
With the arrival of the Campus Outaouais, the GMF-U de Gatineau will grow to three-times its current size. In addition, over the next three years, the family medicine clinic will recruit 12 additional medical supervisors, which will bringing the total to 34, allowing them to meet a goal of over 20,000 registered patients.

An Outaouais firm wins construction bid
The construction contract was awarded to Gatineau general contractor Ed Brunet et Associés Inc. This firm has built several extensions to the Gatineau Hospital including the Nuclear Medicine Unit and Cancer Centre.

"We are pleased to work with Ed Brunet et Associés Inc. on this historic project. This company has a lot of experience in carrying out major projects, which is a huge advantage. Together, we are working to ensure the success of the Campus Outaouais, while respecting the authorized funding and schedule," says Michel Leblanc, Senior Project Director, Outaouais Medical Campus.

Local architectural consortium Yelle Maillé-Lapalme Rheault et Associés designed the two-floor addition to the Gatineau Hospital to be bright and welcoming. A skylight will draw light deep into the building and a large floor-to-ceiling window will provide additional natural light. The extension will blend with the existing building's architecture.

The Faculty of Medicine teaching facilities will include:
10 classrooms (when four of the rooms are opened they form a 250-seat amphitheatre)
Two meeting rooms
One student lounge and dining area
One simulation centre equipped with high-fidelity mannequins where students can learn, rehearse and perfect their training and where hospital staff can undertake multidisciplinary training.
One anatomy and histology laboratory.
April 12, 2019