The Faculty of Medicine and Health Sciences' Campus Outaouais was named Project of the Year at PMI-Montréal's concours Élixir, which honours leaders in project management in Quebec. The project was also recognized as part of the Palmarès des projets for its innovative approach. We spoke with Dr Gilles Brousseau, Vice-Dean and Director of Campus Outaouais, and Michel Leblanc, Senior Project Manager, about the awards and what the project means to them, to McGill and to the people of Outaouais.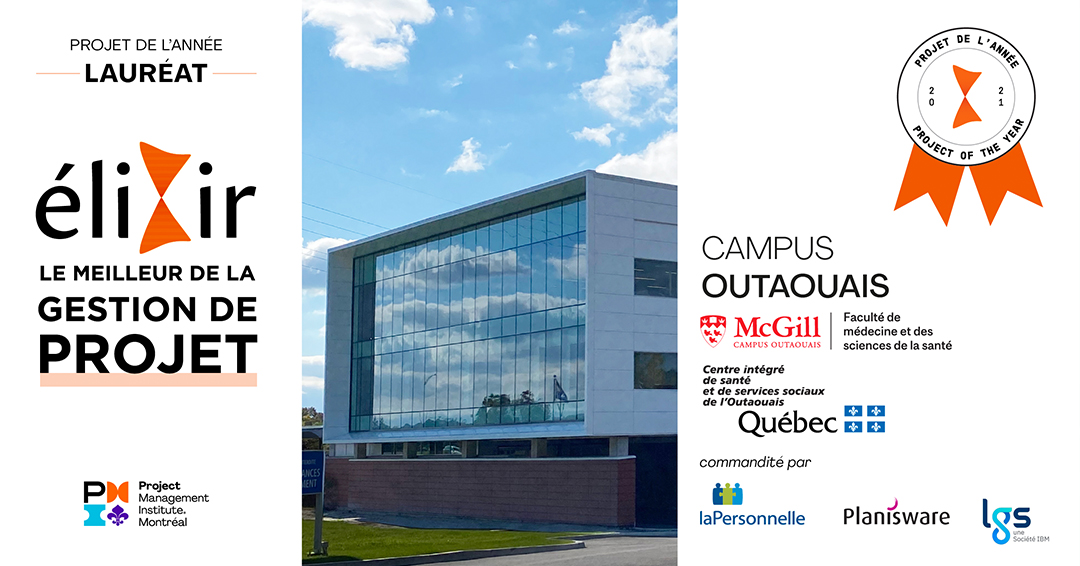 McGill's Campus Outaouais has been named Project of the Year. How would you describe your reaction?
Gilles Brousseau: Proud and honoured. We share both of these awards with our partners and all the teams that helped to make the project a success. We set out to create a campus for and by the people of Outaouais, and we've achieved that. Local resources helped us to delocalize medical education to Outaouais, from building construction to the implementation of the medical program. McGill now offers identical, consistent programs in two languages and on two campuses.
Despite the fact that the pandemic and resource shortages caused a temporary halt to construction, we stayed on schedule and within budget. As planned, the first cohorts began their studies in August 2020 for McGill University's qualifying year in medicine at Université du Québec en Outaouais (UQO) and for the Undergraduate Medical Education program at McGill in Outaouais. This shows that the campus is so much more than a concrete building; it's all the teams and staff that have come together to overcome challenges and apply best practices in project management, teaching and delivering care to the population.
What is the main thing that enabled you to excel in managing this project?
Michel Leblanc: First of all, the project was so successful primarily because of the commitment, passion and energy of all the teams that helped make it a reality. In terms of the project management plan, it was important to be able to bring people together in order to involve and energize all the players, including two ministries, two universities and health institutions in Outaouais. A range of stakeholders and professionals—and our contractor—worked together to bring the campus project to fruition.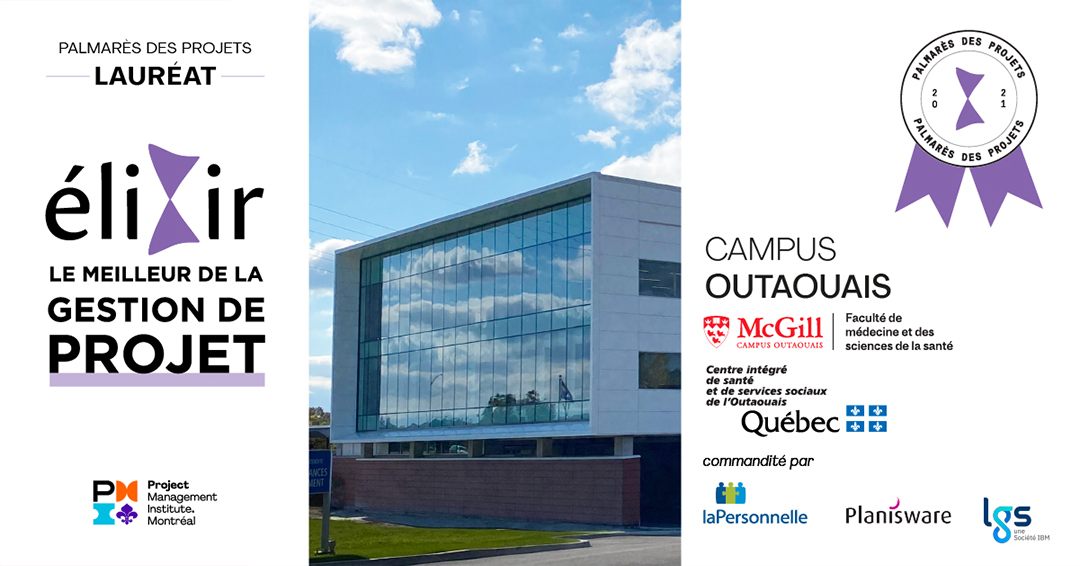 Campus Outaouais was also recognized with a Palmarès des projets award for its innovative approach. Can you give a few examples of innovations you used?
ML: The construction phase involved adding two storeys onto the Gatineau Hospital above the Emergency Department, so we needed to avoid disturbing the staff and patients. So, for example, the project team had to analyze various options so that we could drain 62 sinks without making 62 holes in the ceiling of the Emergency Department. We ended up using a suction drainage system that only required one new hole rather than 62. This system is unique in Canadian health institutions and is a highly innovative solution that's cost‑effective, quiet and functional, especially in a context where handwashing is vitally important.
GB: Another innovation at the academic and administrative level was the creation of a unique project management tool that is powered by our teams and offers real‑time dashboards. This enabled us to plan, manage and share tasks. It also helped us coordinate and prioritize our francization work so we could make our materials accessible and more effectively recruit local candidates for administrative and academic positions.
Could you tell us about some challenges you encountered during the project?
GB: Resource shortages and the pandemic definitely complicated the project, and the process of setting up two fully French-language educational programs that were identical to those given on the Montréal campus, with the same level of excellence, was already quite a challenging one. We want to thank UQO for their valuable collaboration in launching the programs in August 2020, in the middle of the pandemic. Other tricky aspects of the project included adding two storeys above an open emergency department while minimizing disturbance from the construction, and recruiting more than 300 clinician‑teachers locally.
What are the impacts of the project on the people of Outaouais?
GB: Campus Outaouais is an important legacy for the population of Outaouais. It will be a long‑lasting partnership between the Universities, UQO and McGill, and clinical settings. It will recruit and retain healthcare professionals in a region in significant need and help build excellence. It's one of the catalysts for the university‑affiliated hospital centre currently being planned, and a major milestone bringing together all those involved. An increased number of McGill students in the region, and family doctors who are trained here, brings additional medical resources. Also, since our programs are cross-disciplinary within the medical field, they will attract and help to retain staff across the spectrum of health professions. This is a major and unprecedented hub.
What does Campus Outaouais mean to McGill?
GB: Campus Outaouais is a flagship project for McGill University. It enables McGill to grow its French‑language educational offerings to serve the population of Outaouais. The delocalization of medical training in French renders the material accessible to all Faculty of Medicine and Health Sciences students. With the new campus, McGill is establishing itself more deeply in Outaouais, where it has had a presence for nearly 35 years, and working to uphold its deeply cherished tradition of social responsibility. Regional medical education helps McGill to position itself, cement its academic support in the long term, improve its service offer and strengthen regional ties.
Who would you like to thank for the success of this project and the awards it has received?
GB: These two prestigious awards belong also to our partners, collaborators and work teams. Thank you to Professors Imed Gallouzi and Gabriel Venne of McGill for their support in launching the medical qualifying year program, in collaboration with UQO. Thank you to the Office of Undergraduate Medical Education for their assistance in delocalizing the medical program, including Dr. Beth Cummings, Dr. Melanie Mondou and their colleagues on the academic team, as well as the administrative team of Catherine Millar, Director of Administration and Operations for Medical Education. Special thanks to Dr. David Eidelman, Dr. Sam Benaroya and the Faculty's leadership team for their tireless support for this project.
ML: Thank you to Provencher-Roy, led by Claude Bourbeau and his team, for their excellent Dossier d'opportunité and their technical and functional design. Thank you to Yelle-Maillé-Lapalme-Rheault architectural consortium, and particularly to Gilles Maillé, Stéphane Lalancette and Yan Labelle for creating building plans with exceptional and highly functional architecture. Thank you to Georges Maamari and Yvan Côté at Bouthillette Parizeau Inc. for the electrical and mechanical engineering work, and to Martine Beaulieu at CIMA+. Thank you to our Gatineau contractor, Ed Brunet and Associates, for making this huge project a reality. We also want to thank the Ministère de l'Enseignement supérieur and the Ministère de la Santé et des Services sociaux for their financial support. Special thanks to the Société québécoise des infrastructures team; to Céline Gaulin, project director; and to the team at CISSS de l'Outaouais: Josée Filion, France Dumont, Martine Potvin, Stéphane Pleau, Martin Bélanger and their teams.