By Jean-Benoît Nadeau, BA'92
translation by Julie Barlow, BA'91
Source: McGill News

The story behind McGill's new Campus Outaouais in Gatineau sounds a little like a remake of the iconic Quebec film La Grande seduction.

In the original 2003 comedy, the residents of a small village in Quebec's Lower North Shore go to incredible lengths to convince a young doctor to settle in their village. In this case, it was the residents of Outaouais, led by the community's doctors, who set things in motion.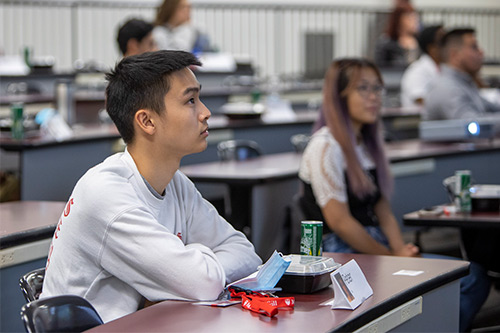 The Outaouais region has long suffered from a shortage of doctors. As a result, residents often had to travel to Ontario or Montreal to receive specialized treatment. In 1988, McGill's Faculty of Medicine and Health Sciences created a family medicine teaching unit in Gatineau. It began by sending two medical residents to complete their last six months of family medicine training there.

When, as hoped, those doctors settled in the area after finishing their training, the Faculty decided to send more medical residents to Gatineau: first four residents per year, then six, eight, 12, 18 and now up to 20 per year.
This increase coincided with a requirement from the Quebec government that the province's four medical faculties should each create local branches in different parts of the province to train physicians in the hopes of improving healthcare in Quebec's regions.

The Université de Montréal opened a regional branch in Trois-Rivières; the Université de Sherbrooke focused on Chicoutimi and Moncton, and Université Laval will soon go to Lévis and Rimouski. McGill continued to build on the work it had begun in Outaouais. In 2010, a new program welcomed McGill medical students in the third year of their studies. Five years later, a clinical plan was developed that would see the entire McGill medical program offered to students in the region.

In August 2020, Campus Outaouais welcomed its first cohort – 24 first-year medical students and 16 students in a specially designed pre-med preparatory program. By 2024, there will be 96 McGill students enrolled in the first four years of the medical program, around 20 students in the preparatory program, and 50 residents and interns. In all, close to 170 McGill students will be living in the region.

"The population of the Outaouais region has been asking for medical training to be available here for many years,"  says Dr. Gilles Brousseau, associate dean and director of Campus Outaouais and a local champion of the project since 2009. "It's something both the community and the University wanted."

The Campus Outaouais initiative has resulted in a couple of significant milestones for McGill and the Faculty. With the addition of the students at the new campus, the overall number of first-year medical students at McGill has risen from 178 to 202, an increase of almost 15 per cent.

And for the first time in McGill's long history, the teaching program at one of its campuses is taking place exclusively in French. McGill's entire medical curriculum was translated into French – a huge undertaking.
A dedicated team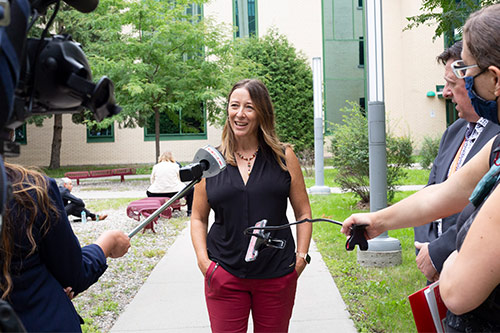 Dr. Samuel Benaroya, BSc'73, MDCM'75, the associate vice-principal and vice-dean (health affairs) at the Faculty of Medicine and Health Sciences, served as the project's "minister of external affairs." His job was to bring together and coordinate the plethora of official bodies involved in decision-making for the planned campus: two ministries (health and social services, and higher education), two McGill faculties (medicine and science), two universities (McGill and UQO), the regional CISSS and other important regional authorities.
Michel Leblanc, the senior project director for Campus Outaouais, has an impressive track record in construction in the health sector. The CHUM Research Centre (a project of half a billion dollars), the new Baie-Saint-Paul Hospital and the Pavilion of the Faculty of Pharmacy of the University of Montreal are all among his past projects.

For a relatively modest project (with a budget of $30 million), the Outaouais campus presented an array of challenges, says Leblanc. "We had to build a faculty and a family medicine group, but we also had to organize all the training, translate the medical program [for both the preparatory year and the regular medical program], hire and train staff and faculty, and triple the capacity of the Outaouais to accomodate interns."

The pandemic delayed construction work on the project. Even without that unexpected complication, work on the site involved unique challenges. It was actually two construction sites in one: a medical school and a GMF-U. Two floors had to be carefully added above the emergency room of the Gatineau Hospital without interfering with its daily operations and without producing excessive noise or interfering with the circulation of ambulances.

"We had to be inventive. Since we couldn't break through the ceiling of the emergency room to get past the GMF-U's plumbing, we had to install a large vacuum drainage system, a first in Quebec for an establishment of this size," says Sophie Brunet, BSc(Arch)'08, MArch'10, who managed the construction site for the construction firm Ed Brunet & Associates before taking maternity leave.

Roxane Daboval 
was among the first cohort of medical students at Campus Outaouais.
"Our teachers are almost all clinicians. It's very cool, very hands-on," says Daboval. "They are obviously excited about teaching us. They ask us a lot of questions and we feel really comfortable asking them questions, too." Daboval looks forward to seeing the campus's new amphitheatre, classrooms, simulation room, laboratories and the student café when Campus Outaouais officially opens in January.

A new era for medicine in Outaouais
The new Outaouais campus has generated plenty of excitement in the local medical community. More than 200 doctors and about 20 other medical professionals (pharmacists, nurses, physiotherapists) have already joined the teaching team. "We had to train all these wonderful people in pedagogy and online teaching," says Dr. 
Danyèle Lacombe
, MedResident'08, director of the basic training component. "Since the opening, I've had even more medical professionals express an interest in teaching [at the campus]."
The most tangible impact of the Campus Outaouais will be on the GMF-U, which will move into its new premises in January, increasing its number of examination rooms from 20 to 65. The GMF-U will be able to add three nurse practitioners, three pharmacists, two social workers, a nutritionist, a psychologist and a physiotherapist to its team.

"The "U" in GMF-U means that we are a family medical group whose activities are not limited to medical services. We'll also be regularly training residents. The GMF-U preceded the campus by 10 years and is a testament to McGill's long relationship with the Outaouais," says Dr. Catherine Savard-Woods, MedResident'10, director of the GMF-U. "Now that we will be in the same building, our residents will have access to student affairs offices, career counsellors and continuing education."

As Brousseau explains, the campus is also creating a new regional dynamic. "In Trois-Rivières, thanks to the Université de Montréal campus, there is no longer any shortage of doctors. Patients are having less difficulty in finding a specialist. We're hoping that will happen here too."

"The more doctors there are, the more medical professionals there will be to work alongside them," says Lacombe. The former journalist, a native of Ottawa, studied medicine at the University of Ottawa before founding the Champlain Medical Clinic in Gatineau. "A student who comes for four years, five with the preparatory year, plus residency, will build their personal and professional attachments here."

"For the region, the [McGill campus] is not an end in itself, but a beginning," says Martine Potvin, director of teaching, university relations and research at the Outaouais Centre intégré de santé et de services sociaux (CISSS), which will soon add a U to its name as well and become a CIUSSS.

"The university designation will attract professors and research. It means there will be more journals in the library, more cutting-edge practices, more knowledge transfer, more technology and more outreach. It will improve the quality of care and services. We're just starting, but for the Outaouais region, it's the beginning of a new era."

In mid-October, the Quebec government announced the construction of a brand new Centre hospitalier affilié universitaire (CHAU) in the Outaouais region – a 600-bed mega-hospital at an estimated cost of about $2 billion, scheduled to open in 2030.

According to Brousseau, the announcement represents a huge boost to Campus Outaouais and its hopes of establishing a sturdy foundation for health care in the region.

"It will make it possible to increase the number of internships in the region, to have learning environments that are better adapted to the University's mission, and to improve the services offered to the population. It will be extraordinary."
November 11 2020