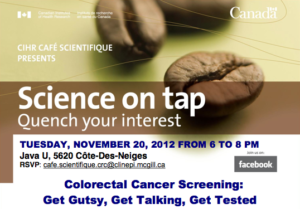 The Research Institute of the McGill University Health Centre (RI-MUHC), in collaboration with the Canadian Institutes of Health Research (CIHR), invite you to a Café Scientifique to discuss colorectal cancer screening in the relaxed atmosphere of the Java U at 5620 Cote-des-Neiges.

This year in Quebec, an estimated 6,200 men and women will be diagnosed with colorectal cancer (CRC), and 2,450 will die from it. Incidence and mortality rates of CRC in Quebec are among the highest in the world, and screening is the best opportunity to reduce the burden of this disease.

Come join the discussion with scientific and medical experts and learn more about screening programs and the latest findings in CRC screening research.

This is your chance to ask questions and get the most up-to-date information – don't miss it! When:
Tuesday, November 20
th
, 2012 from 6:00 pm – 8:00 pm.
Where:
Java U, 5620 Cote-des-neiges, Montréal, QC H3T 1Z2
Who:Maida Sewitch, PhD
, Associate Professor, Department of Medicine McGill University and MUHC
Alan Barkun, MD, MSc
, MUHC Gastroenterologist & Professor, Department of Medicine, McGill University
Erin Strumpf, PhD,
Assistant Professor, Departments of Economics and Epidemiology, Biostatistics and Occupational Health, McGill University.
Bilingual discussion – Free Entrance – Snacks will be servedContact: Manjari Murthy,
Research coordinator, Division of Clinical Epidemiology, RI-MUHC
514-934-1934 ext. 44841

manjari.murthy@epimgh.mcgill.ca
November 12, 2012