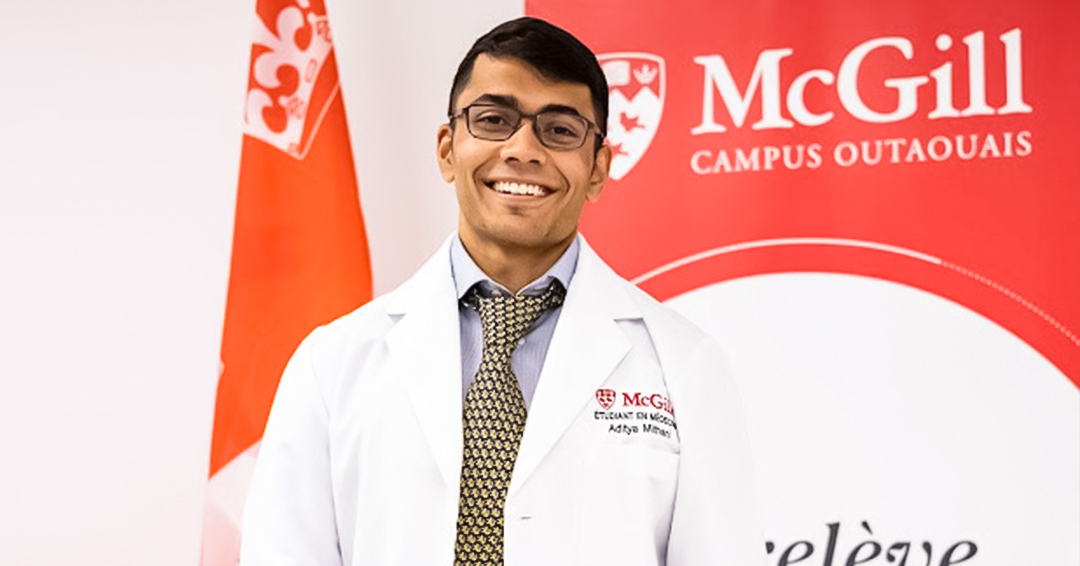 Pursuing a medical degree and a Master of Engineering (MEng) simultaneously might sound daunting to many. However, that's exactly what Adi Mithani, a second-year medical student at McGill University, is doing.
With the support of Robert Primavesi, MDCM, CCFP, CCFP(EM), Associate Professor at the Faculty of Medicine and Health Sciences and Mark Driscoll, Eng, Ph.D., Associate Professor at the Faculty of Engineering, Adi took a leave of absence from his medical studies to complete an MEng in 2022.
His aim? To serve as a "proof of concept" for a potential dual MDCM/MEng degree at McGill, which could create a new generation of physicians who can develop innovative healthcare technologies with a focus on improving patient care.
Recently, Adi told us about his motivations to pursue a dual degree, what it could offer to front-line physicians and its relevance to patient care in both rural and space environments.
Educating physicians in technological concepts for better patient care
Adi's decision to pursue the dual degree was partly inspired by his experience of setting up a health start-up, InnoVie Health, before he even started medical school.
The start-up, which reached the quarterfinals of the IBM Watson AI XPRIZE, assembled a team of physicians and tech experts to design an AI software to identify high-risk patients and optimize their discharge from hospital. While working on the project Adi noticed a "big communication gap" between the medically and technically oriented team members.
"While data scientists and software engineers understand the development of a system and its potential limitations, they might not have a solid understanding of how to integrate a technology into a clinician's workflow without increasing their workload," he says.
"On the other hand, physicians understand the data they're collecting from a patient and how to triage high-risk patients, but they might lack technical knowledge."
He also points to the rapid uptake of digital health platforms since the beginning of the pandemic – from the use of video conferencing for doctor's appointments to the use of smartwatches by patients to monitor certain health markers.
"Although video calls work for interview-based consults, you can't really assess any physical or biochemical phenomena the patient is experiencing," he says, adding that equipping physicians with a better understanding of engineering could help develop technology that allows for more complete remote care.
Adi hopes a dual MDCM/MEng degree will help medical students address this gap by educating them on engineering concepts that intersect with medicine. This, he says, will help them "deliver the education and quality of care that patients deserve".
A steep learning curve
Adi began his studies in biomedical engineering in January but was fast-tracked to the Ph.D. program after just ninemonths. However, his first year wasn't without challenges.
"As a student with no (prior) engineering experience, I knew the new theory, terminology and the software would be a hurdle," he says. To prepare for this transition, Adi started studying the basics of solid mechanics, fluid mechanics, finite element modelling and other key engineering concepts in his spare time.
Adi also had a chance to make connections between what he learned during his first two years of medicine and the engineering concepts he was now studying. In one case, the biomedical engineering program gave him a deeper understanding of certain medical concepts in the fields of cardiology and infectious disease and the usage ofdiagnostic devices at the point-of-care, which he had studied previously.
"Studying biomedical engineering helped me to effectively consolidate the information I had already learned in medicine, together," Adi says. "I got a true appreciation for how the human body works, and what happens when we start changing things."
Potential impacts on Earth and in space
The benefits of a dual degree are clear when it comes to one of Adi's greatest passions: space medicine. At McGill, he is Co-President of the McGill Space Medicine Interest Group. In that role, he has hosted seminars at McGill with space physicians like Raffi Kuyumjian, BEng, MD, the flight surgeon to Chris Hadfield and David Saint-Jacques.
But Adi says the principles of space medicine – and the intersection of medical and technical knowledge in the dual degree – aren't limited to the final frontier. They could also offer essential skills to clinicians working in remote areas.
"Both space medicine and rural medicine involve the delivery of medical care by remote monitoring and digital communication," he notes. "In space as in remote communities, it's very difficult to have a medical specialist everywhere who can address patient challenges – to say nothing of the commute!"
The diversified knowledge in a dual degree could also prove to be "a powerful interdisciplinary skillset", he adds. "It would allow myself and others to contribute not only to accelerating innovation in space, but in the entire realm of medicine. It's a very motivating and inspiring area."
Hopes for increased collaboration between faculties
For now, Adi's career trajectory remains here on Earth. He hopes to enter the field of orthopaedics or emergency medicine with the goal of working as a sports physician.
However, he also wants to expand on his engineering studies by developing tools and processes that could be used in the field of biomechanics and for patient rehabilitation – on this planet and in space.
If his experience inspires McGill to offer the dual degree, Adi hopes it will help build on existing collaborations between the Faculty of Engineering and the Faculty of Medicine and Health Sciences.
"Already, the School of Physical and Occupational Therapy collaborates with the Faculty of Engineering on a project-based course where students from both schools develop assistive technologies to help an individual with a disability in the Montreal area," he says. "It would be fantastic to build on this collaboration, where we can develop and design other health technologies that meet the needs of people in Quebec."