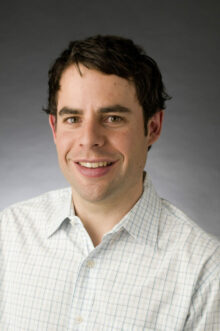 The Royal Society of Canada (RSC) announced 80 new members to The College of New Scholars, Artists and Scientists on September 13, which included the Faculty of Medicine's Dr. Brent Richards among the seven McGillians elected.

The RSC's College of New Scholars, Artists and Scientists aims to gather the best of the emerging generation of leaders in scholarship, science and art in Canada. Together, College members apply interdisciplinary approaches to addressing issues of particular concern to new scholars. The Presentation of this cohort will take place on Friday, November 18, at the Four Points by Sheraton in Kingston, Ontario.

"McGill is grateful to the Royal Society of Canada for its commitment to supporting and celebrating emerging researchers," said Dr. Rosie Goldstein, Vice-Principal, Research and Innovation. "McGill's seven new members are doing essential work across numerous disciplines – from protecting freshwater ecosystems to the development of smart wheelchairs to creating a deeper understanding of African-Canadian history in art."

Brent Richards
 researches the genetic determinants of common, aging-related endocrine diseases, and the ways in which these findings can be applied to improving clinical care. Dr. Richards has been a Clinical Investigator with the Canadian Institutes for Health Research and is currently a Clinician Scientist for the Fonds de recherche du Québec. He was recently awarded the Jody Ginsberg Young Investigator Award by the Canadian Society of Endocrinology and Metabolism.
A complete list of the 2016 cohort of the College and their citations is available here.

September 14, 2016