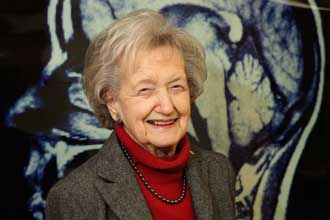 On November 21, Dr. Milner became the ninth woman to be named to the Canadian Science and Engineering Hall of Fame, joining 53 other history-making researchers such as Alexander Graham Bell and J. Armand Bombardier. But she doesn't like to to be recognized as being one of the few women who have reached the highest ranks of science in Canada.

After her Hall of Fame acceptance speech, a group of young female scientists swarmed her eagerly to snap photos with her, showing how Dr. Milner, albeit somewhat unwillingly, has become an icon of what female scientists can accomplish in a male-dominated field.

"I have not set myself up to be a role model for women, but it does seem to be more of an issue than it used to be," Dr. Milner explains, recalling how she increasingly gets mobbed by women after public lectures in the past five years. "There is rarely a man in the group."

Although the landscape, particularly at medical schools, has changed significantly since Dr. Milner began her career, women continue to be underrepresented in many scientific fields. They make up only 39 per cent of students in physical sciences and 17 per cent in engineering and computer science.  According to a recent study from the Council of Canadian Academies, only a third of faculty members in Canada are women, and that number shrinks to 15 per cent in the physical sciences, engineering and computer science….

Read the full article from The Globe and Mail

December 17, 2012