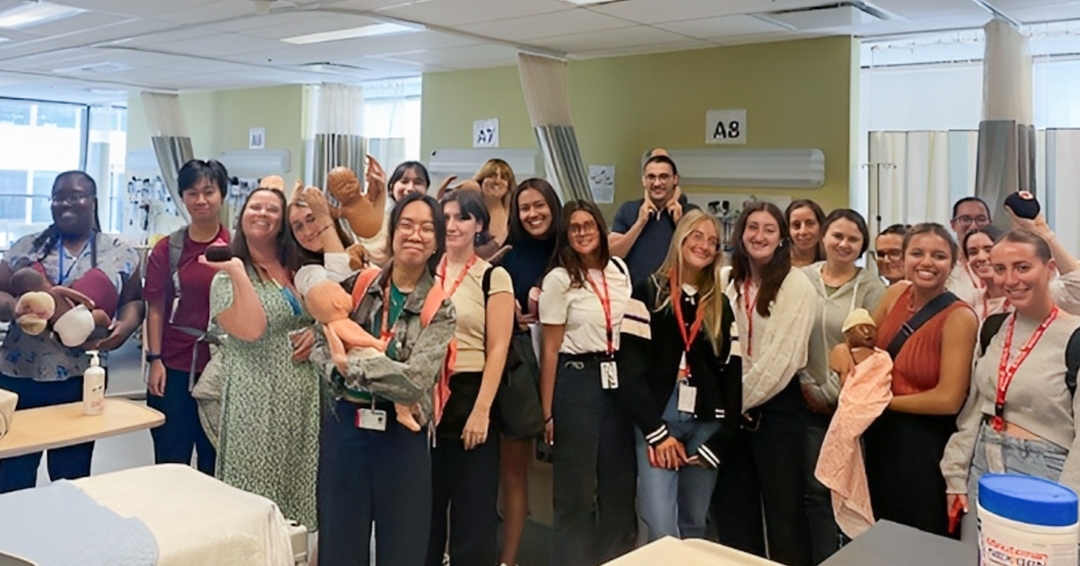 Annual collaborative workshop between the Ingram School of Nursing and the School of Human Nutrition covers the basics of breastfeeding education and support.
On August 29, 2023, 63 undergraduate and graduate nutrition students in their final year in the McGill Department of Nutrition and Dietetics came to the Ingram School of Nursing (ISoN), where they participated in a collaborative educational workshop on breastfeeding. Offered annually since 2018, the workshop is the brainchild of ISoN Assistant Professor Rosetta Antonacci, who is also an Associate Member of McGill's School of Human Nutrition, and Sandy Phillips, Dietetic Practice Educator and Stage Coordinator with the Professional Practice (Stage) programs at the School of Human Nutrition. Read More.
"Breastfeeding support and education is an interdisciplinary endeavour, so this collaboration makes a lot of sense," says Prof. Antonacci. She adds that the material presented is evidence based and includes recommendations from organizations such as the World Health Organization, (WHO), Unicef, Santé Public, Public Health Agency of Canada, Registered Nurses of Ontario and the Canadian Pediatric Society.
Combining theory and practice, the session covered topics such as the history of infant feeding, working within interdisciplinary teams to provide breastfeeding support, the physiology of breastfeeding, interventions for common breastfeeding challenges, and how to help promote a successful breastfeeding experience. After attending a lecture by ISoN Professors Kimani Daniel and Irene Sarasua, students went into the lab for hands-on demonstrations on positioning, support for mother and baby, manual expression of milk, and health and physical assessments. The lab portion of the workshop was supervised by ISoN faculty Maria Damian, Anne Laurie Beaubrun, Catherine Ricci, Kimani Daniel, Rosetta Antonacci and lab technician Luisa Demarte.
Feedback from the students was uniformly excellent, according to Prof. Phillips. In an email thanking the ISoN team, she noted that the students found the session was well organized and the material presented was valuable on both a personal and professional level. "They benefitted greatly from your knowledge and expertise and feel much better prepared to answer questions about breastfeeding."