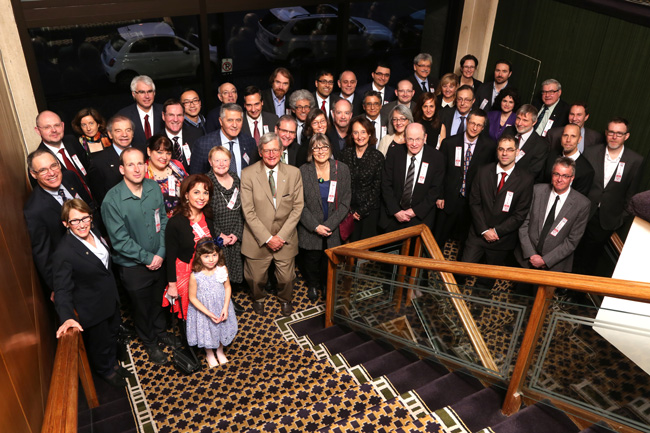 By Kathryn Jezer-Morton, McGill Reporter

An Arctic sea bird expert, a neurobiological psychiatrist, a classical musical theorist, a cancer researcher, and a pediatric immunologist walk into a… well, not a bar exactly. More like a formal reception hall where wine is served. What happens next?

The approximately 250 guests at the 11th annual Bravo gala, held on March 31 at the Omni Hotel, got a chance to find out. The gala, hosted by Research and International Relations, honours McGill researchers who have won prizes and awards during the previous year. Rosie Goldstein, Vice Principal of RIR, hosted, and Principal and Vice-Chancellor Suzanne Fortier, along with Chancellor Michael Meighen, gave introductory remarks. This year, Bravo featured a new attraction during the pre-ceremony cocktail hour: Researcher Speed Dating, during which guests were invited to chat informally with five researchers (all 2016 Bravo honorees) about any topic they fancied – until time was called, and a new guest would take a turn.

The informal format was intended to give researchers across disciplines, along with their guests, a chance to share ideas and get to know one another. The format garnered positive feedback from guests, and will likely make a return appearance in 2017.

The evening's keynote speaker was Prof. Margaret Lock, the Marjorie Bronfman Professor Emerita in Social Studies in Medicine whose work as one of the world's pioneering medical anthropologists has received numerous honours. In 2015, Prof. Lock was inducted into the American Academy of Arts and Sciences. Prof. Lock spoke on the importance of research through her career, and about the essential place of teaching awards in the nexus of awards and prizes at McGill. She also emphasized the value of interdisciplinary research, despite the challenges and obstacles that tend to accompany work across disciplines.

In addition to the keynote address, a short video was screened, featuring Prof. Vicky Kaspi of the Department of Physics, recipient of the 2015 Killiam Prize and 2015 inductee into the American Academy of Arts and Sciences, Prof. Nahum Sonenberg of the Department Biochemistry, 2015 inductee into the National Academy of Sciences, Prof. Rene Provost, of the Faculty of Law, who is the recipient of a 2015 Trudeau Fellowship, and Prof. Joelle Pineau, of the School of Computer Science, a recipient of the 2015 Principal's Prize for Outstanding Emerging Researchers. The featured researchers spoke about the significance that prizes and awards have had in the development of their own research projects.

Read the full list of the laureates of Bravo 2016
April 7, 2016